Trump Offers to Resolve Arab Dispute With Qatar
His remarks came a day after he suggested Saudi Arabia and other countries acted after pressure from him.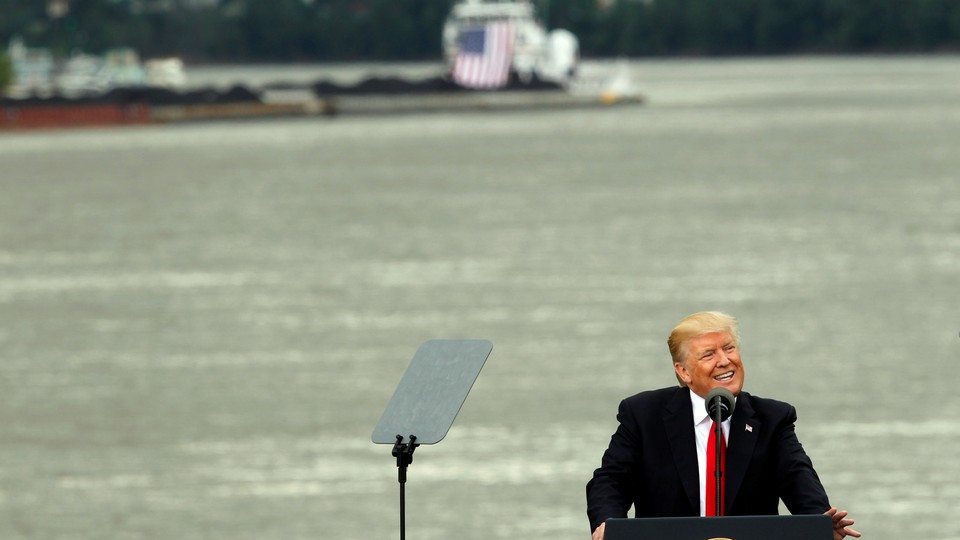 President Trump offered Wednesday to resolve the breakdown in relations between six Arab nations, including Saudi Arabia, and Qatar. The offer, which came during a phone call between Trump and Qatar's Emir Sheikh Tameem Bin Hamad al-Thani came a day after the U.S. president appeared to suggest on Twitter that he had precipitated the decision this week by  Saudi Arabia, Egypt, Bahrain, the United Arab Emirates, Libya, and Yemen to sever relations with Qatar over its alleged support of extremist groups.
Here's the White House's readout of the call between Trump and Thani:
The statement offers the strongest words yet that Trump wants the issue resolved. His secretaries of state and defense have both called for diplomacy to end the dispute, which threatens not only U.S. policy in the region and its military coalition against ISIS in Iraq and Syria, but also regional cohesion. But in tweets Tuesday morning, Trump appeared to suggest his pressure on Arab nations to strike at the heart of terrorist financing brought about the joint action against Qatar. The Arab nations have long accused Qatar of supporting extremist groups, including the Muslim Brotherhood and Hamas, but also elements of al-Qaeda and ISIS. Qatar, which hosts the largest U.S. military base in the Middle East, denies the charges.
Trump spoke Tuesday night with Saudi King Salman on the need for regional cooperation and "underscored that a united Gulf Cooperation Council is critical to defeating terrorism and promoting regional stability." Qatar is a member of the GCC. Also Tuesday night, CNN and others reported that the FBI found Russian hackers may have planted a fake-news story that served as a catalyst for the crisis among the Arab nations—though it's not clear how much impact that news story had or if indeed it was fake—since comments on its were widely believed to reflect Qatari policy.
Meanwhile the countries in the region are watching the issue carefully. Kuwait's emir has offered to mediate among the countries, though the Emiratis have said there's nothing to negotiate until Qatar changes its actions. Qatar, which relies heavily on its land border with Saudi Arabia for food and other essential supplies, is holding talks with Turkey and Iran. In Ankara, meanwhile, Turkey's parliament approved the deployment of troops to Qatar as a show of support for the Arab nation.