How Trump Created a Problem for U.S. Farmers
The President derided NAFTA as the worst deal ever, but the agricultural industry doesn't think so.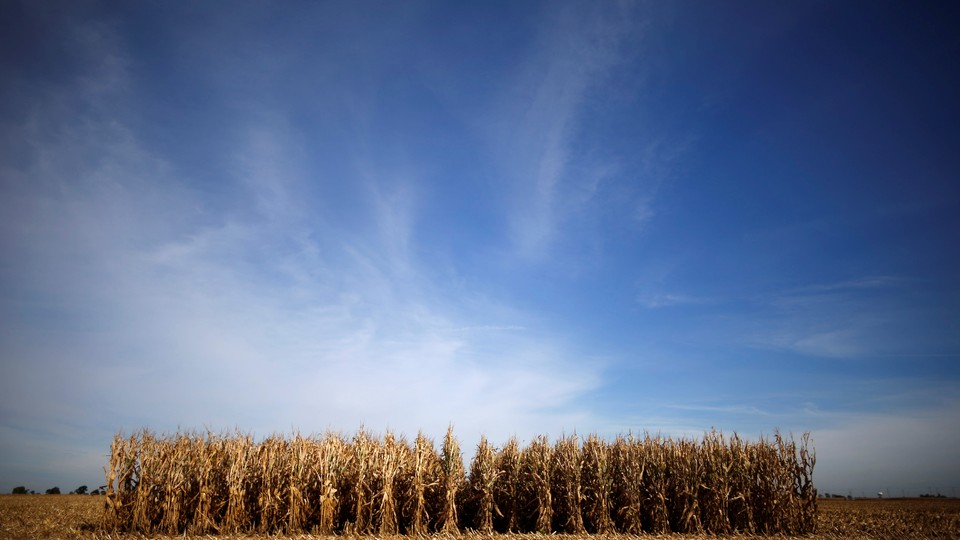 In March Thomas Sleight, the president of the U.S. Grains Council, flew to Mexico to calm worried partners. His association represents U.S. farmers who trade abroad, and while it has connections in more than 50 countries, Mexico is one of the most important; lately, it's been a bit uneasy there. The future of North American Free Trade Agreement (NAFTA) is uncertain, and after Trump took office Sleight heard that some Mexican partners they'd worked with for years were acting a bit "frosty." So Sleight visited with Mexican farmers from the Yucatán and from the country's western coast, and in both regions he heard a common complaint.
Donald Trump, as a presidential candidate, called NAFTA a horrible deal for the U.S. and vowed to withdraw from the pact—though he has walked back those comments, saying he'll renegotiate the deal with Mexico and Canada. But NAFTA is a behemoth, and, while Trump might have the basis for an argument when it comes to manufacturing, which has seen a massive workforce decline since NAFTA went into effect in 1994 (though some studies have shown that it is mechanization not free trade that have hurt those jobs), agricultural trade is seen as a success on all sides of the border. Since it was signed, Canada and Mexico have become by far America's largest export markets for products like corn, pork, beef, dairy, soybeans and poultry, and overall total exports have grown from $9 billion in 1993 to $41 billion by 2014. On the ground that means about one of every 10 planted acres in the U.S. feeds Mexicans or Canadians. So when Trump crisscrossed the U.S. damning NAFTA as a failure, he created a problem for U.S. agriculture that had previously never existed.
"They were annoyed," Sleight said of his customers, who wanted to know just why the president thought NAFTA was such a bad deal. They also weren't pleased, Sleight said, about Trump's general comments on Mexicans, whom Trump described as "rapists" and "criminals."
"They were insulted, really," Sleight said. "For us, you don't do that to your best customers."
Last week, the top agricultural officials from the U.S, Canada, and Mexico met in Georgia to discuss the upcoming NAFTA renegotiations. While each country said there were some "irritants" in the deal, they overwhelmingly wanted NAFTA left alone. But because of Trump's professed opposition to aspects of the agreement, farmers in the Midwest, import-and-export associations in southern Arizona, and big national agricultural groups like the one Sleight runs are already seeing a negative impact, and it may be too late to undo some of the uncertainty. On his visit to Mexico, Sleight said he constantly heard talk from Mexican farmers of a "Plan B," as in a backup option in case they couldn't buy or sell their products to the U.S. Some Mexican customers had even met the week before with representatives from Argentina. "You know," Sleight told me, "those markets are critical. If we were to lose those you can't make that up. You can't just snap your finger and make that up."
Like with any trade deal, NAFTA created winners and losers. In Florida, the tomato industry took a hit as it was forced to compete with western Mexico's similar growing climate. Mexico's grain industry couldn't compete with the much larger and mechanized Midwestern operations. But because Mexico couldn't meet its own demand for grains to feed livestock, Mexican ranchers could import U.S. grains at lower prices, spurring the Mexican livestock industry. Now ranchers raise their animals and oftentimes export them to the U.S. to be slaughtered, processed into meat, and, in many cases, shipped back to Mexico to as food. Canada, on the other hand, signed a bilateral trade deal with the U.S. in the late 1980s, so when NAFTA came much of the trade jockeying had already worked itself out.
It's also helped that agriculture is seasonal. NAFTA ensures that fresh vegetables appear in supermarket aisles all year round, and it has generally made produce much cheaper. Lance Jungmeyer, president of the Fresh Produce Association of the Americas, an import-and-export association based on the Arizona border, told me that back in college he remembers wanting to grill vegetables, so he drove to the store and all he found were these sad, shriveled bell peppers. Go back 30 years, Jungmeyer said, and same went for blueberries or sweet corn, which were fresh on shelves for a few weeks. "Now you go to the store and you get whatever you want."
Few in the agriculture industry believe NAFTA will end, and those I spoke with said Trump is a businessman; there's no way he'd end it all. "But in the meantime," Jungmeyer said, "when you have a threat, or even the possibility of a threat, of shutting down trade, that creates a real concern in people's lives. They certainly are very worried about what next year looks like."
For example, since Trump started his talk of shutting NAFTA down, the Mexican peso has risen and fallen on his every word and tweet, plunging after he took office, only recently to stabilize. Investors are skittish about what might happen, and even some foreign investors working in Mexico have put planned expansions on hold. More pointedly, since Trump took office—and as Mexican farmers explore their "Plan B"—U.S. soybean exports to Mexico have dropped 15 percent, the first of any kind of drop in four years; corn has dropped 6 percent; and chicken dropped 11 percent, the biggest decline in 14 years. Rural states are worried. And in many cases, they're the same states that helped Trump win. Meanwhile, what is Mexico doing? It's looking elsewhere.
"We have to send a signal to policy makers in Washington, and emphasize that we are not sitting still," Raúl Urteaga Trani, general coordinator of international affairs at Mexico's Ministry of Agriculture, told The Wall Street Journal in June.
While Canada has taken a more relaxed view of Trump's campaign against NAFTA, in Mexico it's provoked self-examination. Mexico signed deals with Brazil to import a record amount of corn this year. It's talking with Argentina for beef. It's increased some dairy imports from the European Union by 122 percent, and it's talking with New Zealand about dairy, too. Granted, one reason NAFTA works so well is because the U.S. and Mexico are neighbors, which cuts down on shipping time and costs, so Mexico would much rather buy from the U.S. But if that neighborly arrangement ends, Mexico is saying it has options.
I spoke with another produce importer on the Arizona border, Vandervoet & Associates, a family-run operation that works with the Mexican states of Sinaloa and Sonora. Scott Vandervoet said his company mostly imports cantaloupes and watermelons, and has done so for more than 30 years. When I asked what he'd change about NAFTA, he took a moment, then raised issues with streamlining paper work and inspections.They were the same small issues I heard from Sleight and his massive U.S. Grains Council. But mostly they were happy. Last year, the U.S. Department of Agriculture issued a big assessment of NAFTA, and its thesis pushed for making trade more agile, increasing trade opportunity, not scaling it back. Vandervoet was measured in his words about Trump. But when I asked if he felt the president created a problem for farmers, and for companies like his, by deriding an intricate deal like NAFTA with broad statements, Vandervoet told me this: "We're talking about a lot of people, a lot of different types of regional economies. To lump it under one term as, 'the worst deal ever'—I don't know who's perspective he's using. It's not my perspective. And I'm very happy to be in the industry I work in."
For now, much of the agriculture industry is waiting, hoping work returns to normal after a presidential campaign brought uncertainty to an industry where the biggest worry is often the weather.