What Trump Doesn't Understand About MS-13
The president may be overstating the gang's impact.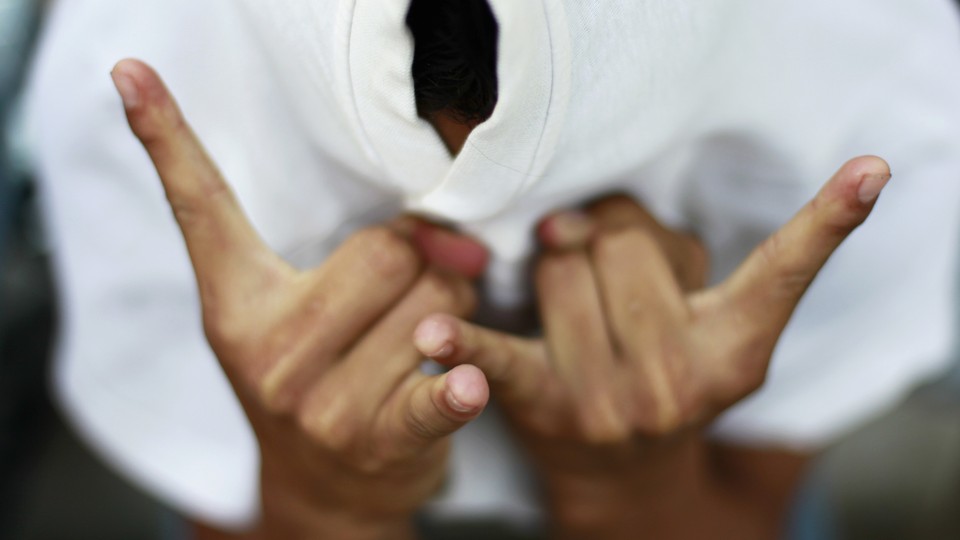 As President Trump sat for Time's Person of the Year interview last year, he excused himself and returned with a copy of Newsday. He wanted to show editor Michael Scherer a headline. "'EXTREMELY VIOLENT' GANG FACTION," it read, and the article told of murders in Suffolk County, New York, all linked to MS-13. One murder was that of 16-year-old Kayla Cuevas, who'd argued with MS-13 members at her high school. The gang, many of them also teenagers, found Cuevas and a friend walking along the street and beat them with baseball bats and hacked at them with machetes. "They come from Central America," Trump said to Scherer. "They're tougher than any people you've ever met. They're killing and raping everybody out there. They're illegal."
Last week the Senate Judiciary Committee met with federal immigration officials to decipher this rise in MS-13 crime. Much of the testimony focused on the recent immigration of unaccompanied minors from Central America, and during the hearing Iowa Senator Chuck Grassley cited a report from The Washington Post. The report, like some of the senator's questions, focused on a few regions in the U.S. where young migrants who'd joined MS-13 were accused of murders that have seized media attention. "The government's total failure to establish an efficient process and meaningful oversight of the placement of these children has led to the current MS-13 crisis," Grassley said at the hearing.
With its focus on immigration, the hearing seemed incongruous with another Senate committee meeting, held just a month before, in which local police chiefs had a much different answer for the apparent return of MS-13.
In many ways, the gang is Trump's perfect villain. It's exclusively Latino and recruits in heavily migrant neighborhoods, its members known for their face tattoos and savagery. The Time reference was one of his earliest, but Trump often mentions MS-13 to reinforce his immigration policy. In April, he tweeted, "Democrats don't want money from budget going to border wall despite the fact that it will stop drugs and very bad MS 13 gang members." Just last week, at a rally in Cedar Rapids, Iowa, Trump told the crowd, "You have a gang called MS-13. They don't like to shoot people. They like to cut people. They do things that nobody can believe. These are true animals."
MS-13's activities appear to have become more aggressive in some states recently, but Trump's understanding of the gang also seems limited to headlines. "The weak illegal immigration policies of the Obama Admin. Allowed bad MS 13 gangs to form in cities across the U.S. … ," he's tweeted. But what he omits is that MS-13 in the U.S operates like most other domestic gangs, and that law enforcement in cities where MS-13 has recently doubled homicide rates don't see the gang as a problem that deportations can solve. It's a gang, distinct in some ways, but ultimately like many others.
It was the deportation policies of the Clinton administration, in fact, that created MS-13. The gang began in Los Angeles, among Salvadoran immigrants living near Pico Union. In the 1980s, the U.S. had backed El Salvador's military dictatorship against Marxist guerillas. Some 75,000 people died in the civil war, and many more fled. When Salvadoran migrants settled in Los Angeles, they landed in neighborhoods controlled by black or Mexican gangs at a time when violence in the U.S. was on the rise. By the late 1980s, the Los Angeles Police Department began what it called Operation Hammer, a crackdown on gangs that filled California prisons. Under the Clinton administration, federal agents tried to empty the prison by deporting undocumented gang members back to El Salvador, where civil war had left the country with little rule of law.
In one four-year period, the U.S. deported more than 20,000 criminals to El Salvador, and with them they brought tactics learned from U.S gangs. In Los Angeles, MS-13 learned to control territory and how to earn money through extortion. Now in El Salvador, the gang took over neighborhoods and feuded with its rival, Barrio 18, another U.S.-born gang. El Salvador had never dealt with such a problem, so just as MS-13 learned from its counterparts in Los Angeles, the Salvadoran government copied L.A.'s approach. El Salvador's strategy was called "Mano Dura," and from 2003 to 2005 the country jailed 31,000 young people, though nearly all would later be released without charges. The approach backfired, and it's blamed for increasing MS-13's ranks. Young men who may have only had loose affiliation with the gang became its leaders. Violence in El Salvador escalated to near-civil war rates, and within a generation the children of those who'd fled war, and who were then were deported, had destabilized the country so thoroughly that it fueled another mass migration.
In the U.S., MS-13 spread beyond Los Angeles to the East Coast. In the early 2000s, at its height, MS-13 reached about 10,000 members nationwide. But even then, the gang's influence was disproportionate to its size, representing a small portion of America's 1.4 million gang members. MS-13 is distinguished from other U.S. gangs, because the government labels it a "transnational criminal organization," something typically reserved for more sophisticated crime groups. But like other gangs in the U.S., at the end of the last decade its reach and violence waned. In fact, the same day Trump tweeted about MS-13, the U.S. Justice Department released a fact sheet that said state and federal authorities had "severely disrupted the gang within certain targeted areas of the U.S. by 2009 and 2010." So what has changed in that time?
It's hard to say. On the West Coast, anthropologist Jorja Leap says the gang's power has declined. Leap is a professor at the University of California, Los Angeles, who spent 10 years studying MS-13 and wrote a book on the gang. She told me that outside of a few high-profile murders, the gang's recent return to the national psyche is political opportunism. "They just don't kill people," she told me, "they cut off body parts. And this is what makes them an exciting boogeyman for Trump and [Attorney General Jeff] Sessions."
MS-13 is indeed a useful monster. It recruits almost exclusively young men and women with Central American roots. It has a well-known, feared name. And its history associates it with illegal immigration. But statistically, Trump's fixation is hard to justify. If you measure the gang's threat by recruitment, more recent Department of Justice figures say it has about 6,000 members nationwide (though, I was told several times that counting gang members is an imperfect science). Gang-specific crime is recorded by individual police departments, so no one could tell me if MS-13 has robbed, extorted, or killed more people now than it did five, six, 10 years ago. It also seems to make up only a fraction of deported criminals. Immigration and Customs Enforcement's division that focuses on gangs, Homeland Security Investigations, deported 114,434 individuals last year, according to data given to CNN. MS-13 made up only 429 of those.
But to focus on Suffolk County, on Montgomery County, Maryland, and Fairfax County, Virginia, would make it seem that Trump and Sessions are right. Investigators connect the gang to 17 murders in Suffolk in the past year, 38 percent of all homicides. In Montgomery County, police investigated about one MS-13-related murder each year until 2015. In the past two years, they've had seven. The county's special-investigations captain, Paul Liquorie, told me the gang has grown more brazen, too. In the past, MS-13 only exhorted bordellos, underground bars, the types of businesses that don't call 911. Now a gang member will find a restaurant owned by a Central American, reminisce casually about home, and ask if they still have relatives there. A few weeks later, the gang member returns to the store with photos on a cell phone, Liquorie said. "They say, 'Isn't this your grandmother's house?'"
Each of the counties that saw an increase in murders have large Central American migrant populations. In fact, Washington and Northern Virginia have the second largest El Salvadoran population in the U.S., followed by the New York and New Jersey. This helps the arithmetic of immigration hard-liners. Three years ago, tens of thousand of young migrant minors, many looking to escape violence, settled with relatives already in the U.S. Suffolk alone took in 4,624 of these minors. So, to those in the Trump administration who want tougher immigration laws, the arrival of the kids in these areas that've seen higher murder rates seems an obvious correlation to immigration as a whole. And while holistically that untrue, they might be partially right, but probably not for the reasons Sessions or Trump suggest.
In 2015, FBI tracked MS-13 leaders from Maryland, Ohio, California, Texas, and Arizona, who were all called to a meeting in Virginia by a gang leader nicknamed "Chucky." At the meeting, Chucky said leadership in El Salvador wanted them to increase profits. So, it would seem MS-13's resurgence was a calculated effort, made by leadership in Central America. Sessions, speaking to a Justice Department crime task force in April, said MS-13 in El Salvador "has been sending both recruiters and members to regenerate gangs that previously had been decimated, and smuggling members across the border as unaccompanied minors."
Except, there's no data to support such claims. Insight Crime, an organized-crime investigative nonprofit, explained "there is no evidence that the migratory patterns of gang members are different than those of any other group of migrants, or that they are moving in accordance with a grand plan forged by the MS13's Salvadoran leadership to revitalize the organization." Quite simply, Insight wrote, "there is no study by federal agencies or academic institutions that proves that there is a significant number of gang members among these minors." This is backed up by the recent Senate Judiciary Committee hearing, where Customs and Border Protection Acting Chief Carla Provost said that of the 250,000 unaccompanied minors apprehended since 2011, only 56 were suspected or confirmed of being affiliated with MS-13.
Rather than an international conspiracy, experts offer a more simple explanation. Jay Lanham, director of the Northern Virginia Regional Gang Task Force, told me one major reason for an increase in the gang's activity in his area is that for the past five years his resources to fight MS-13 have been meager. For about a decade, until 2012, Lanham's organization had a $3 million budget. Some of this went toward crime suppression. But much of the money helped organize soccer tournaments, jobs program, things to keep teens out of trouble, he said. Once crime fell, and the gang's threat dissipated, that funding stopped. But gangs are often a cyclical issue, and whether it's MS-13, the Bloods, or Crips, the threat never entirely vanishes. Since 2012, Lanham's task force has operated on a tenth of the previous funding, he said. "So you do the math." In other areas where budgets have takens similar cuts the same scenario would play out, whether the major operator there was MS-13, the Bloods or the Crips. The irony is that Trump's budget proposal would even more drastically cut the types of programs Lanham operated, which are important because MS-13 operates in the U.S. like a domestic gang, because that's what they are.
Nearly all the recent high-profile murders committed by MS-13 were done by young men who killed over arguments at school, or on Facebook. In Montgomery County, other gangs beside MS-13 have become more active, too, but while these murders are "motivated by illegal drug transactions," the county's chief of police, J. Thomas Manger, said in a recent Senate committee hearing, MS-13's murders appear to be related to "perceived or actual rival gang affiliations of the victims." In other words, these haven't been the type of murders that would necessitate a vast criminal network reaching back to Central America.
"Remember, this is after all a youth gang," said José Miguel Cruz, a Central American gang-research specialist at Florida International University. "These are kids—15 or 17 years old—who join a gang perhaps because they feel threatened, or they're the only peer group in the community."
In this way, MS-13's seeming resurgence may be no different than any other gang. If indeed there is a connection to immigration by unaccompanied minors, all that may have changed was MS-13 found more vulnerable youth to prey upon in a country where the leadership wants to hold them up not as refugees, but as potential criminals. There's reams of research that suggests migrants are less likely to commit crimes in the U.S. But it's hard to argue with a compelling anecdote. Especially one as terrifying as MS-13.