Trump Appears to Fault Obama, Calls Otto Warmbier's Death a 'Disgrace'
He said the 22-year-old University of Virginia student "should have been brought home a long time ago" from North Korea.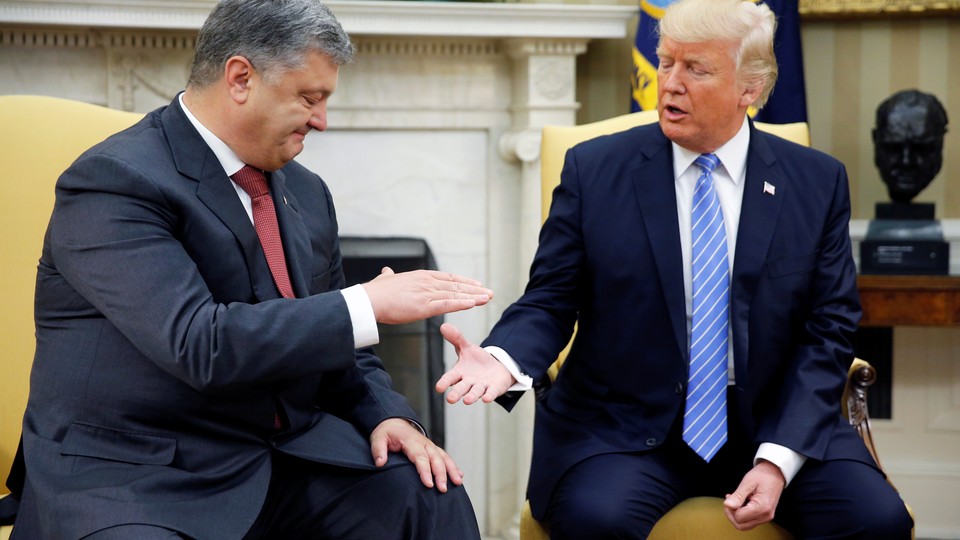 Updated ay 5:21 p.m.
President Trump said Tuesday had Otto Warmbier been "brought home sooner, I think the results would have been a lot different"—a pointed criticism of the Obama administration's approach to the case of the University of Virginia student who died Monday in Ohio after spending the last several months in a coma in North Korea.
"It's a disgrace what happened to Otto," said Trump, who was seated in the Oval Office beside Ukrainian President Petro Poroshenko. "It's a total disgrace."
Warmbier's family announced his death Monday. The 22-year-old returned to his home near Cincinnati, Ohio, last week after more than a year of imprisonment in North Korea where he was sentenced in March 2016 to 15 years of hard labor for allegedly stealing a propaganda sign from his hotel. North Korea said he was stricken with botulism soon after he was sentenced and was given a sleeping pill, after which he fell into a coma. But officials at the University of Cincinnati Medical Center, where he was taken upon his return from North Korea, said he exhibited no signs of botulism.
Fred Warmbier, Otto Warmbier's father, said last week he did not believe the North Korean explanation, credited the Trump administration for freeing his son, and criticized the Obama administration's advice "to keep a low profile" for fear of offending North Korea, where three other Americans remain detained. When asked if the Obama administration could have done more to free their son, Fred Warmbier replied: "I think the results speak for themselves." He praised Trump's handling of the events, said he'd spoken to the president about his son's release, and called him "kind."
On Tuesday, Trump said it's "incredible what they've [the Warmbiers] gone through." He did not name Obama, but said Otto Warmbier "should have been brought home that same day. … He should have been brought home a long time ago."
Trump also appeared to suggest that China's diplomacy with North Korea "had not worked out."
While I greatly appreciate the efforts of President Xi & China to help with North Korea, it has not worked out. At least I know China tried!

— Donald J. Trump (@realDonaldTrump) June 20, 2017
Moments earlier Sean Spicer, the White House spokesman, said the U.S. had had "positive movement on China ... and we'll continue to work with them and others to put the appropriate pressure on North Korea."
The State Department reaffirmed in a separate briefing that the U.S. would seek to free the three remaining citizens detained by Pyongyang.
"We want to see three other Americans who were unjustly detained brought home as soon as possible," Heather Nauert, the State Department spokeswoman, said.
Trump, who once called Kim Jong Un "a smart cookie," said he would be "honored" to meet with the North Korean leader under the right conditions.  On Tuesday, Spicer said Warmbier's death meant "clearly we're moving away from those conditions being met." He added the U.S. "will continue to apply economic and political pressure" on North Korea following Warmbier's death.