Trump Administration Approves Its First Arms Sale to Taiwan
The deal, while relatively small compared to its predecessors, is likely to incite anger from China.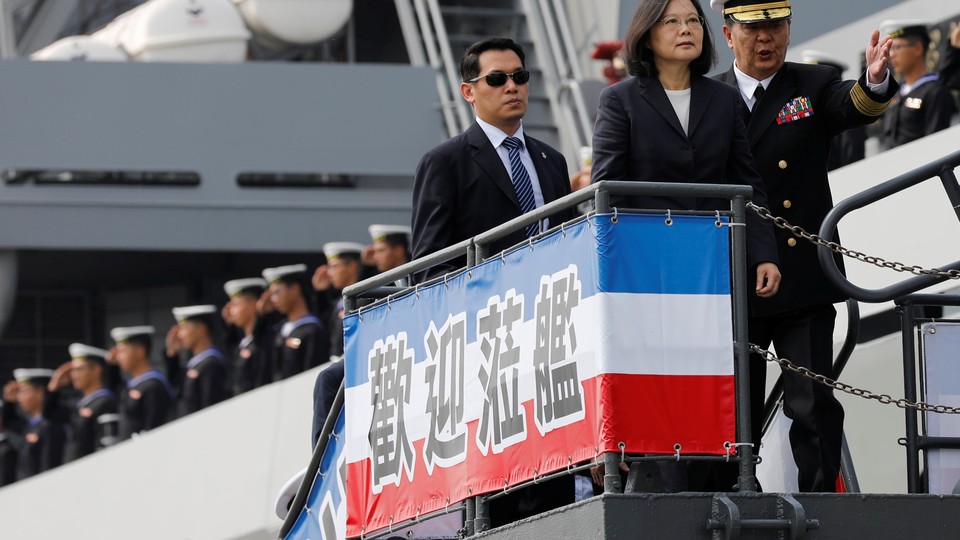 The U.S. State Department has approved the sale of $1.4 billion in arms to the island of Taiwan, a state official told the Associated Press on Thursday. The deal—which includes missiles, torpedoes, and technical support for early warning radar—is the first of its kind under the Trump administration. The last U.S. arms deal with Taiwan was approved in December 2015 for $1.8 billion. Like its predecessors, the sale prompted stark opposition from China, which considers Taiwan as part of its territory.
While Thursday's deal threatens to exacerbate tension between the U.S. and China, U.S. officials insist they are operating in accordance with the Taiwan Relations Act, which requires the U.S. to sell weapons to Taiwan to ensure the nation's self-defense. On Thursday, Heather Nauert, a state department spokeswoman, told the AP that the latest deal demonstrates the United States's "support for Taiwan's ability to maintain a sufficient self-defense policy." She added that the U.S. has not deviated from the "one-China policy," which prevents countries seeking diplomatic relations with China from maintaining the same ties with Taiwan.
Since 1979, the U.S. has described its dealings with Taiwan as "a robust unofficial relationship," largely characterized by cultural and commercial ties. In December, China criticized a newly-elected President Trump for accepting a congratulatory phone call from Taiwan's president, Tsai Ing-wen, marking the first time in decades that a U.S. president or president-elect had directly spoken to a Taiwanese leader. While the incident did little to damage U.S.-China relations, China urged the U.S. "to cautiously, properly handle [the] Taiwan issue to avoid unnecessary disturbance," according to nation's the state news agency.
Thursday's sale to Taiwan has been the subject of controversy inside the White House and on Capitol Hill, with some officials arguing that succumbing to pressure from China could jeopardize the safety of Taiwan while weakening the U.S. presence on the global stage. Others have argued that a deal with Taiwan could prompt China's withdraw from key negotiations with North Korea. As North Korea's only major ally, China has proved critical to the Trump administration's strategy for thwarting North Korea's nuclear and missile programs.
Last year, concerns over the latest Taiwan arms deal prompted the Obama administration to postpone their decision, leaving their successors to make the call. U.S. lawmakers now have 30 days to block the sale, though widespread objection is unlikely. In nearly four decades, the U.S. has not wavered in its resolve to provide Taiwan with sufficient weaponry to defend itself against China. In fact, compared to deals struck by past administrations, Thursday's $1.4 billion sale is relatively small, consisting mostly of upgrades to Taiwan's current arsenal.