Tillerson Calls on Arab States to 'Ease the Blockade Against Qatar'
The remarks follow a week of heightened diplomatic tensions in the Arab world.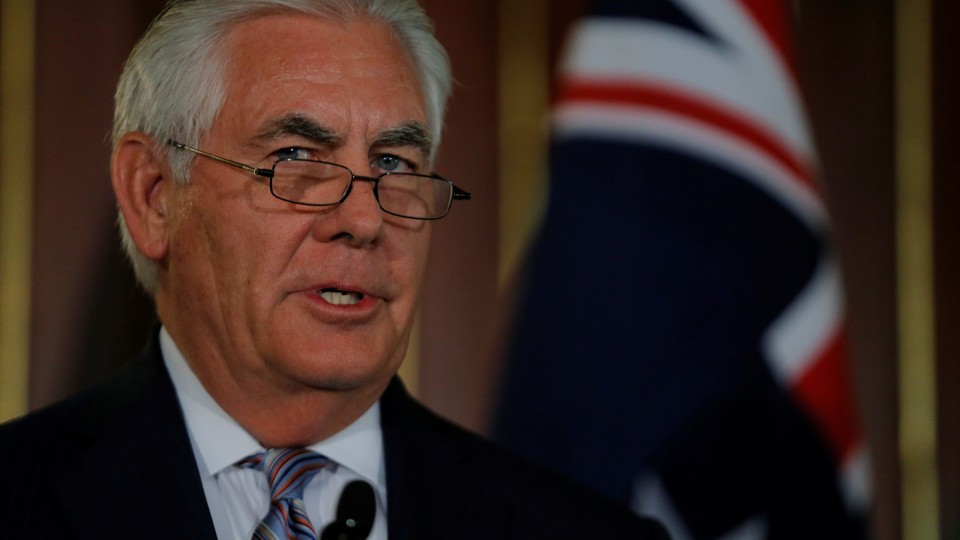 U.S. Secretary of State Rex Tillerson called Friday on "Saudi Arabia, the United Arab Emirates, Bahrain, and Egypt to ease the blockade against Qatar" and urged Doha to be "responsive to the concerns of its neighbors."
The remarks follow a week of heightened diplomatic tensions in the Arab world that saw six Arab countries—the four Tillerson mentioned, along with Libya and Yemen—sever relations with Qatar over its alleged support of terrorism. Qatar, as Tillerson said, "has a history of supporting groups that span the spectrum of political expression from activism to violence." More specifically, the Saudis and their allies accuse Doha of supporting the Muslim Brotherhood and Hamas, as well as ISIS and al-Qaeda. Qatar has also been criticized for its relations with Iran and Israel. Qatar denies it supports terrorism.
Tillerson said Friday in a televised statement that Qatar's emir has made progress in allaying some of the concerns raised by his country's Arab neighbors, "but he must do more and must do it more quickly." He also urged other countries in the region to drop their support of terrorist groups—but did not name any of them.
Tillerson, who said the U.S. was supporting Kuwait's mediation efforts, added the blockade imposed on Qatar had had humanitarian consequences, and had also affected U.S. and other business interests in the region, and hindered U.S. military action against ISIS.
Qatar is home to the largest U.S. military base in the region—with 11,000 U.S. personnel stationed at the Al Ubaid air base. President Trump, who earlier this week appeared to suggest it was his pressure on Saudi Arabia and others that resulted in the action against Qatar, offered Wednesday to help resolve the conflict.
Tillerson's remarks comes as other regional and world powers have stepped in to help Qatar. Iran has offered to ship supplies in. Turkey's parliament voted Wednesday to approve sending troops to Qatar in solidarity. Tass, the Russian news agency, reported Sheikh Mohammed, the foreign minister, would visit Moscow, but provided few other details.