Officials Resign Over Grenfell Tower Controversy
Their actions have come under increased scrutiny as authorities investigate the cause of the deadly fire.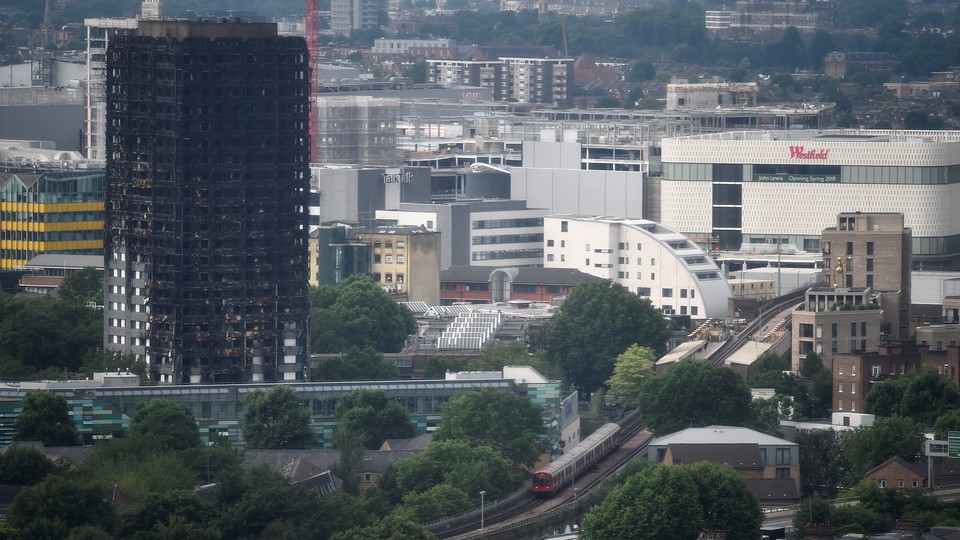 Three officials affiliated with West London's Grenfell Tower apartment building, the site of a deadly fire that killed at least 80 people on June 14, resigned within hours of one another on Friday amid growing criticism that negligence on behalf of local officials contributed to the devastation. Robert Black, the CEO of the building's management company, Kensington and Chelsea Tenant Management Organization (KCTMO), was the first to resign. He was soon followed by Nick Paget-Brown, the head of the Kensington and Chelsea council, which owns the tower, and Rock Feilding-Mellen, the council's deputy leader. The council's former CEO, Nicholas Holgate, resigned last week, with reports circulating that he will receive a six-figure pay-off.
Both the council and management company have found themselves in hot water ever since the London police uncovered evidence that flammable cladding—seen as a cheaper alternative to safer, more expensive materials—had exacerbated the blaze. In a blog post on November 20, members of Grenfell's residents' association warned of the building's "dangerous living conditions," which they said ignored current health and safety legislation.
The association specifically expressed anger at their local council and KCTMO, which they called "an evil, unprincipled, mini-mafia who have no business …  looking after the every day management of large scale social housing." The council hired KCTMO, which began renovations on the tower in 2014, to take over as manager in 1996. Emails leaked to the Times of London and BBC suggest that KCTMO was intent on reducing cladding costs by around $380,000 at the time of the renovations.
But cladding wasn't the only problem: In addition to relying on only one staircase as an exit, the Grenfell Tower reportedly lacked a central sprinkler system and fire-proof doors. The tower had also not received a full fire risk assessment since December 2015. Minutes from a November KCTMO board meeting showed the company's desire to increase the frequency of fire assessments and place fire action notices in the lobbies of their buildings. Their inaction could now cost them dearly: Last week, police said they were investigating possible criminal offenses related to the fire, including charges of manslaughter.
While authorities pursue evidence of criminal behavior, U.K. Prime Minister Theresa May has ordered safety tests for around 600 high-rise buildings in England that may contain flammable cladding. On Friday, a spokeswoman for May said nearly 150 high-rise buildings had failed the tests so far. Last week, five apartment towers in North London's Camden area were evacuated after the London Fire Brigade said they couldn't ensure residents' safety. The U.K. is also conducting a public inquiry into "the start of the fire and its rapid development" to determine how to prevent future occurrences. On Friday, KCTMO's Robert Black said he was stepping down from his position "to fully co-operate and assist with the inquiry."
Paget-Brown, meanwhile, displayed some resistance prior to his resignation. On Thursday, he attempted to exclude reporters from a council meeting, arguing that journalists could "prejudice" the government injury. He later claimed that his lawyers had advised him not to publicly discuss the fire. "It cannot be right that this [council meeting] should have become the focus of attention when so many are dead or still unaccounted for," he said, admitting that, "as council leader, I have to accept my share of responsibility for these perceived failings."
The leader of the council's Labour group, Robert Atkinson, soon called for Paget-Brown to resign, referring to the meeting as "utter chaos." "I am ashamed of the way in which the council proceeded," he told the BBC. "They've been hiding from residents." A spokeswoman for Theresa May also weighed in on the incident, arguing that "the high court ruled that the meeting should be open, and we would have expected the council to respect that." Both Paget-Brown and Feilding-Mellen plan to remain councilors, despite renouncing their official posts on Friday.