Police Identify Third London Bridge Attacker
Like many ISIS members, the attacker appears to have been radicalized by the internet.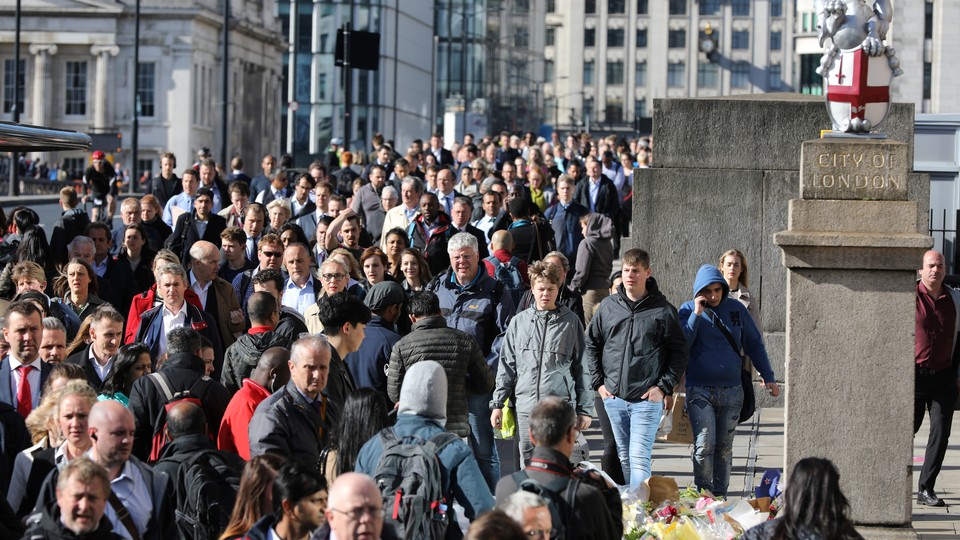 Authorities have identified the third attacker responsible for Saturday's terrorist incident on the London Bridge that killed seven people and injured 48. The names of the other two attackers, 27-year-old Khuram Butt and 30-year-old Rachid Redouane, were revealed Monday. The mother of the third attacker, 22-year-old Youssef Zaghba, said the three men were friends. Together, they carried out the UK's third terrorist attack this year, driving a hired van into a crowd of pedestrians, then proceeding to stab people in a densely populated area near Borough Market. All three attackers were shot and killed Saturday night by eight police officers. On Sunday, ISIS claimed responsibility for the attack.
The following day, it was revealed that Butt was the subject of a 2015 terrorist investigation by London's Metropolitan Police and MI5, the UK's domestic counter-intelligence and security agency, after he implored people outside his local mosque not to vote in the upcoming democratic election. The investigation was eventually demoted after detectives found no evidence that Butt was planning an attack. Meanwhile, London police claim that neither Redouane nor Zaghba were suspects prior to Saturday's deadly incident. With Zaghba, however, there were numerous warning signs.
At age 20, Zaghba, an Italian man born in Morocco, moved to Italy to live with his mother. He had previously studied computer science at a local university in Fez. In March 2016, Zaghba attempted to travel to Syria by way of Istanbul with the suspected goal of joining the Islamic State. According to The Guardian, his flight plans are common among Moroccan-born citizens looking to become members of ISIS. At the time Zaghba was traveling, Italian officials were already closely monitoring individuals like him after receiving an intelligence tip from the U.S. Just a few months prior, Italian anti-terrorism officials reportedly told local police "to signal and point out every suspect from Morocco who is leaving from Italy to Istanbul.''
While at the airport in Bologna, Italy, Zaghba, who at the time was carrying only a backpack and a one-way ticket to Istanbul, was temporarily detained by authorities. Italian news outlets have since reported that Zagha grew frustrated and told officers he was "going to be a terrorist," at which point his passport and phone were impounded and his mother, Valeria Collina, was called in for questioning. Collina reportedly told investigators that she didn't recognize her son anymore, saying: "He frightens me. He spends all day in front of the computer watching incredibly strange things." Collina is also quoted as saying that Zaghba "thought Syria was a place where he could live as a 'pure Muslim.'" She added, "I told him there were terrible things going on there, but I was not able to change his mind."
Indeed, police discovered religious sermons and propaganda videos on Zaghba's phone that seemed to suggest his desire to join ISIS. The evidence led to an investigation that did not result in any charges, though Italian authorities added Zaghba to a European intelligence database of potential Islamist extremists. An Italian official also told The Guardian that London authorities were informed of Zaghba's move to east London.
As with Butt, Zaghba appears to have slipped—even less conspicuously—through the cracks of London intelligence agencies. Like many ISIS recruits, Zaghba also seems to have been radicalized by the internet. "We have always tried to monitor his friends, making sure he didn't hang out with the wrong people," Collina told an Italian magazine, L'Espresso. "But he had internet and everything came from there." The last Collina heard from her son, before Italian officers knocked on her door Tuesday to tell her that he was dead, was on a Thursday night phone call. "Now I understand that that call was his way to say goodbye," she said.
While police are still waiting to formally identify the victims of the attack, at least three of the deceased victims' families have publicly shared their grievances. On Monday, the families of Christine Archibald, a woman from Canada who was living in Europe with her fiancee, and James McMullan, a 32-year-old man from east London, said they believed their loved ones had died. The next day, the family of 28-year-old Kirsty Boden, an Australian who was working as a nurse in the UK, said she died after attempting to help victims on the London Bridge. France's foreign minister also confirmed Monday that an unnamed French citizen had died in the attack. The man is suspected to be 27-year-old Alexandre Pigeard, whose death was reported by La Manche Libre, a local news outlet in Normandy. Pigeard was reportedly from Normandy, but had been living in London for more than two years.
The remaining three victims have yet to be named by police or their families. According to the UK's National Health Service, 32 people being still treated across five hospitals, 15 of which are in critical condition. The BBC reports that at least four people are still missing.