Theresa May's Terrorism Strategy
In the Prime Minister's speech Sunday, she said, "There is, to be frank, far too much tolerance of extremism in our country."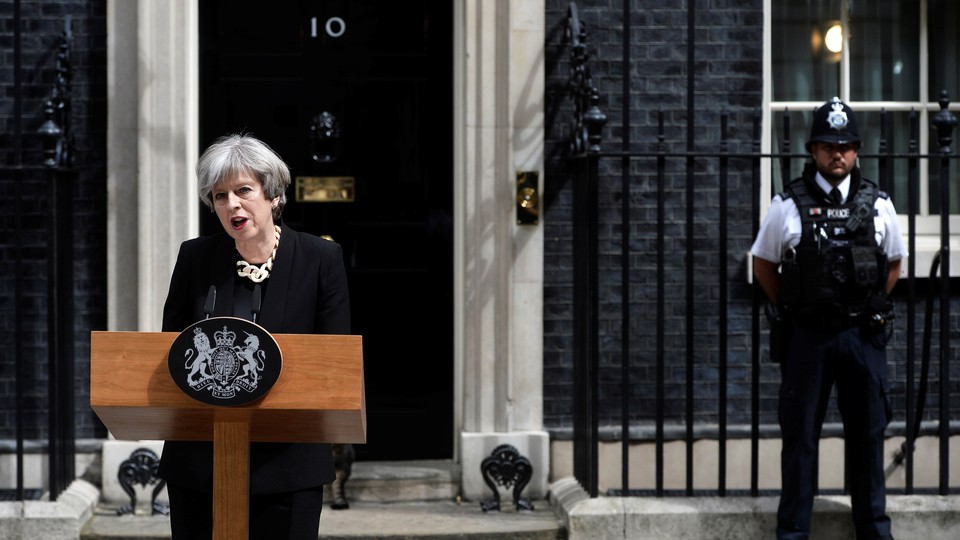 "Enough is enough," Prime Minister Theresa May said Sunday of the London Bridge Attack. She had just left a meeting of the country's emergency response committee, and in her speech she promised new efforts to crack down on terrorism. The attacks that killed seven people and injured dozens more were the country's third this year, and May, speaking outside 10 Downing Street, said, "Our society should continue to function in accordance with our values. But when it comes to taking on extremism and terrorism, things need to change."
After past terror attacks this year, May had not sought to change strategy. In fact, after the Manchester attack, Amber Rudd, the home secretary, specifically said police and intelligence services would not seek extra powers. But May now seems to have changed her mind. In her speech Sunday, she laid out a strategy on how she planned to fight terror.
First, May said the country needed to acknowledge that terrorism had changed, and that extremists were not connected through typical networks of the past. Instead, she said, "They are bound together by the single evil ideology of Islamist extremism that preaches hatred, sows division and promotes sectarianism."
May also called on internet companies to do more to limit the spread of extremism online, something that she'd pitched last month at the G-7 Summit. How this could happen, however is unclear, and it would be a massive undertaking that requires an equally coordinated response. May did not elaborate.
As well as online, May said Sunday there was a need to focus on "safe spaces in the real world," and that this would require difficult conversations" that included taking action at home. "There is, to be frank," May said, "far too much tolerance of extremism in our country."
Of everything in her speech, this could have the most wide-reaching implications, and it could also be the most controversial insinuation. The Guardian suggested that this meant May would probably try to revive a conservative counter-terrorism bill that was shelved earlier this year. The bill would have broadened suspects that police could investigate and arrest, but the government's lawyers couldn't come up with a proper definition for extremism. The bill originally regarded it, in part, as "the vocal or active opposition to our fundamental values, including democracy, the rule of law, individual liberty and the mutual respect and tolerance of different faiths and beliefs." But even the government's lawyers,considered this language far too vague. Critics also said the law would lead to the persecution of Muslim communities, and could potentially have the reverse effect of radicalizing people. May's tone on Sunday, however, suggested she would at least restart the conversation around the bill. "We need to review Britain's counter-terrorism strategy," she said, "to make sure the police and security services have all the powers they need."
Even before her speech, police were raiding neighborhoods in Barking, an east London neighborhood. At least 12 people were arrested, but police would not identify anyone, suggesting only that they were all related to the attack. No group has claimed responsibility Saturday's attack, although in her speech May suggested the suspects were Islamic extremists. Home Secretary Rudd has said the government is certain the attackers were "radical Islamist terrorists."
The attack Saturday night played out quickly. A little after 10 p.m. local time a white van speeding on the London Bridge swerved into a crowd of pedestrians, then crashed into a guardrail near Borough Market. The area is usually crowded on weekends with bar patrons and people eating at restaurants, and three men emerged from the van with knives and a machete, stabbing indiscriminately, causing mass confusion and panic.
Police responded promptly, and within eight minutes they'd shot and killed all three suspects, Police Commissioner Cressida Dick said Sunday. The attackers wore large canisters, likely meant to resemble suicide vests. Police conducted several controlled explosions, and said the canisters were fake. Police say they have identified all three attackers, however their names will not be released at this time.
Along with the seven dead, 21 people remain in critical condition, and dozens more suffered injuries. The attack is now the country's third within as many months. Two weeks ago an explosion outside an Ariana Grande concert killed 22 people. And in March, a car drove across Westminster Bridge and hit several pedestrians, then came to a stop near the Houses of Parliament, where the attacker stabbed and killed a police officer. The most recent attack comes just days before the country holds national elections, and as my colleague Krishnadev Calamur points out, it's unclear how or if the attacks will affect the vote. But in her speech Sunday, she did say the vote would continue as scheduled, because "violence can never be allowed to disrupt the democratic process."
In tone, May's speech was comparable to that of Tony Blair's after the terrorist attacks in 2005 killed more than 50 people.Then, Blair announced that the "the rules have changed" and he laid out a 12-point strategy to fight terrorism. Much of those policies, however, were never implemented, partly because they contained lofty and ill-defined goals. The opposition Labour Party criticized May's speech, saying she'd breached an agreement by both parties to suspend political campaigning while the nation recovered. But it's hard to say if May's speech, which was full of macro ideas and scant on specifics, was indeed a strategy.