The U.S. Embassy Stays in Tel Aviv (for Now)
By signing the waiver to prevent moving the mission to Jerusalem, President Trump avoided wading into a dispute over the contested holy city.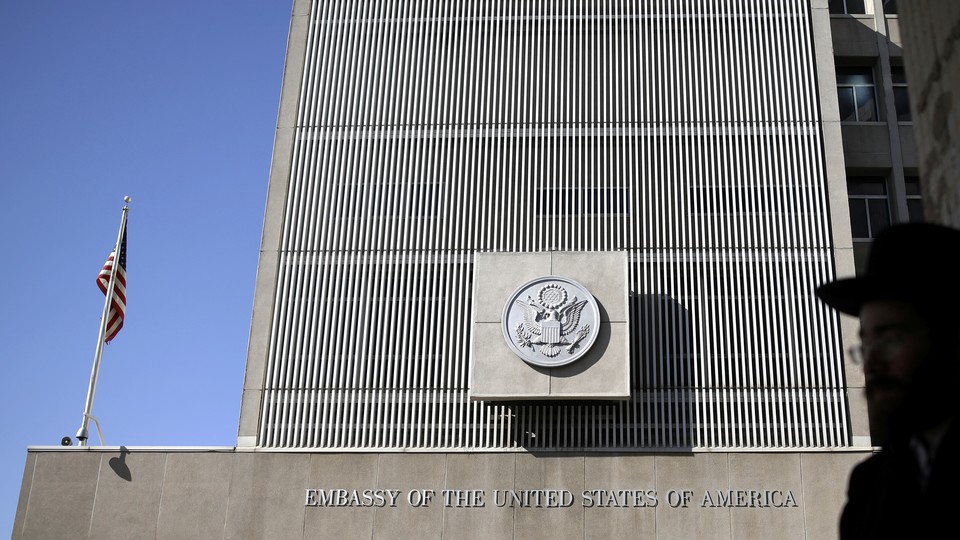 President Trump signed Thursday the waiver to keep the U.S. embassy in Israel in Tel Aviv, despite his campaign promise to move the mission to Jerusalem.
The six-month waiver, which has been signed by every presidential administration since 1998, allows the president to override the Jerusalem Embassy Act, a law Congress passed in 1995 that requires the mission be moved to the holy city, which Israel regards as its undivided capital. The international community, however, considers the eastern half of the city to be disputed territory—one the Palestinians claim as their future capital.
Although the move is a departure from Trump's campaign promise to move the embassy (he said during a news conference with Israeli Prime Minister Benjamin Netanyahu in February that he would "love to see that happen"), the White House said in a statement that "no one should consider this step to be in any way a retreat from the President's strong support for Israel and for the United States-Israel alliance," adding, "the question is not if that move happens, but only when."
Forestalling the embassy move could be strategic for Trump, who has repeatedly expressed his interest in pursuing a peace deal between Israelis and Palestinians—a task that has long thwarted past U.S. administrations and one which Trump has dubbed "the toughest deal in the world." As one of the core points of contention between the two parties, his refusal to change U.S. policy regarding the status of Jerusalem would be imperative to achieving that goal. The decision is unlikely to cause much of a stir in the region. The Palestinians have always been opposed to the idea, and it hasn't been much of a priority for even some of Israeli's far-right politicians. As Hussein Ibish noted in The Atlantic in January, Israel's hardline Defense Minister Avigdor Lieberman downplayed the significance of Trump's pledge to move the embassy, noting that Israelis "have other issues."