ISIS's Mass Killings of Civilians in Mosul
The UN called the slayings of at least 230 Iraqis trying to flee the city a "significant escalation."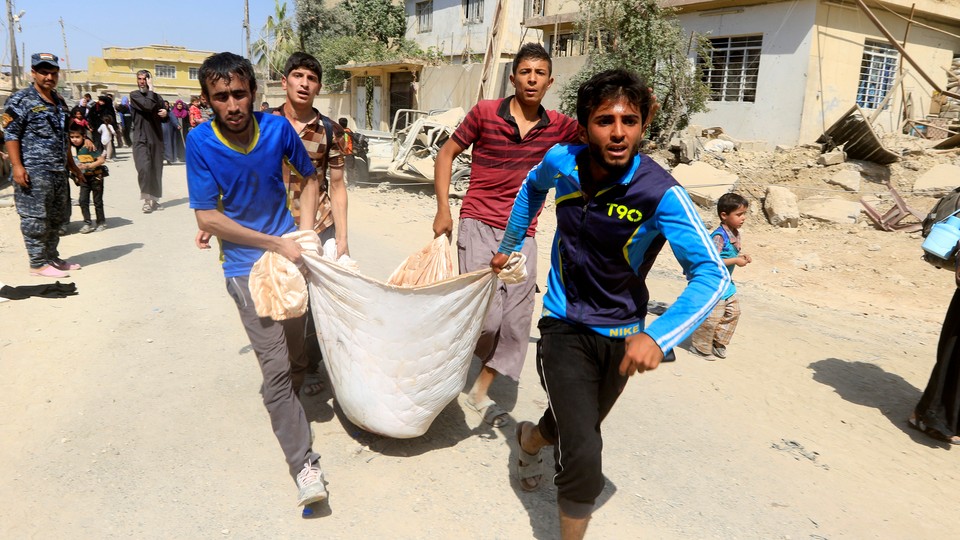 A UN report Thursday said more than 200 Iraqi civilians attempting to flee western Mosul have been killed by the Islamic State since the end of May, which the UN Human Rights Office called a "signifiant escalation."
The report noted three specific incidents of civilian killings in ISIS-controlled parts of western Mosul, during which the militant group reportedly shot and killed individuals attempting to flee to areas controlled by Iraq's security forces, resulting in the deaths of approximately 231 civilians. The report also cited civilian fatalities caused by airstrikes in ISIS-held areas of western Mosul on May 31, which caused between 50 and 80 civilian deaths.
The document echoes reports by journalists who reported witnessing the "bodies of dozens of civilians killed" while fleeing an ISIS-held neighborhood in Mosul laying on a street close to the frontline. As Reuters reported Sunday:
The dead included men, women and children. Bags in which they had carried their belongings were strewn around the road leading out of the Zanjili district, one of three still in the hands of Islamic State in Mosul. … Hundreds of others managed to reach the government lines, some wounded and some carrying apparently dead bodies in blankets, crying and shouting. A man carried an unconscious child.
The reports come amid an on-going offensive by the Iraqi government, backed by a U.S.-led coalition, to wrest western Mosul from ISIS, considered the militant group's last major stronghold in the country. More than 790,000 civilians are reported to have fled the city's densely populated urban neighborhoods since the offensive began, though some 100,000 people are still believed to be trapped within the fighting.
"Shooting children as they try to run to safety with their families – there are no words of condemnation strong enough for such despicable acts," Zeid Ra'ad Al Hussein, the UN high commissioner for human rights, said in the report. "I call on the Iraqi authorities to ensure that those who are responsible for these horrors are held accountable and brought to justice in line with international human rights laws and standards. The victims of such terrible crimes must not be forgotten."
The Pentagon confirmed last month that a U.S. airstrike in March killed more than 100 Iraqi civilians in Mosul after the blast inadvertently set off explosives planted by ISIS in the targeted building. The blast, which marked the greatest loss of civilian life since the U.S. began targeting ISIS in Iraq and Syria since 2014, prompted criticism the U.S.-led coalition did not  take adequate precautions to protect civilians.