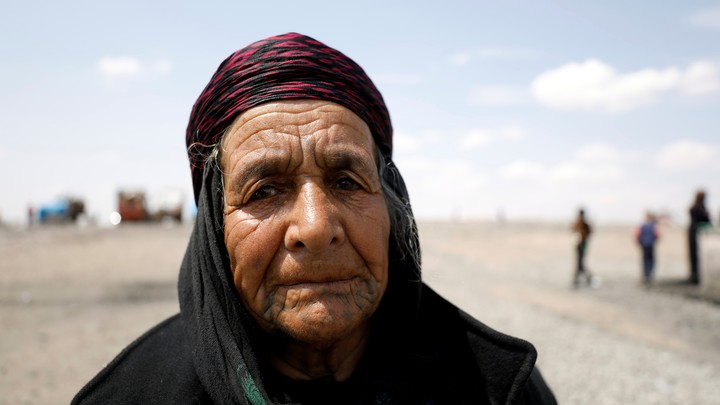 At least 300 people have been killed in the northern Syrian city of Raqqa, ISIS's de-facto capital, since March in what UN war-crimes investigators have called a "staggering loss of civilian life."
The surge in fatalities coincides with intensified airstrikes by the Syrian Democratic Forces (SDF), a group of U.S.-backed Arab and Kurdish fighters, against the Islamic State in Raqqa. The SDF launched an offensive last week on the city, which has been under ISIS control since 2014; SDF fighters claimed a number of key neighborhoods in the western, eastern, and northern parts of the city.
But the offensive has come at a cost. In addition to destroying "almost every important building in Raqqa," the operation has put many civilians in the line of fire and displaced thousands of others.
"The intensification of airstrikes, which have paved the ground for an SDF advance in Raqqa, has resulted not only in staggering loss of civilian life, but has also led to 160,000 civilians fleeing their homes and becoming internally displaced," Paulo Pinheiro, the UN Commission of Inquiry chairman, said Wednesday at the UN Human Rights Council.
Karen Abuzayd, the American commissioner on the UN panel, told Reuters approximately 300 deaths have been caused by coalition airstrikes; U.K.-based monitor Airwars puts the estimate at closer to 600. It's a death toll the UN Office for the Co-ordination of Humanitarian Affairs warned could rise, noting last week that between 50,000 to 100,000 people are believed to remain in the city.
Concern over civilian casualties isn't limited to Raqqa. Human-rights groups criticized the U.S. last week for its airstrikes targeting al-Qaeda militants in the Syrian city of Aleppo—a March offensive the U.S. military concluded resulted in only one civilian fatality, but which other monitors claim killed dozens.
Human-rights groups are also calling attention to the U.S.-led coalition's use of white phosphorus in operations against ISIS in Iraq and Syria. Though the coalition claims the substance is a smokescreen to help civilians escape ISIS-controlled areas safely (the group has been known to target civilians attempting to flee), Human Rights Watch warned its use could pose "a high risk of horrific and long-lasting harm in crowded cities like Raqqa and Mosul and any other areas with concentrations of civilians."
Indeed, though white phosphorus is not considered a banned chemical weapon and can be used in the battlefield, Amnesty International said the substance can reignite weeks after its been deployed, causing injuries that burn "deep into the muscle and bone."
We want to hear what you think about this article. Submit a letter to the editor or write to letters@theatlantic.com.