The London Attack's Rising Death Toll
The number of victims rose to eight after authorities recovered a body from the Thames.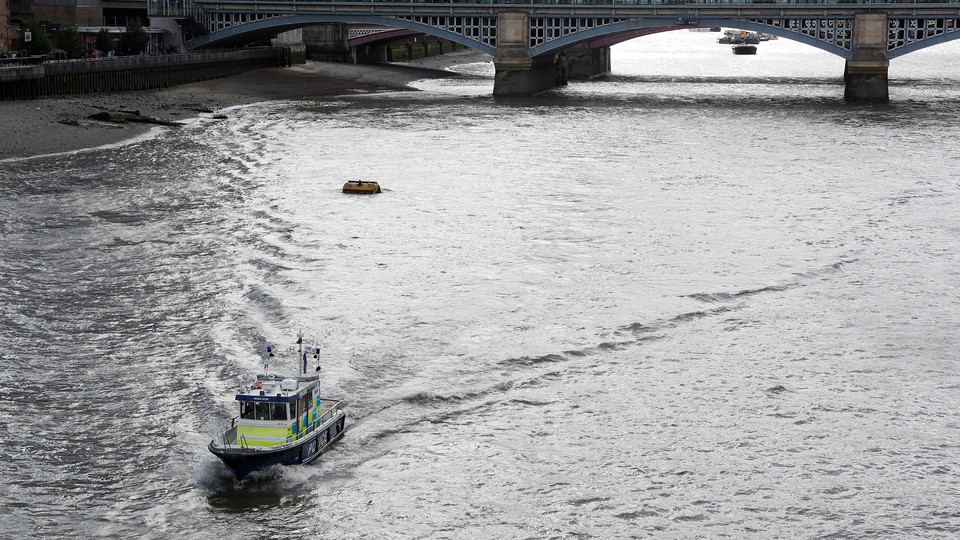 The number of victims from Saturday's London attack rose to eight Wednesday after authorities recovered an unidentified body from the Thames, the Metropolitan Police said.
British authorities said they were searching for Xavier Thomas, a 45-year-old French national who went missing Saturday night, when they discovered a body in the river Tuesday evening near the Limehouse district. Though Thomas's family was notified of the discovery, the identity of the body has not been confirmed.
The recovery brings the death toll of Saturday's attack, in which three assailants drove a van into a group of pedestrians on the London Bridge and began stabbing people near London's Borough Market, to eight. Approximately 48 people were injured. The three attackers, whom British officials have identified, were shot dead by authorities. The Islamic State claimed responsibility for the attack.
Though authorities are still working to identify all the victims, six of them have been named, including: Australian nationals Sara Zelenak and Kirsty Boden, Canadian national Christine Archibald, British national James McMullan, and French nationals Alexandre Pigeard and Sébastien Bélanger. Ignacio Echeverría, a Spaniard, reportedly went missing after confronting one of the assailants, though both his family and the Spanish government said they have not received any information about what happened to him. In a statement sent to foreign journalists Wednesday, the British government said, "Identifying large numbers of fatalities in a major incident is a complex and challenging process. Accurately identifying victims is crucial and every care is taken to ensure this is done as quickly as possible and to the highest standard, with due consideration to the families, in liaison with the senior identification manager and coroner."
If Thomas is identified as the eighth victim, he will be the third and final French national killed in the attack (France's foreign ministry confirmed that three of the victims were French, though they did not name them).
London Mayor Sadiq Khan urged Londoners to show unity following "a significant spike" in hate crimes in the aftermath of the attack. According to figures released by the mayor's office, the number of racist incidents recorded on Monday was 54, an increase from this year's daily average of 38. Islamophobic incidents saw a more than five-fold increase of 20 incidents Monday, compared to this year's daily average of 3.5.
"One of the greatest things about London is our defiant unity in the face of adversity—and that will not change in the aftermath of this horrific attack," Khan, a Muslim, said Wednesday in a statement, adding: "I'm calling on all Londoners to pull together, and send a clear message around the world that our city will never be divided by these hideous individuals who seek to harm us and destroy our way of life.