The Corruption Charges Against Brazil's President
Michel Temer is accused of accepting bribes, but the country's Congress will decide if he ultimately faces trial.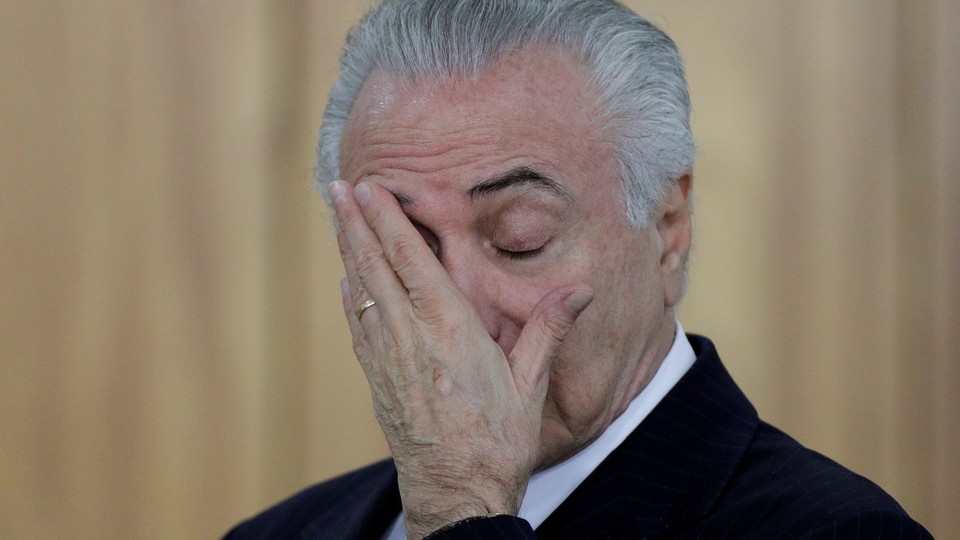 Brazilian President Michel Temer has been charged with corruption by the country's top federal prosecutor, just one month after allegations emerged that the leader approved bribes to silence a possible witness in the corruption scandal that has rocked the country.
The complaint, which was filed late Monday night by General Prosecutor Rodrigo Janot, accuses Temer of accepting bribes "in violation of his duties toward the State and society." Janot called on Temer to pay millions of dollars in damages.
The charges come a month after the release of an audio recording of a conversation between Temer and Joesley Batista, the chairman of JBS, Brazil's largest meatpacker, in which Temer can apparently be heard approving bribes. Batista, who presented the recording to prosectors as part of a plea deal, accused Temer of negotiating millions of dollars in illegal campaign donations for his ruling party, Brazilian Democratic Movement.
This marks the first time a sitting Brazilian president has faced criminal charges. But Temer may not face a trial. Under Brazilian law, the country's lower house of Congress must decide if Temer should be tried—a decision that would require two-thirds of lawmakers to accept the charges.
Temer's supporters say his ruling coalition has enough seats in the lower chamber to forestall a trial. But there are fears that support may wane if further charges—such as obstruction of justice, for which Temer is also being investigated—are levied against the president, forcing congressional members to defend him multiple times, as each charge would require a separate vote.
Temer's approval rating slumped to 7 percent over the past month, which may also make it difficult for the country's lawmakers—all of whom face re-election next year—to support the deeply unpopular president. Indeed, the corruption allegations have sparked widespread protests calling for the president's ouster. Temer, who has repeatedly denied the allegations, has refused to step down.
Though Temer is the latest Brazilian leader to face corruption allegations, he is hardly the first. The country's massive corruption scandal has implicated virtually every member of its political class, including dozens of lawmakers and a third of Temer's cabinet. More than 90 people have been convicted.
As I previously reported, if Temer is forced to step down, then House Speaker Rodrigo Maia, a Temer ally who is also implicated in the country's scandal, would become president in the interim. Congress would then be tasked with holding an indirect election and picking a new leader, who would rule until the next general election in October 2018.