The Accidental Killing of Philippine Troops
An airstrike targeting ISIS-linked militants mistakingly killed 11 government troops.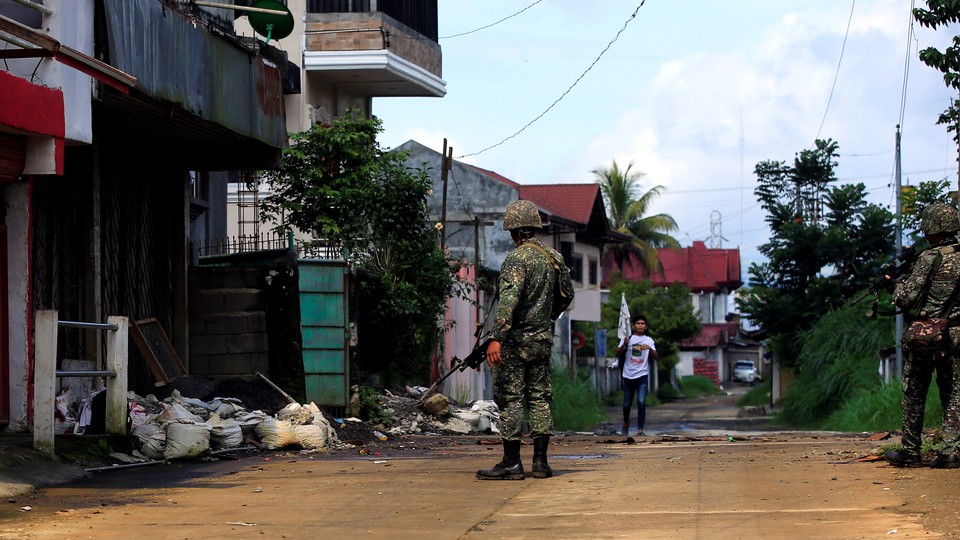 A Philippines government airstrike targeting Islamist militants who have overrun a city in the country's south accidentally killed at least 10 of the government's own troops, authorities confirmed Thursday.
"There were two planes flying and the first plane dropped their ordnance accurately, but the second missed and hit our troops," Delfin Lorenzana, the country's defense secretary, said during a press briefing in Manila.
He added: "Sometimes in the fog of war a lot of things could happen. Accidents happen, like this."
The deaths bring the total number of troop fatalities to at least 39 since the government began its efforts to regain control of Marawi City, a Muslim-majority town on the southern island of Mindanao that was overrun by members of the Maute Islamist militant group last week. More than 100 civilians have been killed in the clashes and several thousand others displaced. The Philippines's government says it believes the militants are harboring Isnilon Hapilon, the leader of the Abu Sayyaf terrorist group who is also considered the Islamic State's designated leader in Southeast Asia.
Philippines President Rodrigo Duterte declared martial law on the island last week to address the crisis, and suggested he might apply it to the whole country or extend its length if necessary. A spokesman for Duterte reaffirmed Thursday that the president would abide by the country's constitution, which only allows martial law to be implemented for 60 days "to stop an invasion or rebellion."
Lorenzana said the military would begin to rely less on airstrikes and more on ground forces in its effort to dislodge the militants, who he said have been confined to its last major stronghold in the city.
"I give those decision to the ground commander to determine if they still need airstrikes there, especially now that there are more troops operating on the ground and the chances of hitting our own troops is very big like what happened yesterday," he said.