Syrian Rebels Close to Victory in Raqqa Offensive
The Syrian Democratic Forces could be days away from overtaking the ISIS stronghold.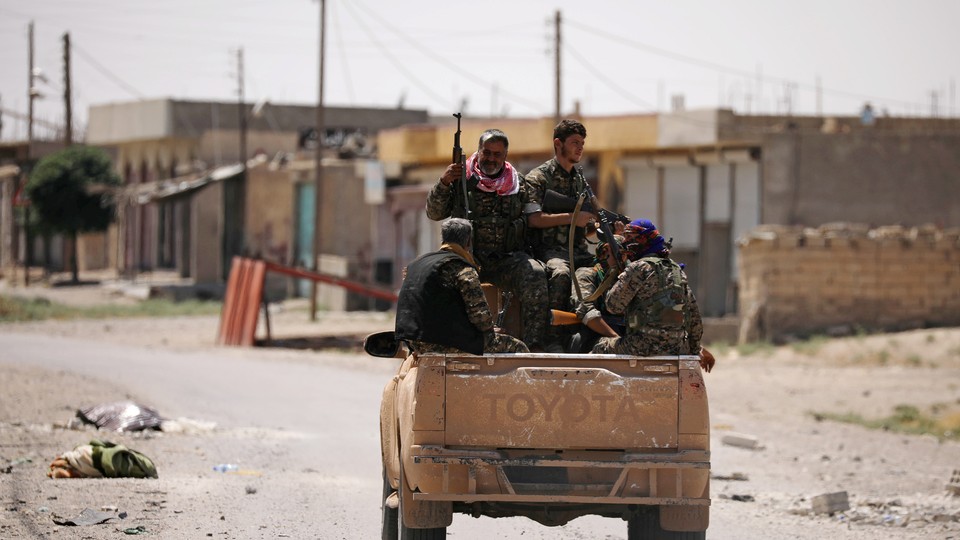 The Syrian Democratic Forces (SDF), a group of Kurdish and Arab fighters backed by the U.S., have captured a number of key neighborhoods near Raqqa, an ISIS stronghold in Syria, the group announced Monday. The announcement signals the progress of a larger offensive, launched last week, to overtake Raqqa from ISIS militants, who have maintained control of the city since 2014. In May, the Trump administration offered critical assistance by agreeing to arm and train members of the SDF's primary Kurdish militia, the People's Protection Units (YPG).
In the last few days, the SDF has succeeded in carrying out attacks to the north, east, and west. On Monday, the group captured the western neighborhood of al-Romaniya and a sugar factory complex in the northeast. On the same day, the U.K.-based Syrian Observatory for Human Rights reported that SDF had overtaken the industrial neighborhood of al-Sanaa, though fighting in the area continues. According to Ahmad Mohammed, an SDF media officer, the group has now reached the walls of the Old City, a neighborhood east of central Raqqa.
A local activist group announced Sunday that coalition air strikes, backed by the U.S., have destroyed "almost every important building in Raqqa," including schools and mosques. In the last 48 hours, at least 24 civilians have reportedly been killed due to escalating violence in the region. The SDF has previously estimated that around 3,000 to 4,000 ISIS fighters are trapped in Raqqa, along with around 160,000 civilians.
Citing information from a local activist, Al Jazeera reports that ISIS is expected to retreat or surrender in the coming days. According to the activist, who asked to be identified by his first name, Ahmad, ISIS has cleared local residents to leave the area if they surrender their belongings. Indeed, many civilians have already chosen to flee to nearby cities in the north in hopes of escaping violence. But the journey from Raqqa can be dangerous as well. According to a recent press release from Doctors Without Borders, civilians fleeing Raqqa are often forced to cross minefields or active military frontlines. Those who travel to 'the Berm'—a border area between southern Syria and Jordan—are also met with a dire lack of humanitarian aid.
If the SDF captures Raqqa as expected, they will be regaining territory formerly held by Syrian government forces. Their offensive has incited criticism from the Turkish government and Syrian opposition groups, who consider the YPG to be a terrorist organization. As the SDF approaches a victory in Raqqa, Turkey has grown concerned over whether the Kurdish group will attempt to make the city part of their autonomous zone in northern Syria. But, for many civilians trapped in Raqqa, the decision to side with the Kurds has been an easy one to make. "If the Kurds take Raqqa, displaced people can go back to their homes," Ahmad told Al Jazeera. "We are literally left with just three options: the Syrian government, ISIL, or the Kurds. We choose the Kurds."