Suspect Identified in Bombing of Chinese Kindergarten
Authorities uncovered words like "death," "decease," and "end" on the wall of the suspect's room.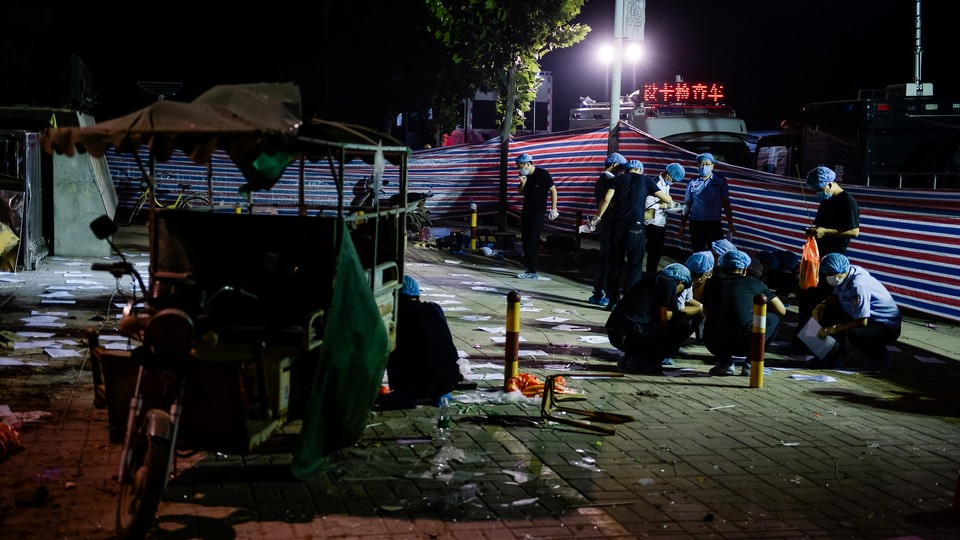 Local police have identified the man responsible for a Thursday explosion near a kindergarten in the eastern Chinese city of Xuzhou, which killed eight people, including the bomber. On Friday, investigators released the suspect's surname, Xu, but offered no details regarding his motive. "The explosion was caused by a homemade explosive device," said Pei Jun, the deputy police chief of the Jiangsu public security office, at a Friday news conference. "At this point, we believe the case is solved."
At around 4:50 p.m. local time on Thursday, a bomb was set off just outside the Chuangxin Kindergarten, where relatives waited to pick up their children, who were still in school. Two people died at the scene, while another six died after being taken to a local hospital. An estimated 65 people were injured, with eight reportedly still in critical condition. The majority of those injured are believed to be passers-by or relatives—mostly mothers—of the kindergarteners. Video footage from the scene indicates that two young children, presumably the students' siblings, were wounded in the attack.
While initial reports suggested that a gas cylinder from a local street vendor had caused the explosion, authorities now believe the attack was targeted. After reviewing security camera footage and DNA from the scene, investigators say they have uncovered enough evidence to hold Xu responsible. Pei also told reporters that authorities discovered materials for making an explosive device in Xu's residence near the school. He added that the Chinese characters for words like "death," "decease," and "end" were written on the wall of the suspect's room.
This language seems to coincide with a manifesto inscribed on a wall near the kindergarten, which claims that "giving birth is a crime" and that India, China, and Bangladesh will not "have a good end." Some have taken this to mean that the attack targeted mothers, but police have not drawn any such conclusion.
According to authorities, Xu suffered from a nervous system disorder that caused him to drop out of school. In addition to physical symptoms like heart and breathing problems, the disorder is linked to depression and anxiety, but is not considered a mental illness. Since leaving school, Xu worked as a casual laborer near his residence in Xuzhou. In many ways, he fits the profile of previous attackers who have targeted Chinese schools, who are often mentally ill or angry at their neighbors or society. In May, a school bus driver who was reportedly upset about not getting paid overtime set fire to his bus, resulting in 13 casualties, including the deaths of 11 children.
From 2010 to 2012, China saw at least nine attacks on elementary students, which together killed at least 25 people and wounded more than 100. On Friday, China's Ministry of Education asked schools to conduct a "comprehensive investigation of security risks" in light of Thursday's attack. The investigations, it said, should focus on terminated employees, illegal street vendors, and the mental ill.