Appeals Court Finds Netherlands Partially Liable for Srebrenica Massacre
The ruling by the Hague Appeals Court upholds a lower court's decision three years ago.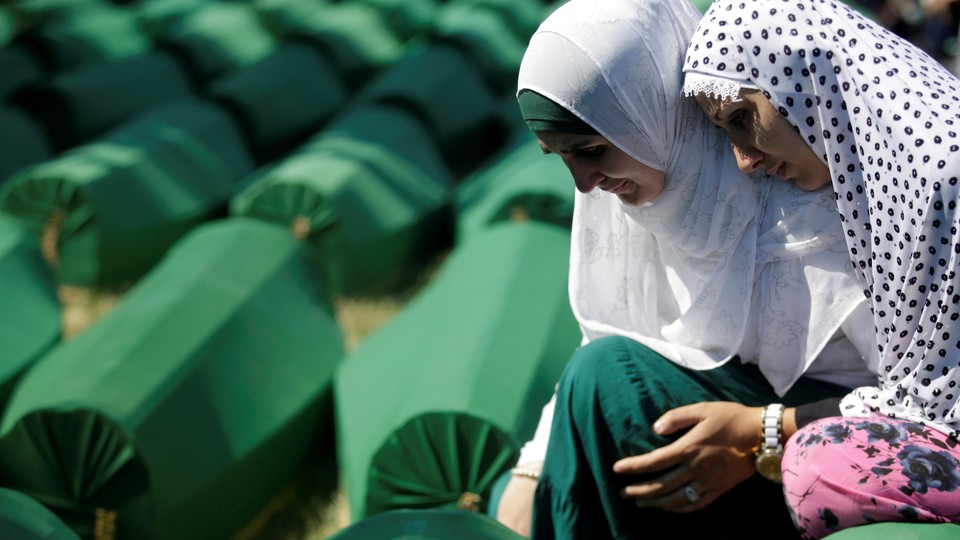 The Hague Appeals Court ruled Tuesday that the Netherlands was partly responsible for the deaths of 350 Bosnian Muslim males during the 1995 Srebrenica massacre, upholding a lower-court ruling from 2014.
But Tuesday's decision differed from the one three years ago in one important respect: The Hague Appeals Court ruled the Dutch state was liable for 30 percent of the losses suffered by the families of those men who were killed. It said the Dutch U.N. peacekeepers should have given the men a chance to remain inside their compound.
"Perhaps they would not have survived either in that case, because the Bosnian Serbs would have blocked access of relief supplies (water, food) or would have removed the men from the compound by force, but they would still have had a chance of survival in that case," the ruling said. "The Court of Appeal estimates that chance to be 30%. The State is therefore liable for 30% of the losses suffered by the relatives."
A final settlement figure has not yet been reached or determined.
Some 8,000 Muslim males—both men and boys—were killed by Bosnian Serb troops in Srebrenica in the worst massacre in Europe since World War II. But the court ruled Tuesday the Netherlands was not responsible for all those deaths—restricting its decision to the 350 Muslims males who had sought refuge at the Dutch-controlled U.N. base.
Here's what happened at the time, according to the BBC:
Some 5,000 Bosniaks had sought shelter from Bosnian Serb soldiers in a UN base, which was being defended by the lightly-armed Dutch peacekeepers - known as Dutchbat. Thousands more had sought protection outside the base.

But after the base was overrun, the Muslim men and boys were told by the peacekeepers they would be safe and handed over to the Bosnian Serb army.
The Bosnian Serb army proceeded to execute them.
The issue is a controversial one in the Netherlands, prompting the resignation of the Dutch government in 2002 over its failure to protect the Bosnian Muslims, but successive governments have held the Bosnian Serb troops responsible for the killings.
Ratko Mladic, the Bosnian Serb commander under whose orders troops carried out the massacre, is being tried for genocide at the International Criminal Tribunal for the former Yugoslavia in The Hague. A verdict in his case is expected this year.
Munira Subasic, of the Mothers of Srebrenica group, which filed the case, called the ruling "a great injustice." The ruling can be appealed to the Dutch Supreme Court.