ISIS Attacks a Shia Mosque in Kabul
Thursday marks the third attack of its kind in the Afghan capital since October.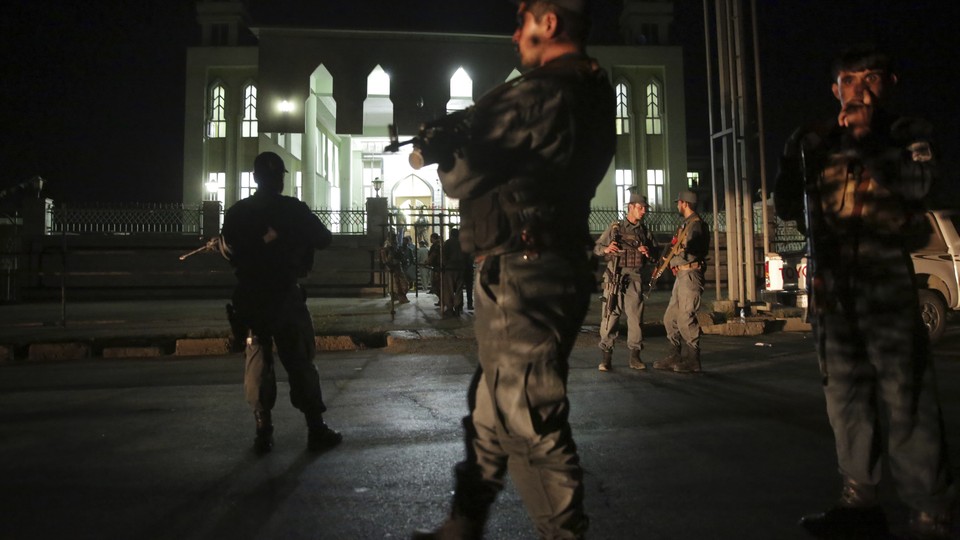 At least four people have been killed and eight more wounded in a Thursday attack on the al-Zahra mosque in the Afghan capital of Kabul. The attack reportedly occurred as Shia Muslims concluded their daily fast for Ramadan, the Islamic holy month. Multiple outlets have reported that a police officer and Haji Ramazan, a prominent local businessman who helped found the mosque, are among the deceased. An estimated four civilians and four officers have been wounded.
Recent hours have spawned been conflicting accounts of how many attackers were involved. According to the social media accounts of Afghanistan's interior ministry spokesman, Najib Danish, at least two attackers tried to enter the mosque, but were apprehended by police before they could reach the prayer hall. This prompted a shoot-out, causing one of the attackers to take refuge in the kitchen, where he or she detonated a bomb.
Later in the evening, ISIS claimed responsibility for the attack on its media channel, Amaq News. Afghanistan's chief executive, Abdullah Abdullah, issued a statement Thursday via Twitter calling the blast an "enemy act":
Attack on praying Muslims inside a mosque in the holy month of Ramadan is against faiths, religions and beliefs. I condemn this enemy act!

— Dr. Abdullah (@afgexecutive) June 15, 2017
Kabul has been no stranger to violence during Ramadan, which Islamist militants often regard as "the holy month of jihad." Many militants seek martyrdom and military victory during this time due to its religious significance. On May 31, a few days after the start of Ramadan, a suicide attacker detonated a truck bomb in Kabul's diplomatic quarter, killing around 90 people and injuring 400. While no group has claimed responsibility, ISIS and the Taliban have been behind the majority of recent bombings in Kabul. The attack later sparked protests in the city, where five people were shot and killed by police. At a funeral for one of the protestors on June 3, suicide bombers carried out three separate explosions, killing at least seven people and wounding around 100.
As subscribers to a strict version of Sunni Islam, ISIS has historically targeted Kabul, whose population consists mostly of Shia Muslims. Thursday's attack marks the third affront to a Shia mosque in Kabul since October, when gunmen killed at least 14 people in a Shia shrine. The following month, ISIS claimed responsibility for a blast targeting the Baqir ul-Uloom mosque, which ultimately killed more than 30 people.
Thursday's attack on the al-Zahra mosque is particularly significant, since it occurred during a period of worship in which Shia Muslims commemorate the martyrdom of Imam Ali, the cousin and son-in-law of the Prophet Muhammad. Shia Muslims consider Ali to be Muhammad's rightful heir and the first "legitimate" leader of Shia Islam. Their celebration of Ali takes place on the 19th, 20th, and 21st days of Ramadan: Wednesday through Friday of this week.