The Saudi-Led Bloc's List of Demands to End Qatar Crisis
The 13 demands include curbing ties with Iran and shuttering Al Jazeera.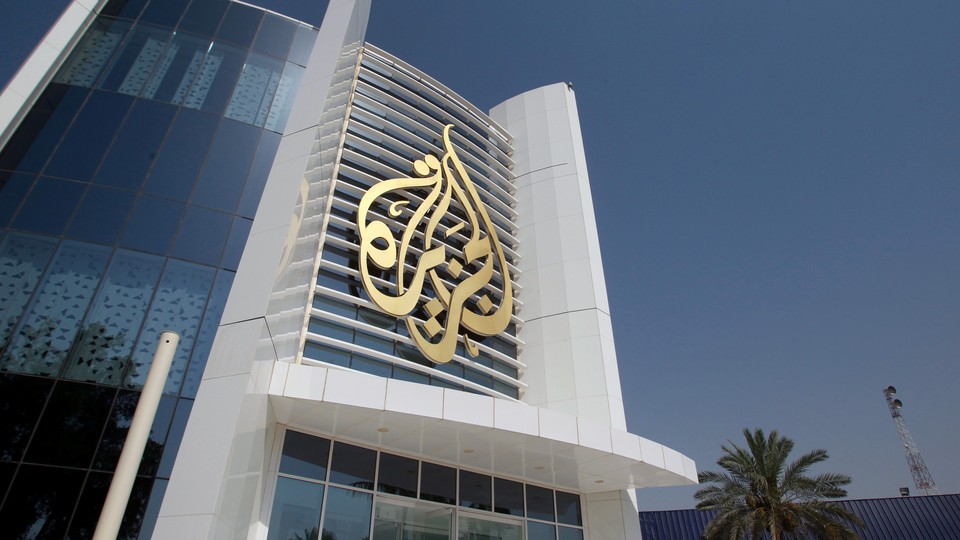 Updated at 2:15 p.m. ET
Saudi Arabia and other Arab countries have presented Qatar with a list of demands to meet before they will end a now three-week long blockade against the country. An English version of the list was first reported by the Associated Press early Friday local time, and on it were 13 requirements, including demands that Qatar curb all diplomatic ties with Iran and that it shut down the government-funded broadcaster Al Jazeera.
The list, which was presented to Doha on behalf of the Saudi-led bloc by Kuwait, an intermediary in the crisis, comes weeks after a group of six Arab countries—Saudi Arabia, Egypt, Bahrain, the United Arab Emirates, Libya, and Yemen— severed relations with Qatar over its alleged support of terrorism. Though tensions between Qatar and its Gulf neighbors are hardly new, this latest diplomatic crisis marks a significant escalation, with Saudi Arabia closing Qatar's only land border and halting all travel to the country.
One of the main focuses of the demands centers on Iran, Saudi Arabia's main regional rival. In addition to calling for and end of diplomatic ties with Tehran, the countries say that Qatar must expel members of Iran's Revolutionary Guard and cut off joint military cooperation with Iran, limiting relations to trade and commerce (in compliance with U.S. and international sanctions). The Saudi-led bloc also demanded Qatar shutter Al Jazeera, its affiliate stations, and at least four other news outlets that receive Qatari funding. It's a demand Qatar is unlikely to cede, as the country's foreign minister previously said Doha would refuse to discuss "any matter related to Al Jazeera," noting that the channel is considered an "internal affair" and a sovereignty issue. Al Jazeera Media Network called the demand "a siege against the journalistic profession."
The conditions also demand Qatar sever its ties to all "terrorist, ideological and sectarian organizations," including the Islamic State, the Muslim Brotherhood, Al-Qaeda, and Hezbollah. Qatar's alleged support for such groups has been well documented, though it denies the claim.
Other key demands, which you can read in full here, include closing a Turkish military base in the country, ending its interference in Arab countries' internal affairs, and requiring that it align itself militarily, politically, socially, and economically with other Gulf and Arab countries based on an agreement reached with Saudi Arabia in 2014.
The conditions come days after the State Department raised doubt over the justifications behind the Saudi-led blockade, calling on the countries to present Doha with a list of demands that are "reasonable and actionable."
"The more that time goes by, the more doubt is raised about the actions taken by Saudi Arabia and the UAE," Heather Nauert, the department spokeswoman, said Tuesday, adding that: "At this point, we are left with one simple question: were the actions really about their concerns regarding Qatar's alleged support for terrorism? Or were they about the long-simmering grievances between and among the GCC [Gulf Cooperation Council] countries?"
The U.S. has had a rather confusing response to the diplomatic crisis, and it's called into question America's own policy toward Qatar. President Trump tweeted his support and praised the Saudi-led action that assailed Qatar for funding terrorism "at a very high level." But Secretary of State Rex Tillerson has called for an ease to the blockade, noting the humanitarian repercussions, as well as its impact on U.S. interests (Qatar is home to Al Udeid Air Base, the largest U.S. military base in the region).
Qatar, which has not yet formally responded to the demands, was given 10 days to comply. It was not specified what would happen if they do not.