Russia to Treat U.S. Military Aircraft in Syria as 'Targets'
The announcement comes a day after the U.S. shot down a Syrian air force plane targeting pro-U.S. rebels.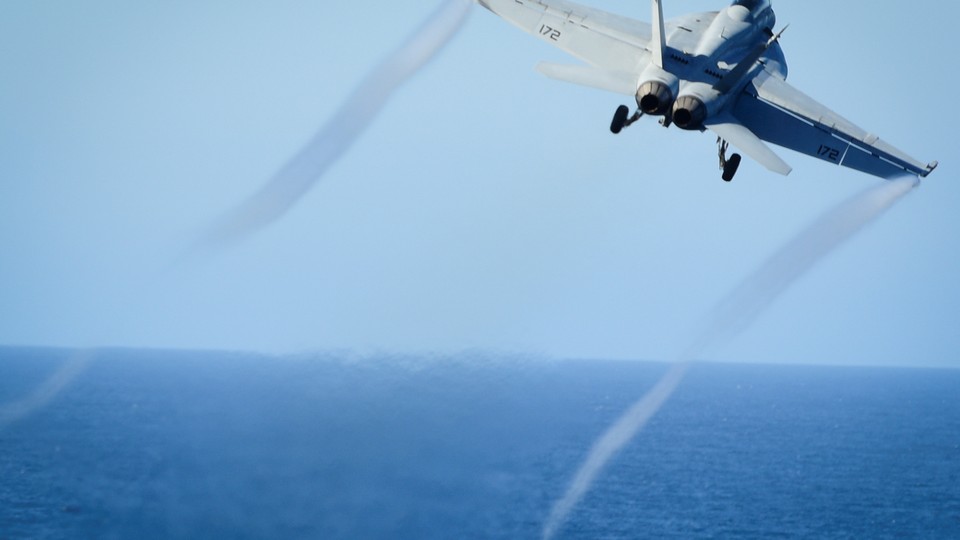 Russia says U.S. aircraft operating in Syria "will be … treated as targets," a day after the U.S.-led coalition shot down a Syrian aircraft that targeted U.S.-backed rebels. The threat represents a major escalation in the Syrian conflict in which Russia, along with Iran, backs the regime of Bashar al-Assad while the U.S. and its allies back rebel groups opposed to his rule.
"Any aircraft, including planes and drones belonging to the international coalition operating west of the Euphrates river, will be tracked by Russian anti-aircraft forces in the sky and on the ground and treated as targets," the Russian Ministry of Defense said in a statement Monday.
On Sunday, the U.S.-led coalition said it shot down a Syrian air force SU-22 jet that bombed U.S.-backed rebels near Tabqah, in Raqqa province. The city of Raqaa, about 35 miles northeast of Tabqah, serves as the provincial capital and is ISIS's de-facto capital. But the terrorist group has been the target of a massive military assault by U.S.-backed Kurdish rebels, as well as Russian-backed forces. The two groups are not coordinating their efforts. Assad regards all the groups opposed to his regime as terrorists.
The U.S.-led coalition said it had informed the Russians it was targeting the aircraft through a communication system the two countries had set up last year—but which was temporarily halted after the U.S. response to Assad's use of chemical weapons in April—to ensure the safety of their respective aircraft. But Russia denied it received the notice, and said it was halting communication with the U.S. The Syrian army general command said the U.S. actions revealed "the evil intentions of the U.S. in administrating terrorism."
The downing of the aircraft is the latest indication the U.S. is expanding its military role in Syria. In April, the U.S. struck a Syrian air base from which the Assad regime is said to have launched a chemical-weapons attack on civilians. Since that time, the U.S. military has attacked Syrian government troops who it said entered an exclusion zone near Iraq where the U.S. military is training Syrian rebels. It also shot down an armed Syrian drone that had fired at coalition forces.