Russia Cancels Meeting With U.S. Over Increased Sanctions
"The new American jab will not go without reaction from our side," Russia's deputy foreign minister said Wednesday.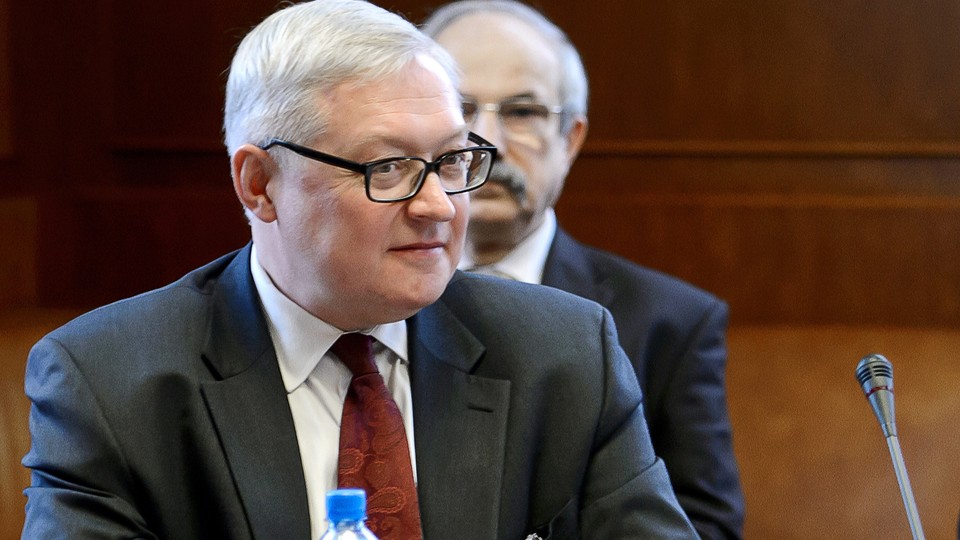 Russia has cancelled a planned meeting between its deputy foreign minister, Sergey Rybakov, and U.S. Under Secretary of State Tom Shannon in response to a new round of sanctions imposed by the U.S. The sanctions, which pertain to more than three dozen individuals and organizations involved in the Russian invasion of Ukraine, were announced Tuesday as President Trump welcomed Ukrainian President Petro Poroshenko to the White House.
The now-cancelled meeting was scheduled to take place on Friday in St. Petersburg following a May meeting in New York City. Rybakov and Shannon were expected to lead a working group in an effort to smooth out escalating tensions between the two nations. In a pointed statement on Wednesday, Rybakov said the goal was "to find ways out of the extremely difficult situation in which the American side wore the partnership and cooperation with Russia down." The statement continued: "After yesterday's decision on sanctions, the situation does not allow for a round of such a dialogue, especially as there is no content for it, since Washington didn't offer, nor is offering now, anything specific."
Indeed, it seems the two nations have reached a stalemate, with the U.S. unwilling to budge in its condemnation of Russian aggression, and Russia unwilling to communicate unless the U.S. loosens its reigns. This applies not only to the new round of sanctions, but to other strains, both local and abroad. In his statement on Wednesday, Rybakov cited the United States's failure to return Russian compounds in Maryland and New York as another motivation for cancelling Friday's meeting. The decision also comes just three days after a U.S. fighter jet shot down a Syrian warplane, prompting threats from Russia that it would now target American aircrafts flying over Syria.
At a Tuesday news conference, Russia's foreign minister, Sergey Lavrov, pointed to the latest round of sanctions as evidence of the United States's "Russo-phobic obsession," arguing that the new restrictions "don't help to improve the climate" of U.S.-Russia relations. On the same day, the Kremlin's press secretary said that Russia had not ruled out a meeting between Trump and Russian President Vladimir Putin during next month's G-20 summit in Hamburg, while emphasizing that nothing had been agreed upon yet.
Following an investigation into the Trump campaign's alleged collusion with Russian officials, and a deal that would prevent Trump from loosening sanctions on Russia, experts argue that the president is keen to demonstrate a tougher stance toward the Kremlin. Meanwhile, Russia is equally set on resisting intimidation from the U.S. In reference to Tuesday's sanctions, Rybakov argued that "the new American jab will not go without reaction from our side." He added:
In the U.S., of course, they can further soothe themselves with the illusions that they can "pressure" Russia. Many previous "waves" of American sanctions have not brought the result on which their initiators counted. Just as futile will be any new attempts to force the Russian side to "submit."
On Wednesday, the U.S. State Department issued a response to Rybakov via its spokesperson, Heather Nauert. While Nauert said the U.S. remained open to future discussions with Russia, she stressed that sanctions would not be lifted until Russia met its obligations under the Minsk agreements, which call for a ceasefire in Ukraine. "Let's remember that these sanctions didn't just come out of nowhere," Nauert said. "If the Russians seek an end to these sanctions, they know very well the U.S. position."