Qatar Vows to Keep 'Independence of Our Foreign Policy'
The foreign minister's remarks are unlikely to placate Saudi Arabia and others who have severed ties to Doha.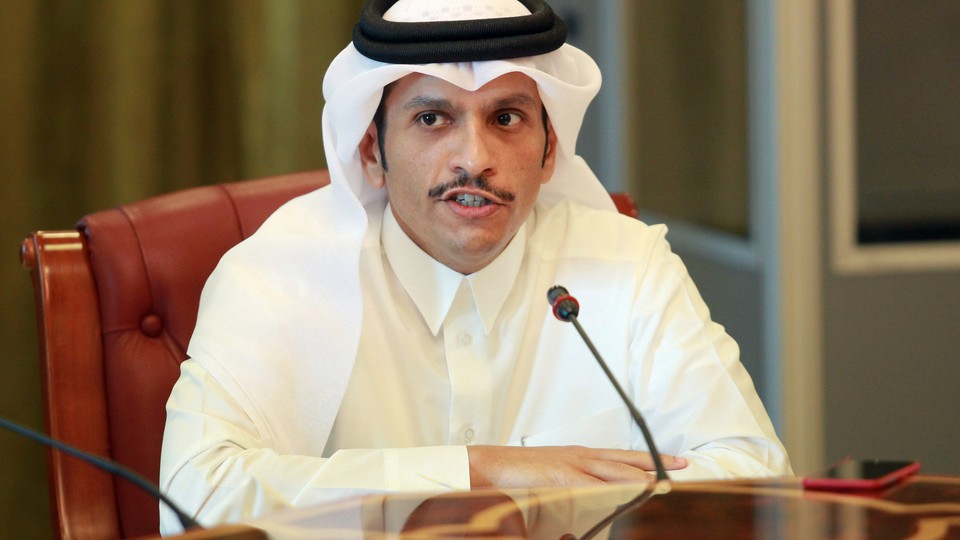 Qatari Foreign Minister Sheikh Mohammed bin Abdulrahman al-Thani said Thursday his country is "not ready to surrender, and will never be ready to surrender, the independence of our foreign policy."
The remarks come three days after six Arab countries—Saudi Arabia, the United Arab Emirates, Libya, Bahrain, Yemen, and Egypt—severed all diplomatic and transportation links with Qatar over its alleged support of terrorism. Energy-rich Qatar, which relies heavily on supplies that are brought in across the border from Saudi Arabia, has since then been under intense pressure from its neighbors to change its policies on the Muslim Brotherhood and Hamas, which it supports, and elements of al-Qaeda and ISIS, which it's being accused of supporting. Although Qatar like its Arab neighbors in Sunni, its foreign policy has been pragmatic. It has close relations with Iran and is known to be friendly with Israel, as well. Doha denies links to terrorist groups, however.
"We are not ready to surrender, and will never be ready to surrender, the independence of our foreign policy," the foreign minister told reporters in Doha. He added his country was being targeted "because we are successful and progressive."
Also Thursday, Al Jazeera, the Arabic-language broadcaster that is funded by the Qatar government and disliked by regional governments, said on Twitter:
It's unclear if the purported hack is in any way connected to the diplomatic row.
President Trump, who earlier this week appeared to suggest it was his pressure on Saudi Arabia and others that resulted in the action against Qatar, offered Wednesday to help resolve the conflict. Qatar is home to the largest U.S. military base in the region--with 11,000 U.S. personnel stationed at the Al Ubaid air base.
Kuwait, which has not participated in the regional action against Qatar, has also offered to mediate. Iran has offered to ship supplies into Qatar. Turkey's parliament voted Wednesday to approve sending troops to Qatar in solidarity. Tass, the Russian news agency, reported Sheikh Mohammed, the foreign minister, would visit Moscow, but provided few other details.
Writing in the London Review of Books, Oliver Miles, a former U.K. ambassador to the region, noted:
There are ample stocks of food and other supplies in Qatar for a period of weeks. If an embargo is maintained and not extended to include other suppliers, it will be a relatively simple matter for Qatar to import from elsewhere, including Iran and Turkey; the main losers would be merchants in Saudi Arabia and Dubai. The impact on shipping isn't clear; Platts has reported both that 'Oil shipping bears brunt of Qatar diplomatic crisis' and that 'Qatar diplomatic crisis not seen impacting oil, LNG shipping'. If Qatari gas and oil tankers are banned from southern Gulf ports and from Fujairah the main winner will be Oman.