U.S. Envoy to Qatar to Exit
Dana Shell Smith, whose tweets appeared critical of the Trump administration, says her tenure ends this month, but did not specify what her future plans are.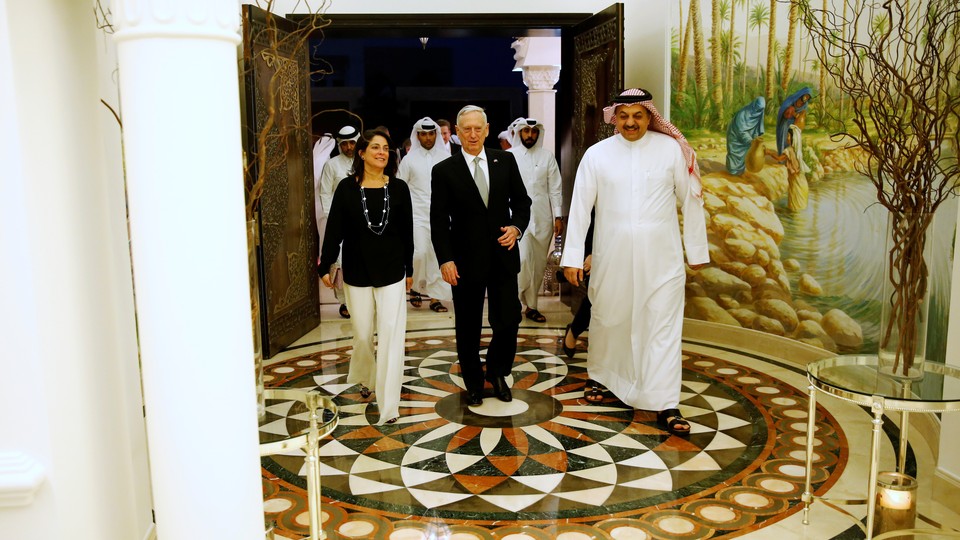 Updated on Wednesday, June 13 at 11:13 a.m. ET
Dana Shell Smith, the U.S. ambassador to Qatar who drew attention last month after posting a tweet that appeared to be critical of the Trump administration, announced Tuesday that her tenure in Doha will end later this month.
1/2 This month, I end my 3 years as U.S. Ambassador to #Qatar. It has been the greatest honor of my life and I'll miss this great country.

— Dana Shell Smith (@AmbDana) June 13, 2017

2/2 I will be announcing my personal Twitter account soon. Keep an eye out!

— Dana Shell Smith (@AmbDana) June 13, 2017
It's unclear if Shell Smith, a career foreign-service officer who was confirmed by the U.S. Senate as ambassador to Qatar in 2014, will remain a U.S. diplomat. Her tweet that she "will be announcing my personal Twitter account soon" would suggest not. The U.S. Embassy in Qatar directed an inquiry into Shell Smith's future plan to the U.S. State Department. The State Department did not respond, but Al Jazeera quoted a State Department spokesperson as saying Dana Smith had decided to leave the Foreign Service earlier this year. "We wish her the best as she moves on from the Department of State," the spokesperson told the Arabic-language network.
Shell Smith, a fluent Arabic speaker who has previously served in Taiwan, Jordan, Israel, and Egypt, came under scrutiny shortly after President Trump fired FBI Director James Comey last month.
Increasingly difficult to wake up overseas to news from home, knowing I will spend today explaining our democracy and institutions.

— Dana Shell Smith (@AmbDana) May 10, 2017
She was named in a recent New York Times article as being among those diplomats who have staged a "quiet revolt" against the administration's unconventional foreign- and domestic-policy moves. Indeed, after the recent London attacks, when President Trump criticized Sadiq Khan over the London mayor's remarks—which the president appears to have taken out of context—Shell Smith retweeted the State Department's message of condolence to the victims of the London attack, as well as Los Angeles Mayor Eric Garcetti's tweet in support of Khan.
Her job became more complicated following the decision last week by six Arab states—Saudi Arabia, Egypt, Bahrain, the United Arab Emirates, Libya, and Yemen—to sever ties with Qatar over its alleged support of extremist groups. Since that decision, the U.S. State Department, which oversees foreign policy, and the White House have seemingly been at odds over what U.S. policy toward Qatar actually is.
Last Friday Rex Tillerson, the U.S. secretary of state, urged "Saudi Arabia, the United Arab Emirates, Bahrain, and Egypt to ease the blockade against Qatar" and urged Doha to be "responsive to the concerns of its neighbors." He said Qatar's emir had made progress on the issues raised by his neighbors, "but he must do more and must do it more quickly." Less that two hours later, Trump called Qatar "a funder of terrorism at a very high level." He'd previously suggested that the Arab nations acted against Qatar after he'd told them to crack down on the financing of terrorism. On Friday, the president appeared to suggest the U.S. was aware of the impending action by the Arab states against Qatar, home to the largest U.S. military base in the Middle East. Shell Smith's Twitter account retweeted Tillerson's remarks—but not the president's.