Putin Says 'Patriotic Hackers' May Have Targeted U.S. Election
But he denied the Russian state was involved.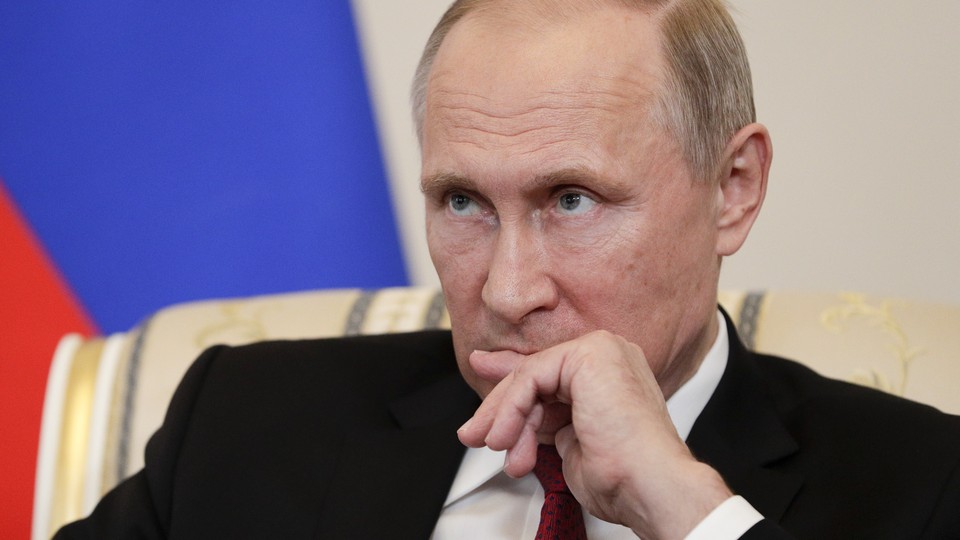 Russian President Vladimir Putin said Thursday his country has "never engaged in" hacking another nation's elections, but left open the possibility that hackers with "patriotic leanings … may try to add their contribution to the fight against those who speak badly about Russia."
"Hackers are free people, just like artists who wake up in the morning in a good mood and start painting," Putin told news agencies at a meeting in St. Petersburg, the Associated Press reported. "The hackers are the same, they would wake up, read about something going on in interstate relations and if they have patriotic leanings, they may try to add their contribution to the fight against those who speak badly about Russia."
U.S. intelligence agencies say Russian hackers interfered in the U.S. presidential election on behalf of Donald Trump, though they add there's no evidence to suggest those efforts succeeded.  Separately, congressional panels and the FBI are investigating figures close to President Trump for their links to Russia. Meanwhile European intelligence agencies have said Russia is using the same tactics in elections in France, the Netherlands, and Germany in favor of the populist candidates in those countries. Establishment-supported candidates won elections in France and the Netherlands. Germany's elections are in the fall, and Chancellor Angela Merkel is widely expected to win re-election.
But Putin denied once again the Russian state was involved in interfering foreign elections:  "We never engaged in that on a state level, and have no intention of doing so." He suggested that an unnamed entity had made it appear as if Russia were behind such actions.
"I can imagine that some do it deliberately, staging a chain of attacks in such a way as to cast Russia as the origin of such an attack," he said. "Modern technologies allow that to be done quite easily."
Still, Putin's acknowledgment that it was "theoretically possible" that "patriotic" Russians may have engaged in hacking is his first admission that Russians could have played any such role. The slight change in his position is not new: Despite evidence to the contrary, Putin had previously rejected claims Russian troops were involved in the annexation in 2014 of Ukraine's Crimea and that they were supporting rebels in eastern Ukraine. He later acknowledged their role in the fighting.
Putin also called Trump "a straightforward … frank person" who sees issues with "a fresh set of eyes." But he said "Russo-phobic hysteria" was making engaging with the Trump administration difficult. Putin added "we are patient. We know how to wait and we will wait."