Puerto Rico Votes for Statehood
Voters overwhelmingly supported the decision, but there was dismal turnout.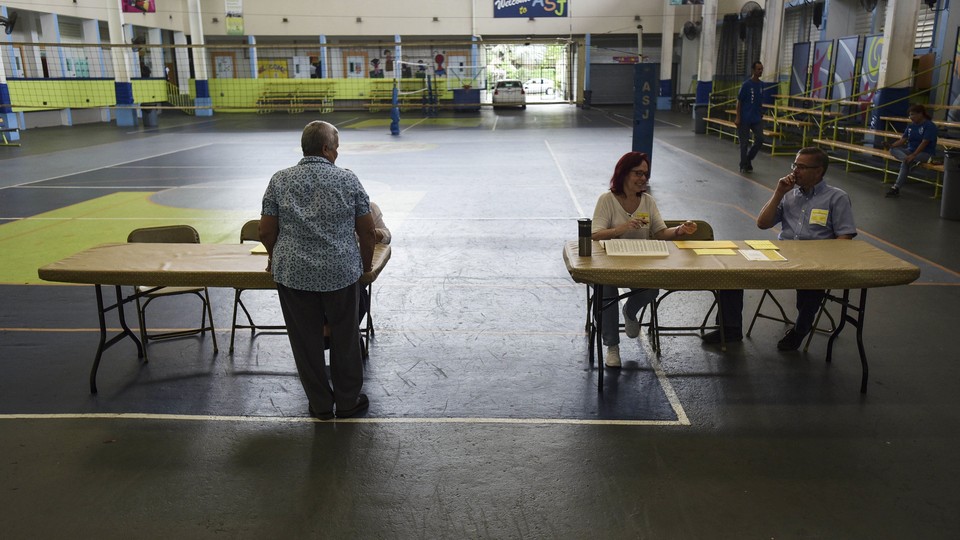 Puerto Rican voters overwhelmingly supported the chance to become the 51st state in the U.S. on Sunday's referendum vote, according to early tallies. It's a significant gesture from the island, which is a U.S. territory, but low turnout, a boycott by opposition parties, and the likely pushback from Congress, make the decision an unlikely one.
It was the U.S. territory's fifth referendum vote since 1967, and about 97 percent, or half a million people, voted to become a state. By Sunday evening, only about half of polling centers were finished reporting results, but given the massive margin the end tally will likely be in favor. However, as of 6 p.m. voter turnout was about 23 percent, with some 2.3 million voters in all. This will probably discredit the vote, but Puerto Rico's Senate president, Thomas Rivera Schatz, said he would continue his push for state hoood anyway.
"Congress never freely gave away statehood," he told the Associated Press. "U.S. states had to fight for it."
The island has been a territory since 1898 when the U.S. took it from Spain after the Spanish-American War. Puerto Ricans are citizens, but they do not vote for president, and have only one non-voting representative in Congress. They do not pay federal taxes, but they do pay Social Security, Medicare, and local taxes. The latest referendum was pushed for by the governing New Progressive Party. But ultimately it's Congress that decides if the U.S. territory's status can switch, and a move toward  a statehood would likely be challenged by Republicans. Advocates for statehood argue that with the amount of corporate and income taxes Puerto Rico would be due, the island would not be in its current economic condition.
Schools are closing, businesses are leaving, and half a million people have left to the U.S. mainland. A 10-year economic recession, brought on partially by heavy borrowing, has left little economic future for residents. Last month, Puerto Rico declared bankruptcy, making it the largest municipality to do so in U.S. history.
Those against statehood doubt it could help its financial crisis, because Puerto Rico would also have to pay millions in taxes. And the island, they say, would lose its cultural identity.
In its first three referendums for statehood, there was no clear majority, and citizens were almost evenly divided for statehood and against. In the last referendum vote, in 2012, 54 percent of voters said they wanted a change in status. But when answering the second question, the one asking to choose statehood or independence, more than half a million voters left the answer blank. With little more than 20 percent voter turnout so far, this vote, too, will likely be called another indecision.