150 Die in Pakistan After an Oil Tanker Explodes
Hundreds of people had rushed to collect the leaking fuel before it ignited.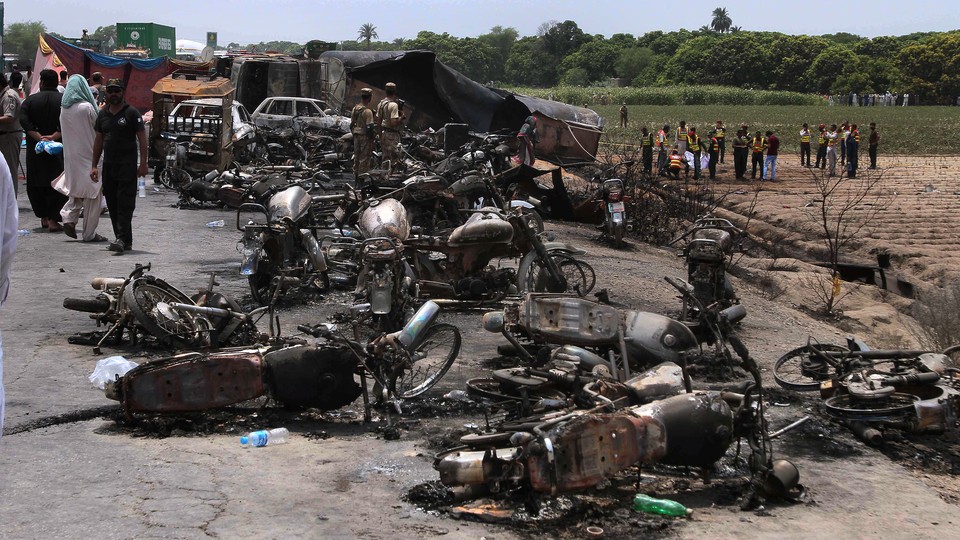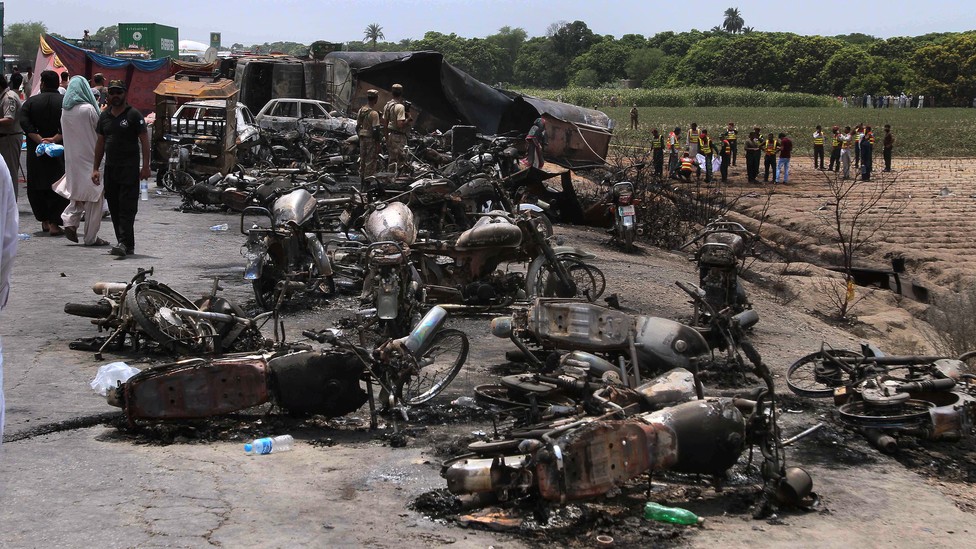 An oil tanker in Pakistan that overturned on the road burst into flames on Sunday, killing about 150 people, many of them women and children who'd run toward the leaking tanker with buckets to collect the spilt fuel. It's still not known what caused the spark that started the explosion, although early reports indicate it may have come from a lit cigarette.
The tanker was on its way to from the port city of Karachi to the region's capital, Lahore, when it entered a sharp bend in the highway. The driver reportedly lost control, blew a tire and overturned near the city of Bahawalpur. The tanker was carrying about 5,500 gallons of oil, and in a poor region of the country, where people survive on $3 a day, the prospect of free oil drew a crowd. A loudspeaker atop a nearby mosque alerted the village to the leaking fuel, and hundreds rushed to fill jerry cans and buckets. Local media arrived to film the people scooping up the oil, and while police tried to hold everyone back, more rushed in, some coming from neighboring villages on their motorcycles.
The fire spread rapidly, and local media showed a giant fireball erupt and give way to thick black plumes of smoke. The mosque that had previously alerted people to the overturned tanker later called in villagers to help put out the fire. But the flames were too intense. "I could hear people screaming but I couldn't get to them," one man told the Associated Press.
It took firefighters more than two hours to extinguish the flames. And when they had, there was dark soot everywhere, burned cars and some 70 blackened motorcycles. "Around forty bodies were beyond recognition," a rescue worked told The Guardian, saying that many would have to be identified later by DNA.
While there was no confirmation from authorities, rescue services spokesman Jam Sajjad Hussain told Reuters that the cause of the fire came from someone trying to light a cigarette as everyone gathered oil. Along with the 150 dead, more than 50 others were injured. But the death toll is expected to rise, as many others are still considered missing from neighboring villages. The survivors were taken to the nearby Victoria Hospital, but it was not equipped to handle so many burn victims. The Associated Press reported that most of the patients suffered burns over 80 percent of their bodies, and some of the most serious cases were taken by helicopter to a hospital in Multan, about 60 miles away.
The explosion came just a day before the Muslim holiday of Eid al-Fitr, which signals the end of the month-long Ramadan fast.