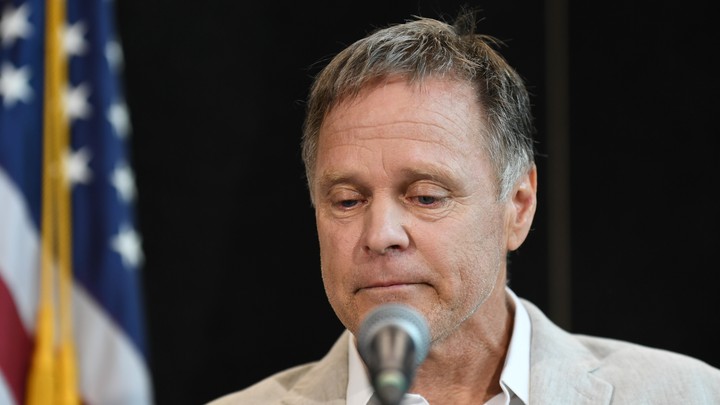 Updated at 3:14 p.m. ET
Otto Warmbier's father said Thursday he does not believe North Korea's explanation for why the 22-year-old University of Virginia student is in a coma, credited the Trump administration for freeing his son, and criticized the Obama administration's advice to the family "to keep a low profile."
At a sometimes-emotional news conference at Wyoming High School in Wyoming, Ohio, just outside Cincinnati, Fred Warmbier, who wore the jacket his son wore during his televised confession in North Korea, said: "We don't believe anything that they [North Korea] say," adding his son had become "fodder" for the regime.
The comments deepen the mystery of what happened to Otto Warmbier after he was convicted in March 2016 by a North Korean court for "anti-republic activities"—stealing a propaganda sign from his hotel. Warmbier was sentenced to 15 years in prison, but was not heard from soon after his conviction. Upon the news of his release and medical evacuation this week, Warmbier's parents said the North Korean regime had alleged Warmbier was stricken with botulism and upon consuming a sleeping pill, fell into a coma. Images of his return to the U.S. saw a limp body being escorted from the aircraft he was flown in on.
"I'm proud of Otto, and the courage he showed by going to North Korea," Warmbier said, "and having that adventurous side to him ... so the fact that he was taken and treated this way is horrible, and it's tough to process."
Officials at the University of Cincinnati Medical Center, where Warmbier is being treated, said Thursday he had suffered a "severe neurological injury," but was in stable condition. Doctors there described his condition as "unresponsive wakefulness." They said Warmbier opened his eyes and blinked spontaneously, but showed "no signs of understanding language." They added that he showed no signs of contracting botulism. Physicians said Warmbier showed "extensive loss of brain tissue in all regions of the brain," but added they had no idea why this happened.
"This pattern of brain injury, however, is usually seen as a result of cardiopulmonary arrest, where the blood supply to the brain is inadequate for a period of time, resulting in the death of brain tissue," they said.  
Warmbier's case also raises questions about U.S. policy toward North Korea. As I've previously reported, Warmbier, who arrived in North Korea in December 2015 as part of a tour group, was arrested on January 2, 2016, while he was leaving the country. North Korean officials said he was detained for "anti-republic activities," and sentenced him to 15 years in prison.
Fred Warmbier said the Obama administration had urged the family to "keep a low profile" for fear of offending the North Koreans, whose leadership is seen as unpredictable. At least three other U.S. citizens are in North Korean custody, and the country regularly tests missiles and nuclear devices—in violation of its international obligation—threatening its neighbors, U.S. military personnel in the region, as well as U.S. territory.  The Obama administration had called for "strategic patience" with North Korea, a policy the Trump administration has publicly departed from.
When asked Thursday if the Obama administration could have done more to free their son, Fred Warmbier replied: "I think the results speak for themselves."
The "time for strategic patience is over," he said, "We've been brutalized [by North Korea] for the last 18 months with misinformation, no information." He said their silence so far was based on the "false premise" that North Korea "would treat Otto well."
He said he'd spoken to President Trump about his son's release, calling the president "kind."
"It was nice," he said of the call. "And it was gracious, and it felt good."
We want to hear what you think about this article. Submit a letter to the editor or write to letters@theatlantic.com.