Tour Company That Took Otto Warmbier to North Korea Will No Longer Take Americans
The U.S. State Department is also reviewing its policy on travel to the country.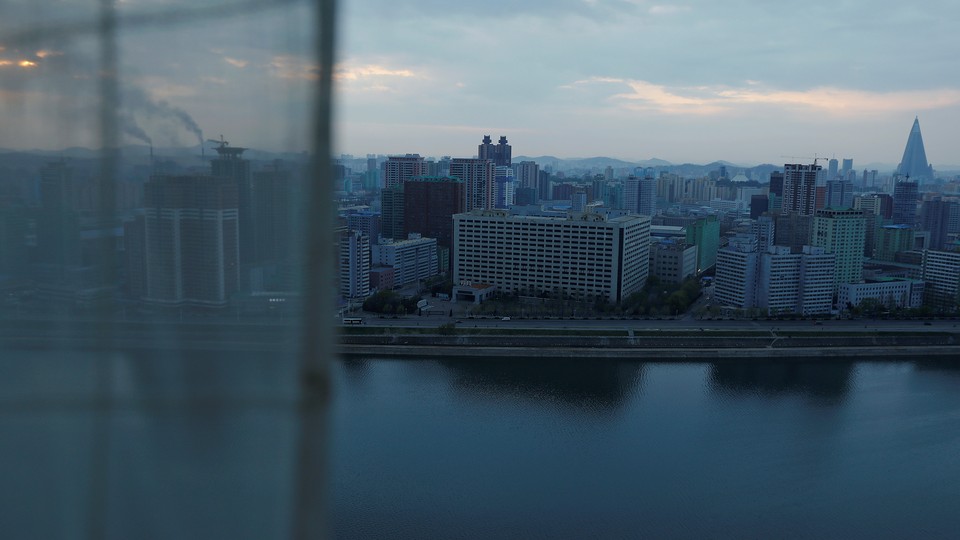 The tour company with which Otto Warmbier traveled to North Korea says it will no longer accept American bookings following the death Monday of the 22-year-old University of Virginia student who was imprisoned by the communist state for more than a year and spent much of that time in a coma.
"The devastating loss of Otto Warmbier's life has led us to reconsider our position on accepting American tourists," Young Pioneers, the Xian, China-based tour group, said in a statement on its website. "There had not been any previous detainment in North Korea that has ended with such tragic finality and we have been struggling to process the result. Now, the assessment of risk for Americans visiting North Korea has become too high."
As we reported Monday, Warmbier's family announced his death just days after he returned to Ohio in a coma from North Korea. North Korean officials had told his parents that Warmbier was stricken with botulism soon after he was sentenced to 15 years in prison in March 2016 for stealing a propaganda sign from his hotel. The officials said Warmbier was administered a sleeping pill following which he fell into a coma. He had not been seen in public since his sentencing and his parents learned about his medical condition last week, days before he was allowed to come home. Officials at the University of Cincinnati Medical Center, where he was taken upon his return from North Korea, said last week that Warmbier exhibited no signs of botulism, noting his injuries were consistent with "cardiopulmonary arrest, where the blood supply to the brain is inadequate for a period of time, resulting in the death of brain tissue." Fred Warmbier, Warmbier's father, said last week he did not believe the North Korean version of events, adding his son had become "fodder" for the regime.
Warmbier's death is the latest challenge for the Trump administration's North Korea policy. Although Fred Warmbier praised the president and his team for their efforts in returning his son, three other U.S. citizens remain detained in North Korea. They are: Kim Dong-chul, 62, who was sentenced in April 2016 to 10 years of hard labor for spying; Kim Sang-duk, who was detained in April of this year; and Kim Hak-song, who was detained last month for "hostile acts."
North Korea has been at odds with its neighbors and the U.S. for decades, but in recent years its advanced nuclear and missile programs, combined with its aggressive foreign-policy rhetoric, have worried its allies and adversaries alike. The regime is also known to abduct Japanese and South Korean citizens and detain Americans who can then be used as bargaining chips during bouts of diplomacy that erupt amid tensions. Despite this it is not illegal for U.S. citizens to visit North Korea—though the U.S. State Department warns U.S. citizens not to travel to the country. Some 1,000 Americans are estimated to travel each year to the country—providing it a much-needed source of revenue—and Kim Sang-duk and Kim Hak-song work as academics there. Warmbier's death following his arrest, conviction, and coma might change that.
Koryo Tours, which is based in Beijing and has taken travelers to North Korea for many years, said it was "currently reviewing the issue of U.S. citizens traveling to North Korea." Uri Travels, another tour company, said it too was "reviewing its position on DPRK travel for American citizens."
There may be other steps, too.
Last month, Representatives Joe Wilson, Republican of South Carolina, and Adam Schiff, Democrat of California, introduced legislation that would severely restrict U.S. travel to North Korea—and ban tourist travel to the country. Rex Tillerson, the U.S. secretary of state, said last week on Capitol Hill, the U.S. was considering a travel ban to North Korea—though no decision had been made yet.
"We have been evaluating whether we should put some type of travel visa restriction to North Korea," he said. "We have not come to a final conclusion, but we are considering it."
Warmbier's death may prompt a quick decision.