Otto Warmbier Dies
The University of Virginia student who was imprisoned by North Korea was returned in a coma last week to his family.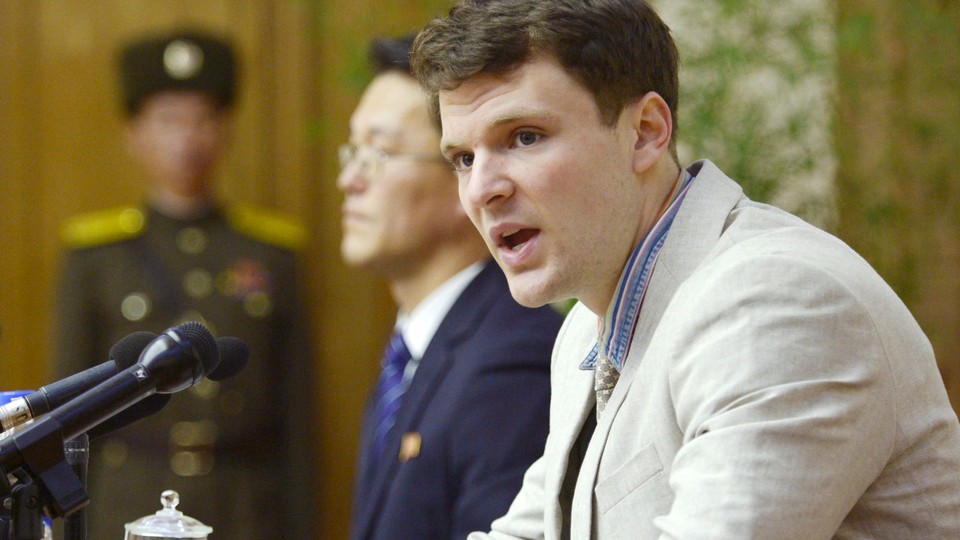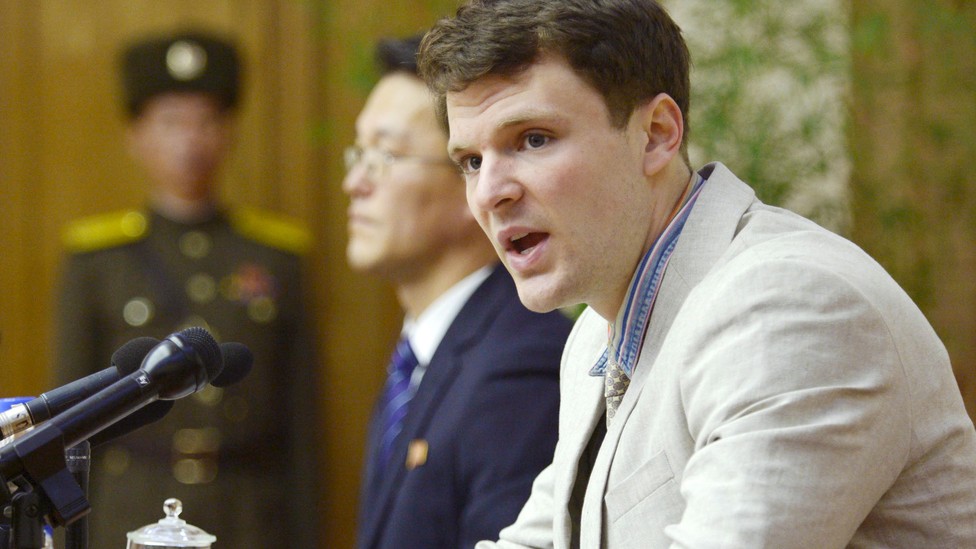 Updated at 5:17 p.m. ET
Otto Warmbier, the University of Virginia student who spent a year in a North Korean prison before being released last week in a coma, died Monday, his family said. He was 22.
"We would like to thank the wonderful professionals at the University of Cincinnati Medical Center who did everything they could for Otto," the Warmbier family said in a statement. "Unfortunately, the awful torturous mistreatment our son received at the hands of the North Koreans ensured that no other outcome was possible beyond the sad one we experienced today."
Warmbier returned to his home near Cincinnati, Ohio, last week after more than a year of imprisonment in North Korea where he was sentenced in March 2016 to 15 years of hard labor for allegedly stealing a propaganda sign from his hotel. North Korea said he was stricken with botulism soon after he was sentenced and was given a sleeping pill, after which he fell into a coma. But officials at the University of Cincinnati Medical Center, where he was taken upon his return from North Korea, said last week Warmbier exhibited no signs of contracting botulism, noting his injuries were consistent with "cardiopulmonary arrest, where the blood supply to the brain is inadequate for a period of time, resulting in the death of brain tissue."
Warmbier's father said Friday he did not believe Pyongyang's claims, adding his son had become "fodder" for the regime.
"When Otto returned to Cincinnati late on June 13th he was unable to speak, unable to see, and unable to react to verbal commands," his family's statement continued. "He looked very uncomfortable—almost anguished. Although we would never hear his voice again, within a day the countenance of his face changed—he was at peace. He was home and we believe he could sense that."
President Trump, whom Warmbier's father credited for freeing his son, condemned "the brutality of the North Korean regime" in a statement, adding that: "Otto's fate deepens my Administration's determination to prevent such tragedies from befalling innocent people at the hands of regimes that do not respect the rule of law or basic human decency."
Senator Rob Portman, Republican of Ohio, who advocated for Warmbier's release, called Warmbier's death a "tragic loss."
"Otto Warmbier was such a promising young man. He was kind, generous and accomplished. He had all the talent you could ever ask for and a bright future ahead of him," Portman said in a statement. "His passing today is a loss for Ohio and for all of us."
Warmbier was one of four U.S. citizens to be detained in North Korea. The others are Kim Dong-chul, 62, who was sentenced in April 2016 to 10 years of hard labor for spying; Kim Sang-duk, who was detained in April of this year; and Kim Hak-song, who was detained last month for "hostile acts."