North Korea Frees a U.S. Detainee
Otto Warmbier, a University of Virginia student, has reportedly been evacuated to the U.S. in a coma.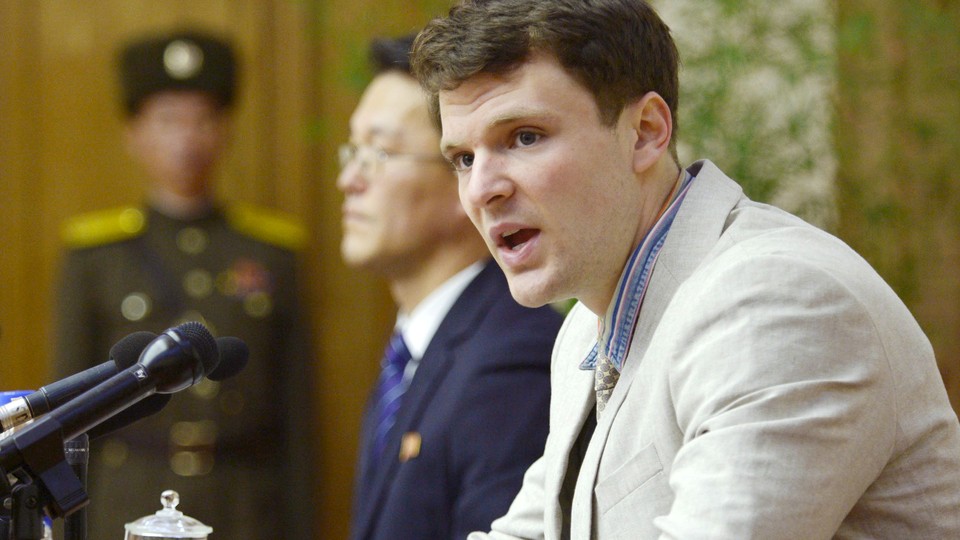 Updated at 12:20 p.m. ET
Otto Warmbier, a University of Virginia student, who was sentenced last year by North Korea's Supreme Court to 15 years of prison and hard labor for stealing a propaganda sign from his hotel, has been freed and is on his way to the U.S., Secretary of State Rex Tillerson said Tuesday.
Warmbier, 22, was medically evacuated from North Korea, his parents told The Washington Post. He is due to return to Cincinnati this evening, they told the newspaper. They said he'd been in a coma for more than a year. Tillerson made no mention of Warmbier's medical condition.
As I've previously written, Warmier, who arrived in North Korea in December 2015 as part of a tour group, was arrested on January 2, 2016, while he was leaving the country. Later that month, North Korean officials said he was detained for "anti-republic activities"—stealing the propaganda sign. He was sentenced to 15 years in prison in March of that year.
He was not seen in public since then. The U.S. has no diplomatic relations with North Korea, and Sweden, which represents U.S. interests in the country, was denied access to Warmbier. His parents told the Post that North Korean officials said he was stricken with botulism soon after his trial, "and had been given a sleeping pill, from which he never woke up."
Warmier's release coincides with the visit to Pyongyang of Dennis Rodman, the former NBA star, who arrived Tuesday in the North Korean capital to do something "pretty positive." There was speculation this morning about whether that would mean the release of at least three other U.S. citizens detained in North Korea on a host of charges. Rodman has visited North Korea on three previous occasions and met with Kim Jong Un, the North Korean leader. Rodman has appeared twice on Donald Trump's Celebrity Apprentice, in 2009 and 2013. He was fired both times.
Asked at Beijing's airport if Trump knew about his trip to North Korea, Rodman said: "I'm pretty sure he's happy at the fact I'm over here trying to accomplish something we both need." A spokesman for the National Security Council reportedly said Rodman was not visiting North Korea in any official or unofficial capacity on behalf of the U.S. government or Trump.
Rodman's visit to North Korea is being sponsored by Potcoin, a cryptocurrency that processes payments from marijuana dispensaries.