North Korea Tests Another Rocket Engine
The news comes a day after the U.S. urged China to impose greater economic and diplomatic pressure on the nation.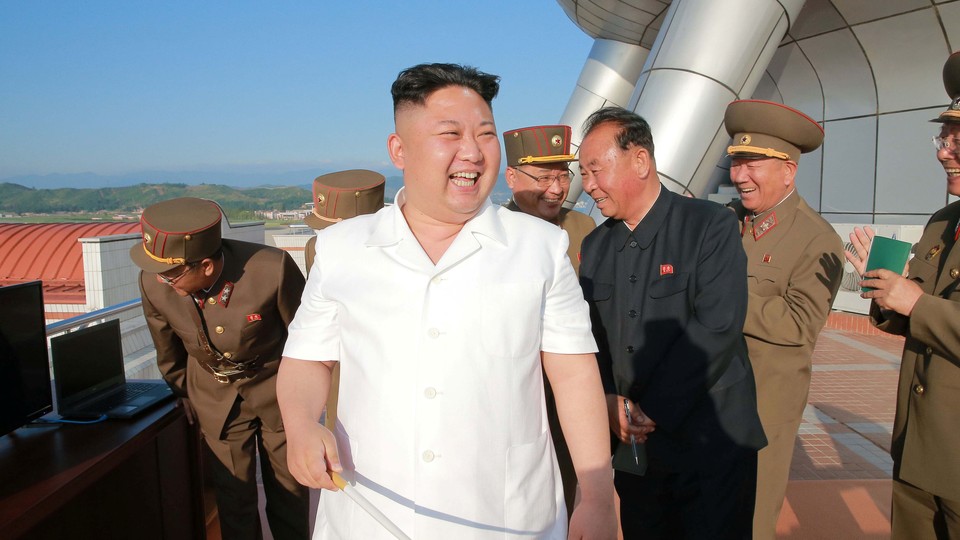 North Korea has conducted another rocket engine test within the last 24 hours, U.S. officials told Reuters late Thursday night. Officials say the engine could be part of the nation's ongoing efforts to build an intercontinental ballistic missile (IBCM) capable of reaching the U.S. mainland or, in the meantime, U.S. bases in South Korea and Japan. This month's test is the first of its kind since North Korea conducted three rocket engine tests in March. The nation has also ramped up its testing of ballistic missiles, the latest of which occurred on June 8, in repeated violation of UN sanctions.
Of equal concern to the U.S. are reports that North Korea has resumed activity at its underground nuclear test site. On Wednesday, U.S. Secretary of State Rex Tillerson called on China, North Korea's only major ally, to "exert much greater economic and diplomatic pressure" on North Korea to curtail its nuclear and missile tests. While China has been historically reluctant to stand up to North Korea, the Trump administration has often identified China as a critical intermediary.
"Countries around the world and in the UN Security Council are joining in this effort, and we hope China will do their part as well," Tillerson said Wednesday. A day earlier, President Trump seemed less optimistic about relying on Chinese pressure, tweeting: "While I greatly appreciate the efforts of President Xi [and] China to help with North Korea, it has not worked out. At least I know China tried!" Multiple administration officials have since expressed their uncertainty over what Trump meant.
With North Korea seemingly unresponsive to international requests, the U.S. has endeavored to improve its defense capabilities in the event of a future attack. In May, the nation conducted its first live-fire test against a simulated ICBM, which successfully hit its target. A subsequent test carried out on Wednesday alongside Japan's Ministry of Defense yielded less promising results after it failed to intercept a medium-range ballistic missile.
As North Korea advances its missile program beyond what experts previously anticipated, both American and foreign officials say the U.S. is under mounting pressure to consider suspending its military exercises in North Korea in exchange for a freeze of the nation's nuclear and missile tests. On Wednesday, North Korea's ambassador to India, Kye Chun-yong, said his nation was open to a peaceful resolution and would consider the deal "under certain circumstances." "If the American side completely stops big, large-scale military exercises temporarily or permanently, then we will also temporarily stop," Kye said in an interview broadcast.
If past performance is any indication of future behavior, U.S. officials have good reason to be skeptical. In 1994, North Korea agreed to freeze its nuclear program while continuing to carry out nuclear activities in secret. More than ten years later, in 2007, the nation agreed to suspend its nuclear program in exchange for a $400 million aid package, but missed the deadline to disable its weapons facilities. In April, Tillerson declared that the U.S. had given up its "policy of strategic patience" with North Korea, adding: "The more we bide our time, the sooner we will run out of it."