North Korea Test-Fires Four New Missiles
The news comes shortly after a Pentagon memo claimed the U.S. was capable of shooting down ICBMs.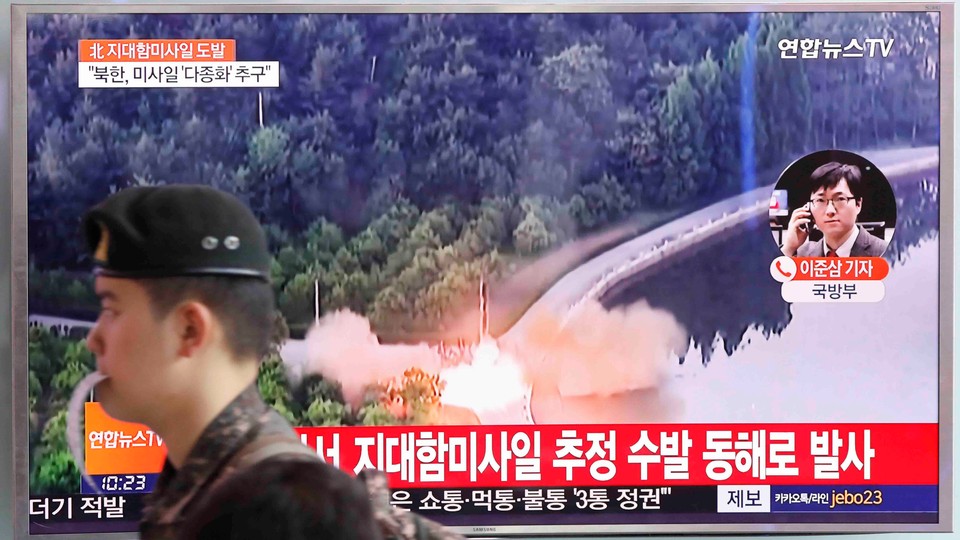 North Korea conducted yet another missile test on Thursday, this time firing four surface-to-ship cruise missiles into water near the Korean Peninsula, U.S. and South Korean military officials announced. Thursday's launch marks the nation's tenth missile test this year—including a failed, seconds-long launch in March—and the first since North Korea incurred a new round of sanctions last week from the UN.
Unlike ballistic missiles, cruise missiles fly at a lower altitude and do not pose a long-range threat. Thursday's missiles flew an estimated 124 miles—a much shorter range than demonstrated by previous tests. On May 14, North Korea carried out its most successful test to date, launching a new type of ballistic missile that flew 430 miles and reached an altitude of more than 1,245 miles. The nation's decision to test a set of cruise missiles rather than another ballistic missile is a curious one, though experts speculate it could be a demonstration of military prowess. Carl Schuster, former director of operations for the U.S. Pacific Command's Joint Intelligence Center, told CNN the launch could be "both a political statement and a training demonstration."
North Korea is widely believed to be developing an intercontinental ballistic missile (ICBM) capable of reaching the U.S. mainland or, in a more likely scenario, targeting U.S. bases in South Korea and Japan. On Wednesday, South Korea suspended the deployment of its U.S.-backed THAAD system, which is designed to counter short, medium, and intermediate range missile threats. North Korea's state media previously condemned the system, arguing that "South Koreans should wage unflinching struggle to resolutely foil the despicable THAAD deployment." As my colleague Krishnadev Calamur reported Wednesday, "THAAD's critics say the system makes them a target for the North's missile launches."
While South Korea has endeavored to improve diplomatic relations with North Korea, the nation remained on high alert on Thursday. In a statement, South Korea's military said they had "strengthened surveillance … in case of additional provocation" from the North. On the same day, Japan's Foreign Minister, Fumio Kishida, called the latest launch "intolerable."
News of the test launch comes shortly after CNN obtained a memo from David Duma, the Pentagon's chief weapons tester, which claimed the U.S. now has the capability to shoot down IBCMs. Duma reportedly sent the memo on June 6 to U.S. Defense Secretary Jim Mattis, informing him that the nation's Ground-based Midcourse Defense (GMD) system "has demonstrated capability to defend the U.S. homeland from a small number of intermediate-range or intercontinental ballistic missile threats with simple countermeasures." A 2016 report from the Pentagon previously concluded that GMD had a "limited capability" to defend against missile threats from North Korea or Iran.
According to the memo, this improvement in defense technology is the product of data analysis following a U.S. missile defense test on May 30 at the Vandenberg Air Force Base in California. U.S. officials deemed the test successful after an upgraded long-range interceptor missile directly hit its target, a mock ICBM. At the time, the director of the U.S. Missile Defense Agency, Jim Syring, said the test demonstrated "a capable, credible deterrent against a very real threat." Other experts continued to question whether the program was advanced enough to ward off an attack from North Korea.