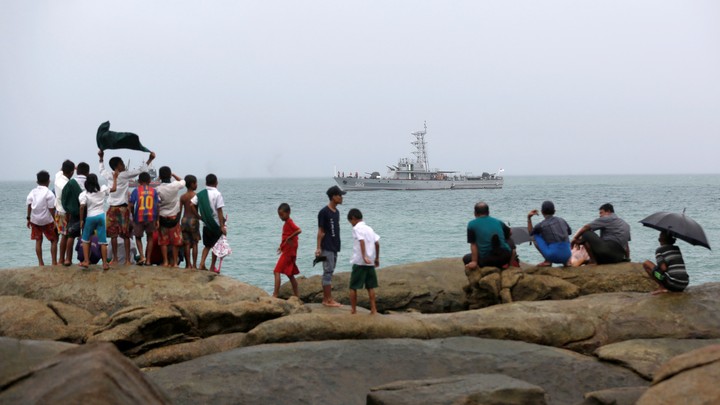 Updated on June 8 at 5:00 p.m. ET
The bodies of 21 adults and eight children have been discovered in the Andaman Sea after a military aircraft went missing off the coast of southern Myanmar on Wednesday afternoon. The plane was reportedly carrying 122 passengers, 108 of whom were military personnel and their families. Together, the group included 15 children, 58 adults, and 35 soldiers. Another 14 passengers were crew members. Earlier reports claimed that between 90 and 120 people were onboard. The AP writes that it is common for military flights in the region to transport family members, allowing them to save on transportation costs.
At 1:06 p.m local time, the plane departed the coastal city of Myeik with plans to land in the much larger city of Yangon, about 350 miles away. At 1:35 p.m., military officials lost connection with the aircraft, which was flying about 43 miles west of Dawei at the time. "We don't know what exactly happened … after the loss of contact," Kyaw Kyaw Htey, a civil aviation official at the Myeik airport, told Reuters. Nine navy ships, five army aircrafts, and two military helicopters searched for the missing plane on Wednesday, continuing their efforts through the night and into Thursday morning. Following the plane's disappearance, a crowd of around 300 to 400 people, including emergency service professionals, gathered on a beach close to where the navy search was being conducted. Back in Myeik, passengers' relatives tearfully waited at a crisis center at the local army base.
While the search is ongoing, an anonymous air force source told the AFP Wednesday that a navy search and rescue ship discovered debris from the aircraft in the ocean. "We think it was a technical failure," the source said. "Weather is fine there." While Myanmar recently entered its monsoon season, officials report that conditions were normal at the time of the plane's departure, with a slight bit of rain, but significant visibility. On Thursday, Myanmar's military spokesman, General Myat Min Oo, confirmed the search had uncovered two life jackets, a bag of clothes, and a tire belonging to an aircraft wheel. The military also detected patches of oil about 18 miles from Dawei.
Indeed, all signs point to an internal malfunction—an all-too-common occurrence for planes in Southeast Asia. In June 2016, a military helicopter crashed into a hillside in central Myanmar, killing three army officers. A few months earlier, a plane taking off from Myanmar's capital city, Naypyidaw, burst into flames and crashed into a nearby field, killing five crew members. And, in 2012, a Myanmar passenger jet carrying a number of tourists crashed into a field in central Myanmar, killing two and injuring 11. Wednesday's events also closely resemble a prominent flight disaster that took place in March 2014, when Malaysia Airlines Flight 370 went missing on the path from Malaysia to Beijing. The plane reportedly crashed into the Indian Ocean, taking the lives of 227 passengers and 12 crew members.
Despite the tendency for Southeast Asian planes to endure technical failures, there was little sign that Wednesday's flight was in jeopardy. The aircraft, manufactured in China and purchased by Myanmar's military in March 2016, had achieved a total of 809 flying hours. The model—a Y-8-200F transport plane known as the "air camel"—has been around since the 1980s, and is commonly used in developing nations. The plane's pilot, Lieutenant Colonel Nyein Chan, was reportedly a "seasoned" professional, having clocked 3,162 hours of flying time. The plane also had not reached its full capacity, according to a military officer, who said the aircraft could hold 200 people. While the plane was carrying an additional 2.4 tons of supplies, it was built to withstand much more. On Thursday, Charitha Pattiaratchi, a coastal oceanography expert at the University of Western Australia, told Reuters the possibility of anyone surviving the crash was "very unlikely."
We want to hear what you think about this article. Submit a letter to the editor or write to letters@theatlantic.com.
Aria Bendix
is a frequent contributor to
The Atlantic
, and a former editorial fellow at
CityLab
. Her work has appeared on
Bustle
and
The Harvard Crimson
.