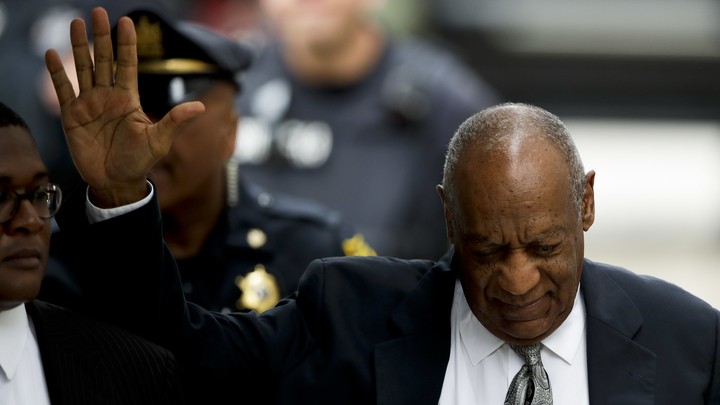 Bill Cosby's sexual-assault trial ended in a mistrial Saturday after jurors remained deadlocked following six days of deliberations. Prosecutors vowed to retry Cosby in the only criminal case brought against the former actor and comedian who has been accused of sexual assault by dozens of women.
Cosby faced up to 10 years in prison on three counts of aggravated indecent sexual assault in the case of Andrea Constand, who accused him of drugging and raping her. In most of the other allegations against Cosby, who is 79, the statute of limitations have run out, and this was seen as the best chance to hold him criminally responsible. The case stemmed largely on the credibility of Constand, who met Cosby in 2004 at his alma mater, Temple University, where she worked.
The case took more than a decade to make it to criminal court. Constand had previously filed a federal suit against Cosby in 2005, but the Montgomery County district attorney at the time felt there wasn't enough evidence to bring a criminal case. It was only after a judge unsealed testimony Cosby gave to lawyers during in the federal suit over the course of four days that the county charged him criminally.
Constand's case centered on one night in 2004. She said Cosby invited her to his home, where he gave her three blue pills, which he said was Benadryl to help her relax. They talked for a while, then moved to the sofa, she said, where they kissed. Cosby claims the sex was consensual, but Constant said the pill he gave her made her feel paralyzed, and as Cosby undressed her she could not resist. "I felt really humiliated and I was really confused," she testified. "I just wanted to go home."
Cosby did not testify, but the court did hear testimony he gave to lawyers over four days after Constand's federal suit. In it, Cosby admits to cheating on his wife for decades, to plying women with the promise of career help, and to drugging them with quaaludes. His defense painted the encounter as consensual and insinuated the two were in a relationship. It only called one witness, and presented its case for just six minutes, essentially saying the prosecution hadn't brought a convincing enough case. "They've been intimate," Cosby's lawyer, Brian McMonagle, said in closing arguments. "Why are we trying to make it something it's not?"
The jury first notified Judge Steven O'Neill it was deadlocked on Thursday, but he urged them to continue. As they deliberated, jurors came back to the judge asking to hear evidence again posing questions like, "What is reasonable doubt?" Defense attorneys had asked for a mistrial based on how long it was taking jurors to decide, but the judge kept sending them back to evaluate their own opinion. On Friday O'Neill said, "I'm going to allow this to go as long as this jury wishes to continue to deliberate."
But on Saturday, after more than 52 hours of deliberations, and with the jury still  deadlocked, O'Neill decided no decision would be reached and he declared a mistrial. After Cosby left the courtroom Saturday, outside he told the crowd, "I just want to wish all of the fathers a Happy Father's Day and I want to thank all of the jury for their long days, their honest work individually."
We want to hear what you think about this article. Submit a letter to the editor or write to letters@theatlantic.com.