Milwaukee Police Officer Found 'Not Guilty' in Death of Sylville Smith
The now-fired officer faces a separate trial in August for charges of sexual assault.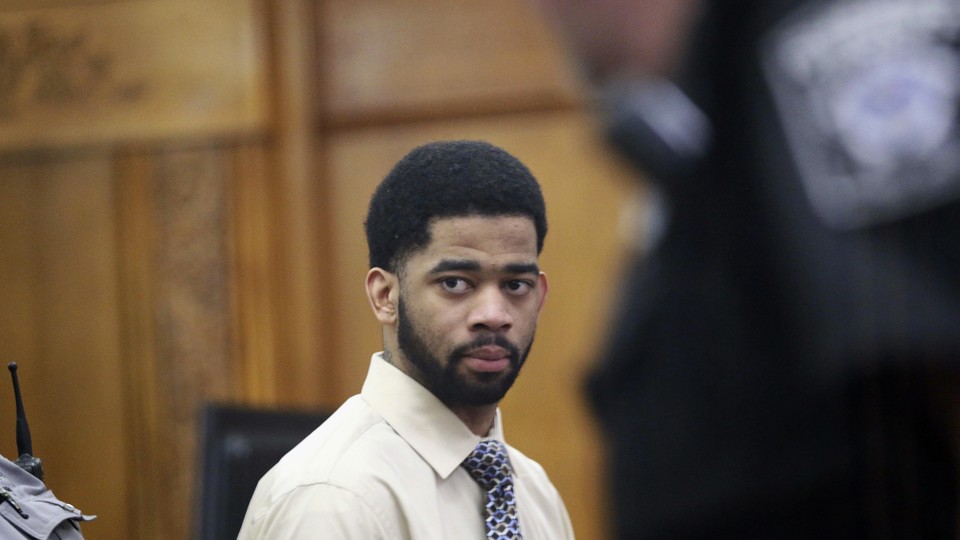 Dominique Heaggan-Brown, the Milwaukee police officer who fatally shot 23-year-old Sylville Smith in August 2016, was acquitted of all charges on Wednesday, including a charge of first-degree reckless homicide. Heaggan-Brown is the third law enforcement officer to be tried for a shooting in the U.S. in the last week, and the second to receive an acquittal. On Friday, former Minnesota police officer Jeronimo Yanez was acquitted of second-degree manslaughter following the July 2016 shooting of 32-year-old Philando Castile. Unlike the Castile case, both Heaggan-Brown and his shooting victim were African-American.
Much of Heaggan-Brown's trial centered on the justification of a single shot. The incident first began at around 3:30 p.m. local time on August 13, 2016, when Heaggan-Brown pulled Smith over for a traffic stop. Smith reportedly fled the scene, then turned back toward the officer while armed with a semi-automatic handgun. This prompted Heaggan-Brown to fire the first shot, which both parties said was justified. The shot occurred at nearly the same moment that Smith flung his weapon over a chain-link fence, rendering him unarmed. Exactly 1.69 seconds later, Heaggan-Brown fired a second shot at Smith's chest while he was on the ground, which ultimately proved fatal.
The prosecution argued that Smith was attempting to surrender just moments before his death. "Mr. Heaggan-Brown knew at the time he fired that second shot that Sylville Smith had already disarmed himself," Milwaukee County District Attorney John Chisholm told the jury, citing footage from another officer's body camera as evidence. But the defense claimed that Heaggan-Brown was following protocol by using the "one-plus rule," which says that a suspect with one weapon is likely to have another.
The defense also argued that Heaggan-Brown made the decision to fire a second shot while Smith was still a threat. "When we see the trigger being pulled, we have to not consider that the moment of decision," said Robert Willis, an expert in police use of force and the defense's sole witness. "We have to go back several frames … to delve into the decision-making process that goes into firing this shot." Heaggan-Brown previously told investigators that he saw Smith reaching for his waist before he fired the second shot. Audio footage also reveals that Heaggan-Brown told Smith to "stop reaching."
While officers are rarely prosecuted—and very rarely convicted—in police shootings, the "not guilty" verdict yielded audible gasps, followed by sobs, from Smith's family. The Associated Press reports that certain family members left the courtroom shouting and cursing. "I feel like no matter what it is, these police officers all over the world, they can just literally murder you," Smith's step-sister, Shannon Daniels, said outside the courthouse. But Smith's father, Patrick, urged "the community to calm down and come together" in the wake of the verdict. The deceased's sister, Sherelle, shared a similar message: "Don't give them a reason to take your life," she told young people. "Do something different in the community, try as hard as you can to be peaceful."
In the hours following Smith's death, around 100 angry protestors took to the streets of Milwaukee, demanding justice. The protests eventually turned violent, resulting in dozens of arrests and a few officers being injured. After two days of escalating tension, Milwaukee's mayor enforced a 10 p.m. curfew for the city's teenagers. On the night after the shooting, prosecutors claim that Heaggan-Brown sexually assaulted a man after drinking heavily at a bar. According to prosecutors, the officer "bragged about being able to do whatever" he wanted "without repercussions." The allegations prompted an internal investigation from the Milwaukee Police Department, which led to Heaggan-Brown being fired. After pleading "not guilty" to charges of sexual assault, Heaggan-Brown awaits a separate trial in August.