Tensions Heat Up Ahead of U.K. General Election
The narrowing race between Corbyn and May has made for intense debate on both sides of the aisle.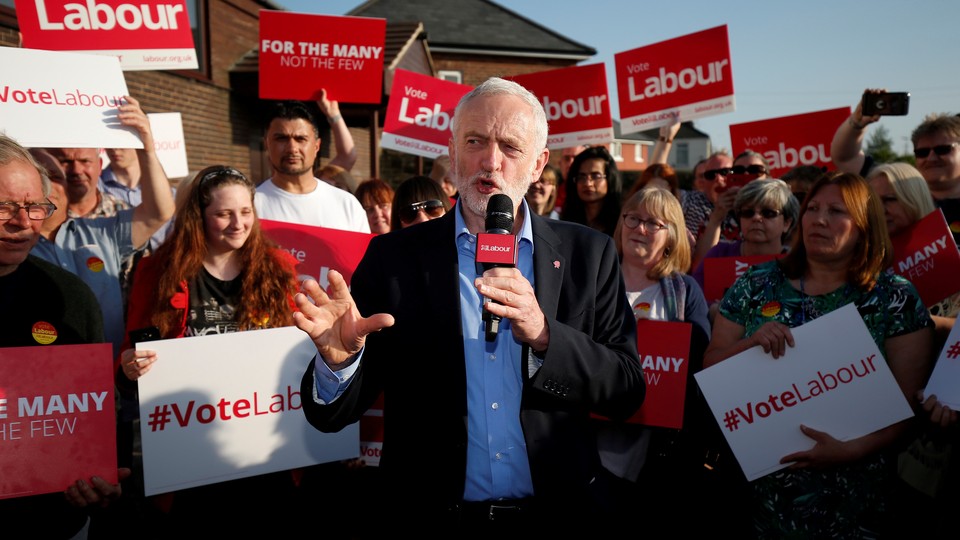 Candidates for Thursday's general election in the U.K. made their final appeals to voters on Wednesday, emphasizing their varying approaches to the economy, Brexit, and national security. As of last month, current Prime Minister Theresa May was widely favored to win the snap election, which she commissioned three years ahead of schedule, hoping to ensure a conservative majority in parliament ahead of Brexit negotiations. But more recent polls anticipate a close race between May and Labour Party leader Jeremy Corbyn, whose campaign experienced a sudden surge in the last few weeks.
At the beginning of June, a poll from Opinium and The Observer found that 38 percent of British adults held a more negative view of the prime minister than at the start of the campaign, while 40 percent held a more positive view of Corbyn. Mounting disapproval of May comes on the heels of her decision to reverse her position on social care from requiring the elderly to pay more for their at-home care to placing an "absolute limit" on how much people will have to spend. Many prospective voters were also unhappy with May's refusal to debate Corbyn in person prior to the election.
The U.K.'s recent string of terrorist attacks has added another layer of gravitas to both the election and its campaigning. While it's unclear how much Saturday's attack on the London Bridge or last month's attack on the Manchester Arena will influence the election's results, the tragedies have at the very least emphasized the stark divides between the U.K.'s two leading candidates. On Wednesday, May echoed her earlier promise to crack down on Islamist extremism. "We are seeing the terrorist threat changing, we are seeing it evolve and we need to respond to that," she said. Earlier in the week, May incited criticism when she said she would consider changing human rights laws to restrict the freedom and movement of terrorist suspects. Amnesty International called the comments "reckless and misinformed."
Corbyn provided an alternative view on Wednesday, arguing that "we won't defeat terrorists by ripping up our basic rights and our democracy." While May has criticized Corbyn for his restrained stance on terror—he previously opposed British military intervention in Afghanistan, Iraq and Libya, and has long maintained an anti-nuclear policy—Corbyn in turn has blamed the prime minister for making cuts to the U.K.'s police force. Under May's administration, and that of her predecessor, David Cameron, the number of police officers in England and Wales declined by 20,000 from 2009 to 2016.
Criticism from both conservatives and Labour Party members has become highly animated in the wake of Saturday's terrorist attack. In an issue scheduled for release on Thursday, The Daily Mirror warns its readers not to vote for May and "condemn Britain to five more years of Tory broken promises." On Wednesday, The Daily Mail published a story calling Corbyn and two other Labour politicians "apologists for terror." "The ineluctable truth is that the Labour leader and his closest associates have spent their careers cozying up to those who hate our country," the article reads. The Sun also titled its front-page story "Jezza's Jihadi Comrades" in reference to Corbyn's nickname. Electing Corbyn, the paper argued, would be "the gravest mistake this country has ever made."
On Wednesday, May attempted to distance herself from this debate, instead bringing the conversation back to her plans to lead the U.K. out of the European Union. "When it comes to the election tomorrow, I think the choices and the questions that people need to ask are exactly the same today as they were right at the beginning of the campaign," May said at a campaign rally in Norwich, England. "The first is a question of who do you trust to actually have the strong and stable leadership that is going to deliver the best deal for Britain in Europe." Should Britain mishandle its negotiations with the EU, May warned, "the consequences will be dire."
As a member of the conservative Tory party, May has also campaigned on a platform of reduced public spending, lower corporate taxes, and increased defense spending. Corbyn, meanwhile, has advocated for getting rid of university tuition fees, increasing taxes on the wealthiest five percent, improving labor laws, and investing in infrastructure. While May has long touted her firm leadership, her latest campaign has often been viewed as uninspiring. Despite his many years in politics, Corbyn has since emerged as a source of fresh vision, appealing to a younger demographic.
With May failing to energize the nation, and Corbyn's young supporters less likely to turn up at the polls on Thursday, the race has become less predictable than before. As of late Wednesday, a Panelbase poll puts the conservative party ahead with 44 percent of the vote compared to the Labour Party's 36 percent. The Press Association's aggregated data from ten polls over the last week shows a near-identical breakdown: 44 percent for conservatives and 37 percent for Labour. It's worth noting, however, that U.K. pollsters have had an unreliable track record in recent years, predicting the wrong winner in the 2014 Scottish independence referendum and again in the 2015 general election. On Wednesday, a poll from The Independent predicted that May would enjoy the biggest Tory victory since the election of former prime minister Margaret Thatcher, proving just how finicky polls can be at measuring election outcomes.
Win or lose, Corbyn's recent outpouring of supporters is an impressive victory on its own. For a fringe political candidate once poorly regarded within his own party, Corbyn has managed to effectively challenge an incumbent leader known for her steady governance."They underestimated us didn't they?" Corbyn said at a Wednesday rally in Glasgow. "They underestimated the good sense of ordinary people, ordinary people all over Britain."