Marine Le Pen's Financial Scandal Continues
The far-right French lawmaker is charged with misusing millions of dollars in European parliament funds.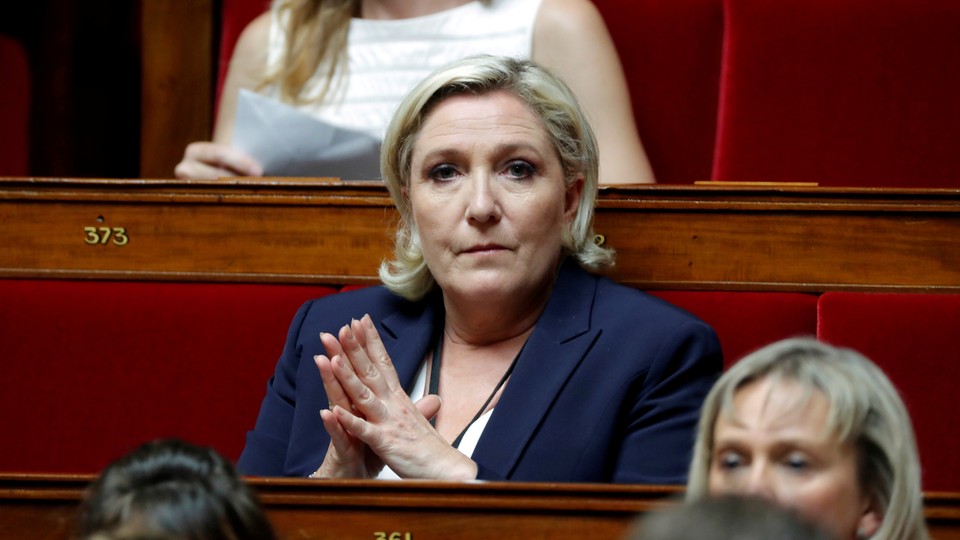 Far-right French lawmaker Marine Le Pen was formally charged Friday over allegations she misused European Parliament funds to pay staff members of her far-right political party, the National Front (FN).
The "breach of trust" charges, which were announced by Le Pen's lawyer, Rodolphe Bosselut, concern allegations raised by the European parliament that Le Pen defrauded the EU legislative body by illicitly using funding earmarked for parliamentary assistants to pay FN staff instead. The case concerns 16 other FN members and the salaries of over 40 parliamentary assistants between 2012 and 2017. In total, the European parliament estimates the FN defrauded it of nearly 5 million euros ($5,700,000).
In February, the European parliament threatened to begin docking Le Pen's salary if she didn't pay the money back. But Le Pen said she refused to "submit to persecution" and denied the allegations, which her lawyers condemned as a politically motivated attempt to harm her presidential bid "at the very moment when her candidacy is making a major breakthrough." Indeed, Le Pen bested establishment candidates on the left and the right when she advanced to the second round of the presidential election, only to lose to her independent challenger and the current president, Emmanuel Macron, in the run-off.
The FN is known to have had money troubles in the past. Le Pen complained in March that she was unable to secure the funding she needed for her presidential bid because French banks refused to grant her a loan, prompting her to seek funding elsewhere. "I'm prevented from borrowing from French banks so now I am being told off for asking for a loan from a foreign bank," Le Pen told Europe 1 radio in March after her visit with Russian President Vladimir Putin prompted speculation she might seek a loan from Moscow. "What am I supposed to do? ... The French banks have lent to all the presidential candidates except for me."
The FN isn't the only party being investigated for misusing funds. French prosecutors launched a preliminary investigation earlier this month into the center-right Democratic Movement party (MoDem), which is allied with Macron's ruling party, over allegations they misused public funds. Similar allegations embroiled the center-right Republicans after their presidential candidate, François Fillon, was placed under investigation for using public funds to pay family members for parliamentary work they're alleged not to have performed.
Though the launch of a formal investigation—the equivalent of being charged under French law—indicates that there is "serious and consistent evidence" that a crime has been committed, the charges could be dropped before it goes to court. Bosselut said Le Pen will appeal the decision.