Venezuelan President Says Supreme Court Attacked
An anti-government police officer reportedly dropped grenades on the nation's Supreme Court building late Tuesday evening.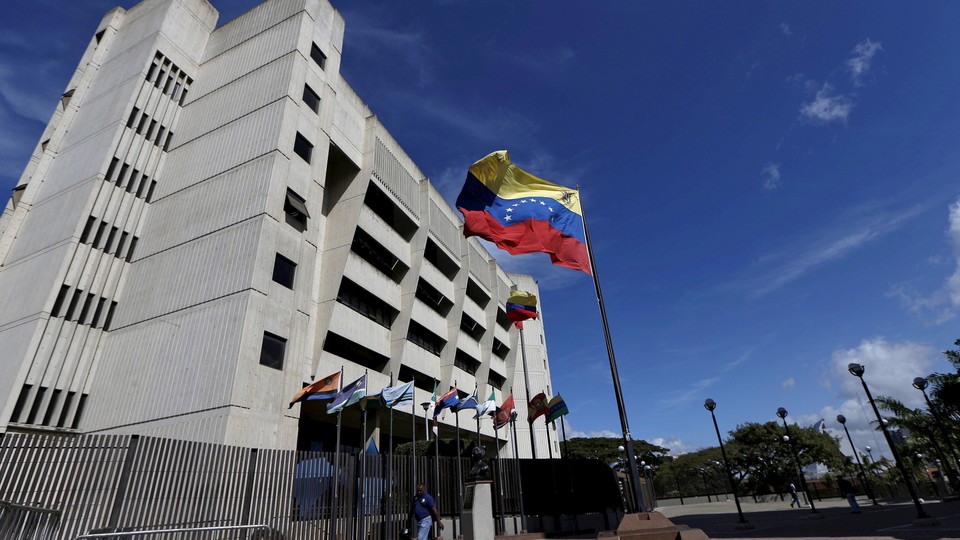 Venezuela's Supreme Court fell victim to an attack Tuesday evening after a helicopter dropped grenades on the building and fired shots at the interior ministry, the nation's president, Nicolas Maduro, announced in a televised address. Speaking to pro-government journalists at the Miraflores presidential palace, Maduro referred to the incident as both "an act of terrorism" and a conspiracy to overthrow his government. While the grenades failed to detonate, preventing any injuries, Maduro claimed the attacks "could have caused a tragedy with several dozen dead and injured." He added: "I have activated the entire armed forces to defend the peace. Sooner or later, we are going to capture that helicopter and those who carried out this terror attack."
While experts have expressed doubts over the veracity of Maduro's claims, witnesses on the scene said they heard what sounded like guards firing at the helicopter. A reporter from the Associated Press also confirmed sounds of gunfire and the sight of a blue helicopter flying over downtown Caracas. Video on social media indeed shows a helicopter hovering over the city's Supreme Court building, followed by a loud bang:
The Venezuelan daily newspaper El Nacional has since reported that the helicopter's pilot is Oscar Pérez, a former captain of the nation's largest national police agency, the CICPC. In the wake of the incident, photos circulating on social media show a banner with the phrase "Liberty. Article 350" hanging from the helicopter, which was reportedly stolen. The phrase refers to an article in the Venezuelan constitution that gives citizens the right to civilly disobey "any regime that runs counter to democratic guarantees or undermines human rights."
In a video released Tuesday evening, Pérez, accompanied by masked men carrying what appear to be assault rifles, called for Venezuelans to resist the "tyranny" of Maduro's government. "We are a coalition of military employees, policemen, and civilians who are looking for balance and are against this criminal government," Pérez said. "We have two choices: be judged tomorrow by our conscience and the people or begin today to free ourselves from this corrupt government."
Maduro, who replaced former president Hugo Chavez in 2013, has been accused of carrying out an authoritarian regime in Venezuela, frequently jailing opposition leaders and limiting access to newspapers that speak critically of his government. Many Venezuelans also hold him responsible for the nation's economic and humanitarian crisis, which has resulted in triple-digit inflation and dire shortages of food and medicine. In recent months, violent protests against the Maduro regime have resulted in at least 76 deaths and thousands of injuries.
In May, Maduro signed a document allowing a "constituent assembly" to draft a new version of Venezuela's constitution. The assembly would also have the authority to dissolve public powers and convene general elections in what many see as a ploy for Maduro to retain control of Venezuela. Despite fervent, and oftentimes violent, pushback from opposition members, Venezuela's Supreme Court, which is loyal to Maduro, rejected a motion to prohibit the constitutional rewrite on June 13.
Prior to Tuesday's attack, Maduro said he was willing to take up arms if opposition protesters succeeded in overthrowing his government. "If Venezuela was plunged into chaos and violence and the Bolivarian Revolution destroyed, we would go to combat," Maduro said. "We would never give up, and what couldn't be done with votes, we would do with weapons. We would liberate the fatherland with weapons."