Macron's Majority
The French president's new parliament has more women and political newcomers than ever before.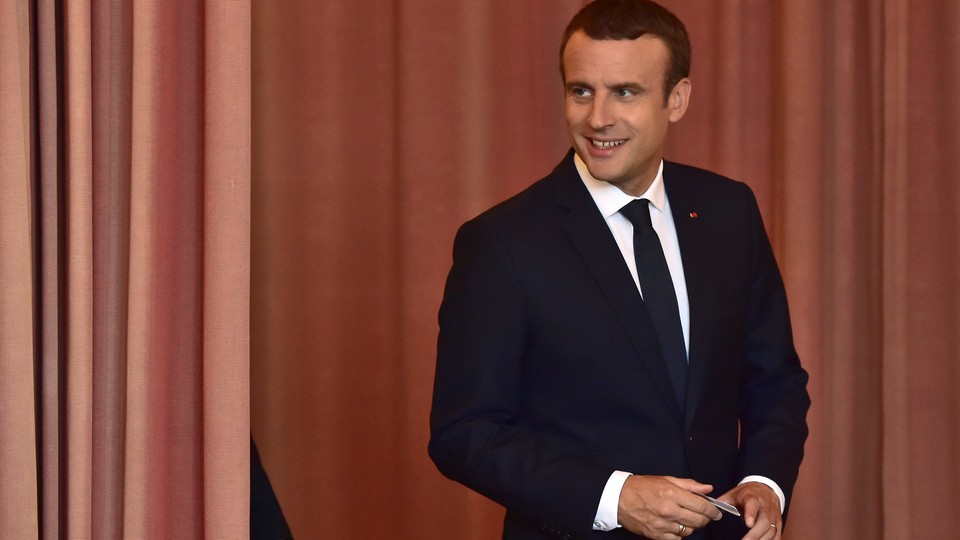 French President Emmanuel Macron's decisive win in the second round of the country's legislative election Sunday was no surprise, with polls projecting strong showings for both Macron's La République En Marche (LREM) party and its small centrist ally, Democratic Movement (MoDem), which collectively took 350 of the National Assembly's 577 seats.
While the results mark a transformation of France's political landscape from one controlled by two establishment parties to one controlled by a year-old political movement, it also marks a renewal of the very faces that make up the country's lower, but more powerful, house of parliament. Of the 354 incumbents who sought re-election, 148 retained their seats—giving way to 429 new deputies, making up 75 percent of the incoming legislature. Historically, turnover rates average closer to between 120 to 270 seats.
Dr. Rainbow Murray, an associate professor of politics at Queen Mary University of London, told me this outcome marks the French public's continued rebuke of mainstream political parties.
"There's huge turnover unlike any we've seen before," Murray said. "We saw that very clearly from the offset in the primary elections of the two big parties—the big names that everyone expected to win all got knocked out and then Macron, the outsider, was the one who won the election and then they gave him a parliamentary majority."
She added: "What this suggests is that they want a break from the status quo—they're sick of the same old faces."
Indeed, Macron pledged this "renewal of faces" in the months leading up to his presidential win last month, vowing to field a diverse slate of parliamentary candidates, half of whom were women and more than half of whom never previously held political office. The pledge paid off: The average age of deputies dropped from 53 to 48, with the number of deputies under the age of 30 jumping from four to 29. The number of women now stands at 38.65 percent, up from 27 percent—a change that prompted France to surge from 64th to 17th place in the world's rankings of female parliamentary representation and sixth place in Europe, besting both Britain and Germany.
"In terms of a break from the past, the previous French parliament was nearly 75 percent male, it was almost exclusively white," Murray said. "The politicians all tended to come from this same sort of background."
They still do. Though the legislative election saw an overall turnover in the National Assembly's make up, the occupations of those in office remain more or less the same, with private-sector executives leading as the most-represented professional group (there are 92 private-sector executives in this newly elected parliament, compared to 51 in 2012).
But Macron's diverse slate of candidates was not the only cause of this parliamentary turnover. Murray said the overturning of a rule that previously allowed French politicians to hold office at both the legislative and local levels was in part to blame, with many incumbents now opting to keep their local seats over their parliamentary ones.
"Some people saw the way that party politics was going nationally and thought, 'I'm probably going to lose my seat in parliament, maybe I should stick with my local office rather than trying to hold on to my parliamentary office if I had to choose,'" Murray said. "So some of them chose their local office and didn't defend their seats in parliament."
The election was also marked by low voter turnout. The second-round abstention rate was 57.35 percent—the lowest voter turnout rate for a the second round of a French parliamentary election in the history of the Fifth Republic.
Macron's failure to earn a public mandate could weaken his ability to push through some of his more controversial campaign promises, such as labor-market reforms. Though he will have enough members of parliament to override any pushback from the Républicains, his primary center-right rivals, who have 137 seats, he can't claim to have the backing of voters who chose to stay home.
"Considering Macron is offering some ambitious and potentially painful economic reforms to resolve some of the countries longterm difficulties, he's going to face resistance—and that resistance has managed to break the will of all of his predecessors," Murray said. "It really remains to be seen if he has the determination to see it through or whether he too ends up succumbing to the streets."
Protests may not be Macron's only problem. Commanding such a large majority—one defined by both the breadth in ideology and political experience of its members—could pose an unprecedented challenge for his new government. Dr. David Lees, a researcher on French politics at Warwick University, told me Macron's favorability could save him. A recent Ifop poll put Macron's popularity at 62 percent.
"He's enjoying huge popularity here in France because he is able to speak to a lot of people across the world, he comes across as an international statesman," Lees said. "His maneuvering in and around key players like Donald Trump have been significant in changing people's minds."
He added: "It's a huge swing towards a party created in the image of the president, which we haven't seen since Charles de Gaulle in the early days of the Fifth Republic."