A 'Major Incident' in London
A vehicle struck pedestrians near a mosque in the Finsbury Park neighborhood. Police say there are several casualties.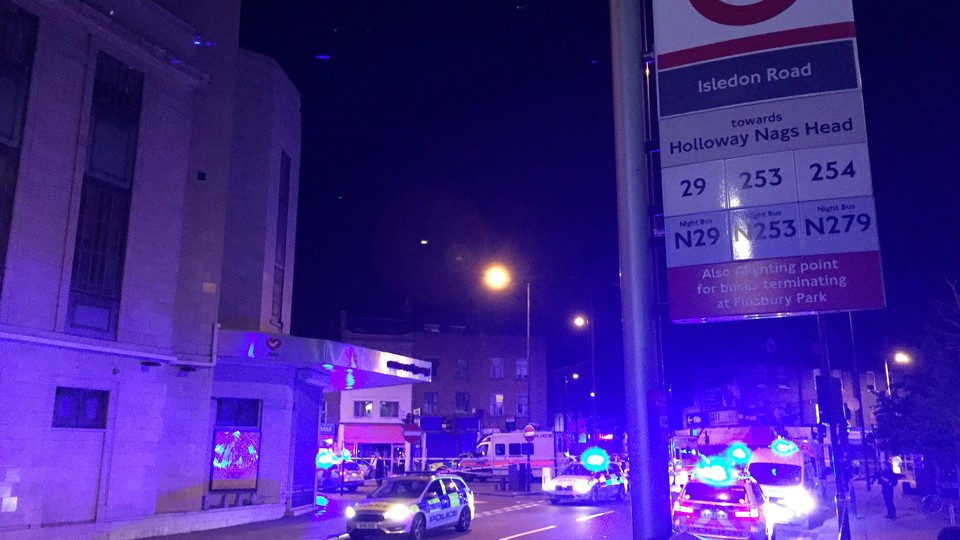 Updated at 10:28 p.m. ET
Police in London say there are a "number of casualties" after a vehicle struck pedestrians early Monday on Seven Sisters Road, in the city's Finsbury Park neighborhood. The vehicle seemed to target people leaving the Muslim Welfare House, a community center, and the area was busy because worshippers had been attending evening prayers at a nearby mosque during the holy month of Ramadan.
Our main focus right now is to help the victims on scene, but will hopefully have a statement from the owner of the mosque later. Thank you.

— Muslim Welfare House (@Mwh_London) June 19, 2017
The mosque nearby, Finsbury Park Mosque, was raided in 2003 by authorities and labeled a hotbed of Islamist radicalism. It is a five-story building opened in 1994 at a ceremony attended by Prince Charles, and can host nearly 2,000 worshippers. Two notable terrorist, Zacarias Moussaoui, who conspired in the 9/11 attacks on New York, and Richard Reid, tried to bomb a jetliner with explosives in his shoes, once attended the mosque. But since 2005 the mosque was taken over by a new board of trustees, with new Imams, new name, new ethos, and has outspokenly criticized extremism.
One person has been arrested, Metropolitan Police said, adding officers "are on scene with other emergency services."
This is the third such incident in London since March. Thirteen people were killed in the two previous attacks, which were attributed to Islamist militants.
The reasons for Monday's attack—in which Muslims appear to have been targeted—are unclear, but there has a been an increase in hate crimes against Muslims in the U.K. this year following three major attacks attributed to Islamist militants.
This is a developing story, and we'll update it as we learn more.