Death Toll in London's Grenfell Tower Blaze Rises to 17
Authorities say the number of fatalities is expected to rise, and that no more survivors are likely to be found.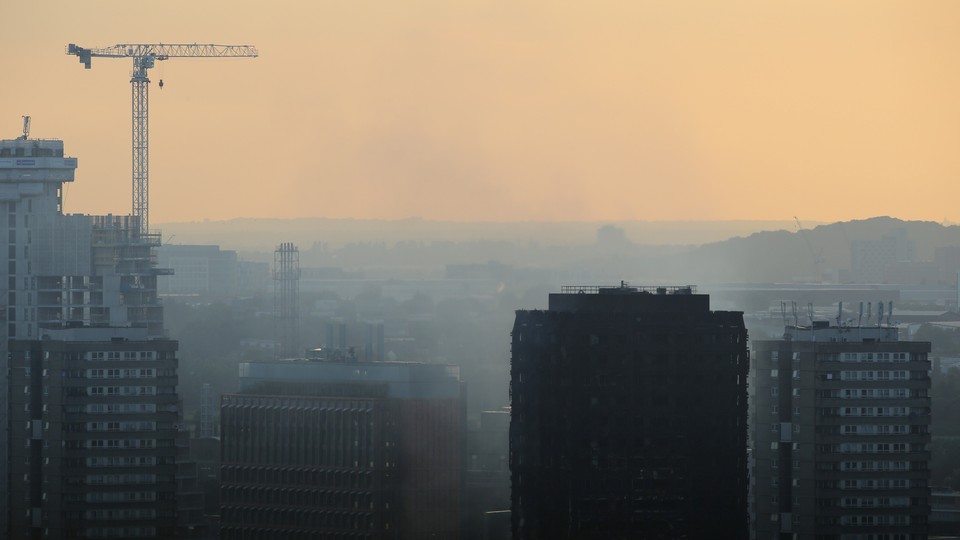 The death toll from the blaze at London's Grenfell Tower, which has now risen to 17, is expected to climb further, police said, and the fire service said there was no hope of finding more people who escaped Wednesday's fire that engulfed the 24-story apartment building.
Thirty-seven people are still in hospital, 17 of them in critical condition, Commander Stuart Cundy of the Metropolitan Police said. The Fire Brigade said it was using rescue dogs to "help identify anything around the building that may help confirm the  identify those still inside."
The cause of the fire, which took 24 hours to control, is not known, but it began in the early hours of Wednesday morning—the Fire Brigade said it received first reports at 12:54 a.m. Sixty-five adults and children were rescued. Several people are still missing. The rising death toll can, in part, be attributed to the fact most people inside were still sleeping. The size of the building—120 apartment over 24 floors—means the recovery process is expected to take several more days. Smoke continued to emanate from the remains of the building Thursday, and flames could be seen on at least one lower floor.
Prime Minister Theresa May, who visited the scene of the blaze, pledged to conduct a "proper investigation." Residents have long complained about unsafe conditions. As I wrote Wednesday, a residents' group, Grenfell Action Group, had warned as recently as last year "that only a catastrophic event will expose the ineptitude and incompetence of our landlord, [the Kensington and Chelsea Tenant Management Office] and bring an end to the dangerous living conditions and neglect of health and safety legislation that they inflict upon their tenants and leaseholders."
Concerns has been raised about the type of cladding installed outside the building, which was built in 1974, when it was refurbished in 2015. The BBC reported the cladding used during the refurbishment had a polyethylene core, which is more flammable, and cheaper, than an alternative made with a mineral core; similar cladding was found in high-rise buildings that caught fire in France, the United Arab Emirates, and Australia, the BBC reported. Here's more:
Construction firm Rydon, which carried out the refurbishment, initially said in a statement that the work met "all fire regulations"— the wording was omitted in a later statement.
The U.K. government said it would examine other apartment buildings that went through similar upgrades. The BBC added that issues likely to be investigated include why fire alarms didn't go off, why the building had few sprinklers, and the fact a building the size of Grenfell Tower had only one stairwell.