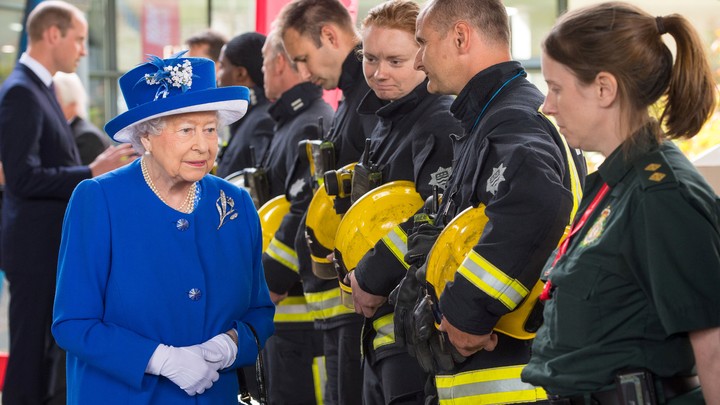 The death toll from the fire at Grenfell Tower, the 24-story apartment building in London, has climbed to 30, the Metropolitan Police said Friday.
"I do believe that the number will increase," Commander Stuart Cundy said.
Police said 24 people are still in hospital, 12 of them in critical condition.  As many as 76 people are still missing, the BBC reported. Cundy said he would not comment on unconfirmed reports.
"It is going to take a period of time for our specialists both in the police and the London Fire Brigade to fully search that building and make sure we locate and recover everybody that has sadly perished in that fire," he said.  
The fire began in the early hours of Wednesday morning—the Fire Brigade said it received first reports at 12:54 a.m. As I reported yesterday, the rising death toll can, in part, be attributed to the fact most people inside were still sleeping. The size of the building—120 apartment over 24 floors—means the recovery process is expected to take several more days. The cause of the fire is not yet known, though Cundy said Friday there was nothing to suggest it had been set deliberately.
Queen Elizabeth II and Prince William visited some of the survivors at a shelter set up at a nearby sports center, as Prime Minister Theresa May came under criticism for not meeting those who survived the blaze during a visit to Grenfell Tower on Thursday. During her visit there, May pledged to conduct a "proper investigation." London Mayor Sadiq Khan urged May on Friday to provide justice for those affected by the fire.
My letter to the Prime Minister, demanding answers, action and justice for those affected by the #GrenfellTower fire https://t.co/SmY1JCjftb pic.twitter.com/Ii1zRd2i5W

— Sadiq Khan (@SadiqKhan) June 16, 2017
The blaze is fast becoming a political embarrassment for May, who only just scraped through an election, losing her party's parliamentary majority in an ill-timed political gamble. Michael Portillo, who was a Cabinet minister in the Conservative government led by John Major in the 1990s, said May "didn't use her humanity" during her visit to Grenfell Tower.
Residents of the building, which was built in 1974 and refurbished in 2015, have long complained about unsafe conditions. The BBC reported that the type of cladding used during the refurbishment had a polyethylene core, which is more flammable, and cheaper, than an alternative made with a mineral core; similar cladding was found in high-rise buildings that caught fire in France, the United Arab Emirates, and Australia. The story is dominating U.K. newspapers. Here are some front pages:
Tomorrow's front page of The Times pic.twitter.com/YYbIRz1aUU

— Lord Kennedy (@LordRoyKennedy) June 15, 2017

Tomorrow's front page of The Guardian. pic.twitter.com/MT0AerSSaQ

— Lord Kennedy (@LordRoyKennedy) June 15, 2017

Tomorrow's Daily Telegraph front page. pic.twitter.com/xja77WEoLg

— Lord Kennedy (@LordRoyKennedy) June 15, 2017

Tomorrow's front page of the Daily Mirror. pic.twitter.com/HhT5T67sXd

— Lord Kennedy (@LordRoyKennedy) June 15, 2017
We want to hear what you think about this article. Submit a letter to the editor or write to letters@theatlantic.com.