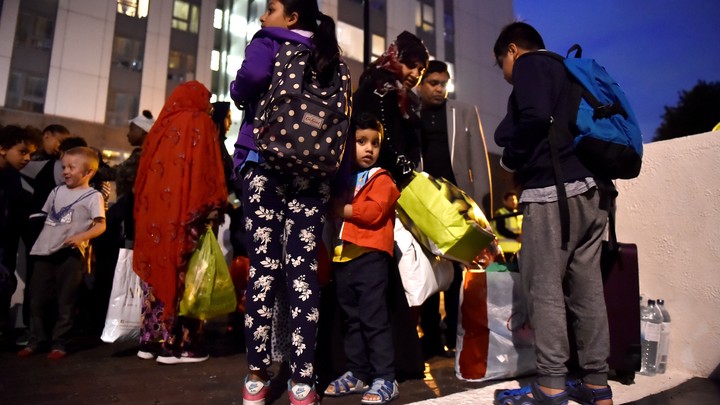 More than 800 London households are being evacuated from the city's publicly owned apartment towers after failing independent safety tests. The tests come more than a week after a fire at West London's Grenfell Tower killed at least 79 people, with the death toll expected to rise. The blaze is said to have been accidentally caused by a refrigerator fire, but most likely perpetuated by flammable cladding and insulation that builders saw as a cost-effective alternative to safer, more expensive materials. The British government announced yesterday that around 600 high-rise buildings in England may contain a similar type of cladding.
On Friday, five apartment towers in North London's Camden area were evacuated after the London Fire Brigade said they couldn't ensure residents' safety. Displaced residents were encouraged to stay with nearby friends and family, but were guaranteed temporary accommodations. Those without a place to stay were reportedly directed to a nearby community center, where they were given air beds. In a statement to reporters, the leader of Camden council, Georgia Gould, said the council was "absolutely determined to ensure that our residents are safe" and would "continue to act swiftly and be open and transparent." "I know it's difficult, but Grenfell changes everything," she said.
Upon receiving the evacuation announcement, some Camden residents were upset about being forced to leave their homes on such short notice. "I just think it's a complete overreaction," Edward Strange, an evacuated resident, told Sky News. "If we wanted to leave, we should have the choice to leave. But being told that we have to leave is just ridiculous. It's our home." While the Camden council expressed concerns about the cladding in their apartment towers on Thursday, the evacuation wasn't announced until Friday night.
Camden is the first local government in England to evacuate residents due to safety concerns raised by the Grenfell fire. Repairs on the apartment towers are expected to last three to four weeks. Thus far, 14 apartment blocks in London, Manchester, and Plymouth have tested positive for combustible materials, the AP reports. On Thursday, U.K. Prime Minister Theresa May said her government had the capacity to test over 100 buildings a day, with results arriving within hours. "Obviously nobody will be living in buildings that are unsafe," a spokeswoman for May said Thursday.
But, with more than a dozen apartment blocks now identified as potentially hazardous, it's likely that many of London's public housing residents are currently living in unsafe conditions. A 2011 study from the U.K.'s Chief Fire Officers Association and Chartered Institute of Housing concluded that three quarters of Britain's social housing blocks were potentially unsafe in a fire. This could stem from a neglect of older housing, or, as my colleague Feargus O'Sullivan points out, an attempt to make buildings more appealing to private tenants while ignoring structural deficiencies.
Prior to Friday's evacuations, police said they were investigating possible criminal offenses related to the Grenfell fire—including charges of manslaughter. In the wake of the fire, Grenfell Tower's landlord, the Kensington and Chelsea Tenants Management Organisation (KCTMO), has come under increased scrutiny for ignoring concerns from the residents' association. In a blog post on November 20, Grenfell residents referred to KCTMO as "an evil, unprincipled, mini-mafia who have no business …  looking after the every day management of large scale social housing." In an act of foreshadowing, they called the landlord's actions "a recipe for a future major disaster."
We want to hear what you think about this article. Submit a letter to the editor or write to letters@theatlantic.com.
Aria Bendix
is a frequent contributor to
The Atlantic
, and a former editorial fellow at
CityLab
. Her work has appeared on
Bustle
and
The Harvard Crimson
.