What We Know About the Attack in London
Six people died, and more than 20 were injured after a van swerved into a group of pedestrians and suspects attacked people with knives.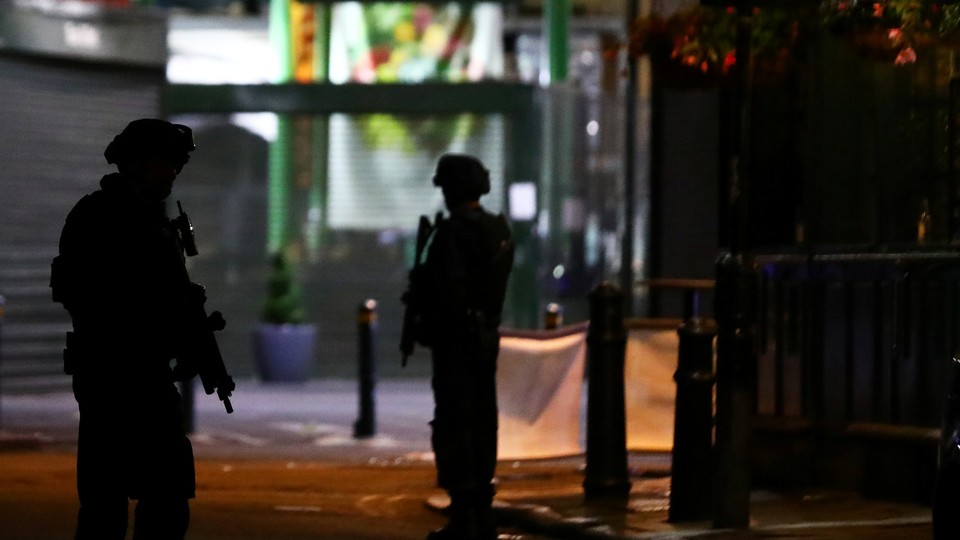 Seven people were killed and more than 20 were injured in what police called a "terrorist incident," after a van swerved into a group of pedestrians on the London Bridge Saturday night. At least one suspect fled and began stabbing people at a nearby market. Police said they shot and killed three suspects in all, who wore canisters around their chests, meant to resemble explosives.
Police first responded to the London Bridge a little after 10 p.m. Saturday local time. Witnesses said a man driving a white van, speeding at about 50 miles per hour, swerved onto the pavement and drove into a crowd of people. BBC reporter Holly Jones was at the scene during the incident, and she said: "He swerved right round me and then hit about five or six people. He hit about two people in front of me and then three behind."
Police also responded to the Borough Market, about a five-minute walk from the bridge, where there were reports of stabbings. Several witnesses have said they saw at least one man run from the van with a knife, and that the suspect, or suspects, randomly stabbed people as they fled. Borough Market is full of shops and restaurants and was busy Saturday evening. Police ordered storefronts and bars to lock the doors, and people inside took cover. One witness told BBC Radio that he and his wife had just left the metro station when he saw a man being stabbed. "I saw a man in red with quite a large blade," the witness said. "I don't know the measurement—I guess maybe 10 inches. He was stabbing a man … he stabbed him about three times fairly calmly."
The witness told BBC that people started throwing bottles at the attacker, who then left. Shortly after, the witness heard gunshots. Police have confirmed there were shots fired, but have not said if the shots came from officers. Emergency responders have converted a hotel into an aid center, and the London Ambulance Service said it took 20 people to local hospitals. The metro is shut down in the area, and residents in the area opened their homes to anyone who could not leave. As more people did evacuate, however, they recounted dramatic moments, confused and panicked. One survivor named Owen Evans told The Guardian he was in a pub in the Borough Market when he heard gun fire.
I was in the back of the pub. A wave of about 30 people ran in and tried to get into the cellar or cupboard. Then there were shots outside. They didn't seem real—like a kid letting off firecrackers. We saw police lights and everyone got down under a table. People turned tables over.

We waited about 10 minutes or so, with several shots every couple of minutes. Someone at the front of the pub had been shot – it's speculation but we thought it was by accident, there were bullet holes in the windows.

The people near the person called for a medic, shouting: 'He's fucking bleeding to death, we need a doctor.' The bar staff were amazing, I think they locked the door so no one got in.

Then they told us to leave the pub and to run, and a policeman standing outside with a gun was shouting, 'Go, get the fuck out.' We ran down the street, turned left at the Market Porter, than ran down the road and away. We got to the South Bank and then waited ages for a tube, and eventually got home.
Police also initially said they were responding to an incident at Vauxhall, a mixed residential and commercial area some distance from the London Bridge. But they later said this was an unrelated incident.
There were also multiple reports of explosions near the bridge, although these were said to be controlled by the police, who said the suspects were wearing "what looked like explosive vests but these were later established to be hoaxes."
Prime Minister Theresa May has called for a meeting Sunday of the government emergency response committee, called a COBRA meeting. In a statement, May said, "I can confirm that the terrible incident in London is being treated as a potential act of terrorism. This is a fast moving investigation. I want to express my huge gratitude to the police and emergency services who are on the scene. Our thoughts are with those who are caught up in these dreadful events."
The White House also says Trump was updated on the incident. Trump tweeted his support for London, saying "Whatever the United States can do to help out in London and the U. K., we will be there." However, his initial post was about his travel ban, which has been held up in court.
We need to be smart, vigilant and tough. We need the courts to give us back our rights. We need the Travel Ban as an extra level of safety!

— Donald J. Trump (@realDonaldTrump) June 3, 2017
This is the third terrorist attack this year in the country. Two weeks ago, a suicide bomber blew himself up outside an Ariana Grande concert, killing 22 people and wounding many more. In March, a man drove a car into a group of pedestrians and killed four people, then stabbed a police officer near Parliament.