What We Know About the London Attack
Police say the man who struck Muslims is being detained for terrorism offenses.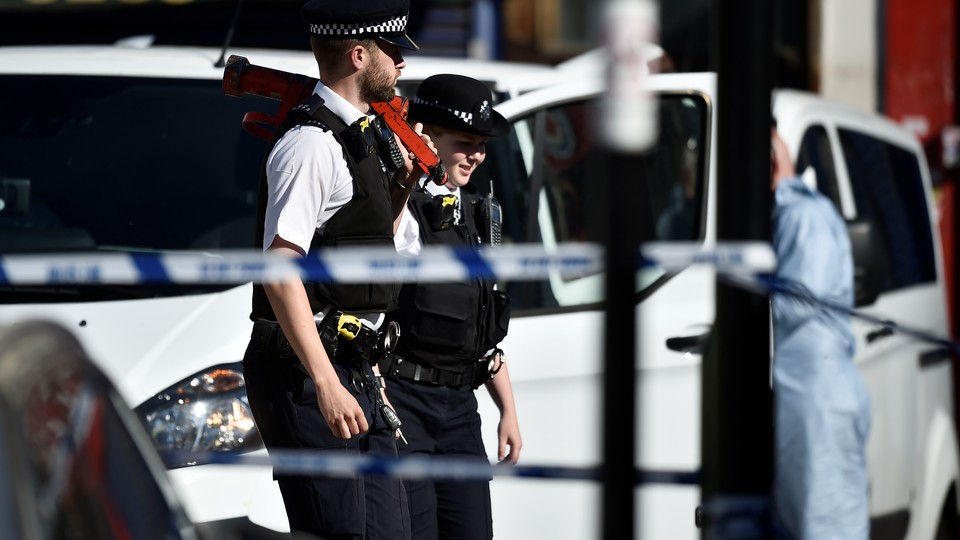 Updated at 10:43 p.m. ET
The man arrested in connection with driving his van into a crowd of worshippers near a London mosque in the early hours of Monday morning is being detained for terrorism offenses, the Metropolitan Police said.
The suspect—believed to be 47-year old Darren Osborne, a married father of four—is also being detained on suspicion of attempted murder. One person is dead and 11 are wounded following the incident outside the Muslim Welfare House in London's Finsbury Park neighborhood. Police labeled it an attack on Muslims. Police said they are investigating if the death was caused by the van. The man who died was receiving first aid from the public at the time of the attack, said Neil Basu, the deputy assistant commissioner of police who is the senior national coordinator for counter terrorism. The area was busy because worshippers had been attending evening prayers at a nearby mosque during the holy month of Ramadan. All the casualties were Muslim.
Prime Minister Theresa May called the attack "every bit as sickening" as the recent terrorist attacks in London and Manchester.
"This was an attack on Muslims near their place of worship … and like all acts of terrorism it seeks to drive us apart," May said.
Cressida Dick, the police commissioner, said the incident was being investigated by the Counter Terrorism Command. May said police declared the attack a terrorist incident within eight minutes of them receiving word of it at just after 12:20 a.m.
The van's driver was detained by those on the scene and later arrested by police. The Guardian adds the driver was protected by a local imam after being overpowered by members of the local community. "Extra policing resources have been deployed across London in order to reassure communities, especially those observing Ramadan," he said.
The BBC and the Guardian are both reporting that the driver of the van had shouted "I want to kill all Muslims."
This is the third such incident in London since March. Thirteen people were killed in the two previous attacks, which were attributed to Islamist militants. There has a been an increase in hate crimes against Muslims in the U.K. this year following three major attacks—the two in London and one in Manchester—attributed to Islamist militants. SITE, the terrorism-monitoring group, said Monday white-supremacist organizations were celebrating the attack in Finsbury Park, while pro-ISIS groups used it to incite Muslims.