Leo Varadkar: Ireland's New Prime Minister
The openly gay son of an Indian immigrant is slated to become the youngest leader in the country's history.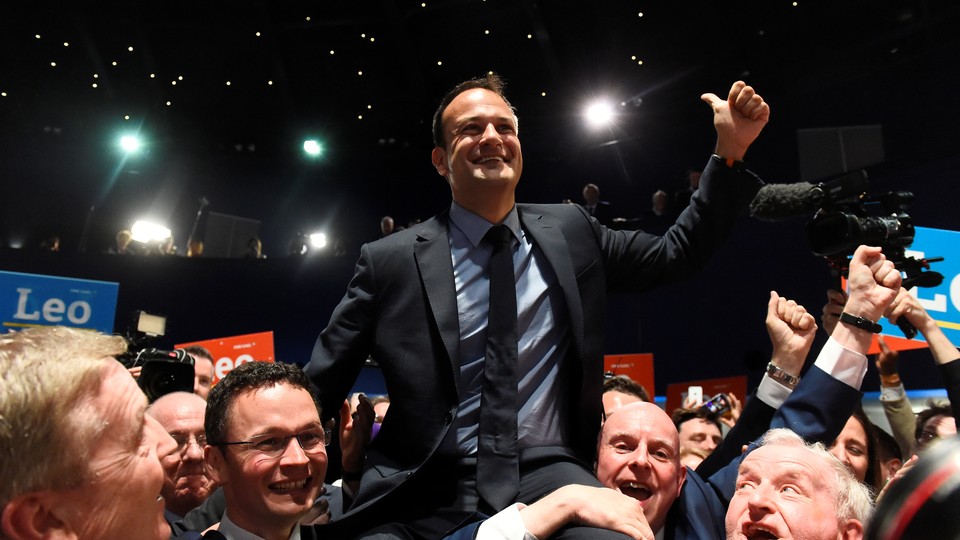 Leo Varadkar was voted the new leader of Ireland's ruling Fine Gael party Friday, putting him in line to become the country's next prime minister, or Taoiseach. It's a victory that's nothing short of historic: The 38-year-old son of an Indian immigrant will become the country's first openly gay premier and its youngest prime minister.
"If my election today shows anything, it is that prejudice has no hold in this Republic," Varadkar said at Dublin's Mansion House after the results were announced, adding: "Around the world people look to Ireland as a country where it doesn't matter where you come from, only where you want to go."
Varadkar earned 60 percent of the vote in the center-right party's leadership contest, which was decided by the Fine Gael members, councillors, and parliamentary party members. Varadkar's opponent, Simon Coveney, took 40 percent. The election came less than a month after Prime Minister Enda Kenny announced his resignation, ending his 15-year reign as party leader. Though the longtime parliamentarian has been credited with helping to steer Ireland out of the recession following the 2008 global financial crash, he has also faced internal party pressure over his failure to secure an outright majority during the country's 2016 general election, as well as a political scandal over his government's handling of police corruption.
"This is a tremendous honor for him and I know he will devote his life to improving the lives of people across our country," Kenny said of Varadkar, who he said "will have my full support in the work that lies ahead."
In addition to becoming Ireland's first prime minister of an ethnic-minority background (Varadkar's father, a doctor from Mumbai, met his mother, an Irish nurse, while they were both working at an English hospital in the 1960s), he will also become the country's first openly gay premier. He came out publicly in a 2015 interview with Irish national broader RTÉ, making him the first Irish minister to do so.
"To me it is not a big deal, I hope it is not a big deal for people," he said.
It turned out not to be. The once-staunchly Catholic country, in which homosexuality had been decriminalized only two decades prior, voted overwhelmingly in favor of legalizing same-sex marriage four months later.
In addition to inheriting the fastest growing economy in Europe, Varadkar will be faced with a number of challenges once he's formally installed as prime minister in the next few weeks—among them Brexit—his country, an EU member, shares a border with Northern Ireland, which is part of the U.K., which voted to leave the bloc—and working with his party's center-right rival, Fianna Fail.