Kansas Man Indicted for Hate Crime
Adam Purinton could face the death penalty or life in prison for a February 22 shooting, which killed one Indian immigrant and wounded another.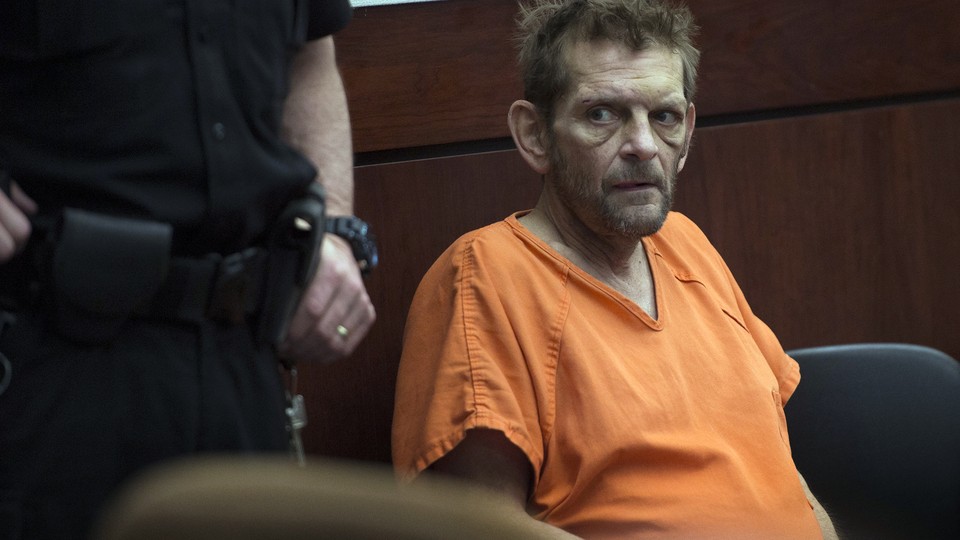 A federal grand jury has indicted Adam Purinton—the man who shot two Indian immigrants at a bar in Olathe, Kansas on February 22—for a hate crime, the U.S. Department of Justice announced Friday. Purinton, a 52-year-old resident of Olathe, was also accused of violating a federal firearms statute. He was previously charged with first-degree murder and two counts of attempted murder, and is currently being held in the Johnson County jail on a $2 million bond. If convicted, Purinton could face the death penalty or life in prison.
On March 6, a Johnson County judge released an affidavit accusing Purinton of fatally shooting Srinivas Kuchibhotla and attempting to kill Alok Madasani, both 32-year-old engineers at a tech firm who had immigrated from India to the U.S. The two men were reportedly sitting together on the patio of Austins Bar & Grill when Purinton, wearing a white shirt and a white scarf on his head, told them to "get out of my country." Madasani later told police that Purinton also asked if their "status was legal." At that point, two bar patrons, including 24-year-old Ian Grillot, attempted to intervene by asking Purinton to leave. Purinton was escorted from the premises by bar employees, but returned to the patio 30 minutes later with a handgun.
According to the affidavit, this is when the shooting began. While Madasoni was shot once in the leg, Kuchibhotla incurred three bullet wounds and was later pronounced dead at the University of Kansas Hospital. Purinton also shot Grillot in the hand and upper chest after Grillot chased him in the wake of the incident. The bullet barely missed Grillot's carotid artery and succeeded in fracturing a vertebrae in his neck. "A lot of people are calling me a hero … and it's not like that," Grillot told the local KMBC 9 News. "I was just doing what anyone should have done for another human being."
Less than five hours after the shooting, Purinton was arrested at an Applebee's after telling the bartender he had "done something really bad" and was "on the run from the police." According to the bartender, Purinton eventually confessed he had "shot and killed two Iranian people in Olathe," mistaking the victims' race. A statement from the DOJ, released Friday, reads: "The indictment alleges that Purinton committed the offenses after substantial planning and premeditation, attempted to kill more than one person in a single criminal episode, and knowingly created a grave risk of death to others on the scene." The indictment also claims Purinton shot at Madasoni and Kuchibhotla due to their "actual and perceived race, color, religion, and national origin."
The shooting prompted concern among the victims' family members, who feared the U.S. was no a longer safe place for Indians. "There is a kind of hysteria spreading that is not good because so many of our beloved children live [in America]," Venu Madhav, a relative of Kuchibhotla, told The Washington Post. In a statement to the Hindustan Times, Madasani's father, Jaganmohan Reddy, also urged parents in India not to send their their children to the U.S. "The situation seems to be pretty bad after Trump took over as the U.S. president," Reddy said in February.
White House Press Secretary Sean Spicer has since argued there is no link between President Trump's immigration policies and an increase in racially-motivated violence in the U.S. "To suggest that there's any correlation I think is a bit absurd," Spicer said at a February 24 press briefing. In front of a joint session of Congress on February 28, Trump also responded to the incident in indirect terms, saying that "we are a country that stands united in condemning hate and evil in all its forms." At a vigil held a few days earlier, Kuchibhotla's widow, Sunayana Dumala, demanded more than words. "I need an answer from the government," she said. "What is it they're going to do to stop these hate crimes?"