Jury Acquits Officer Who Shot Philando Castile
Jeronimo Yanez was charged with second-degree manslaughter.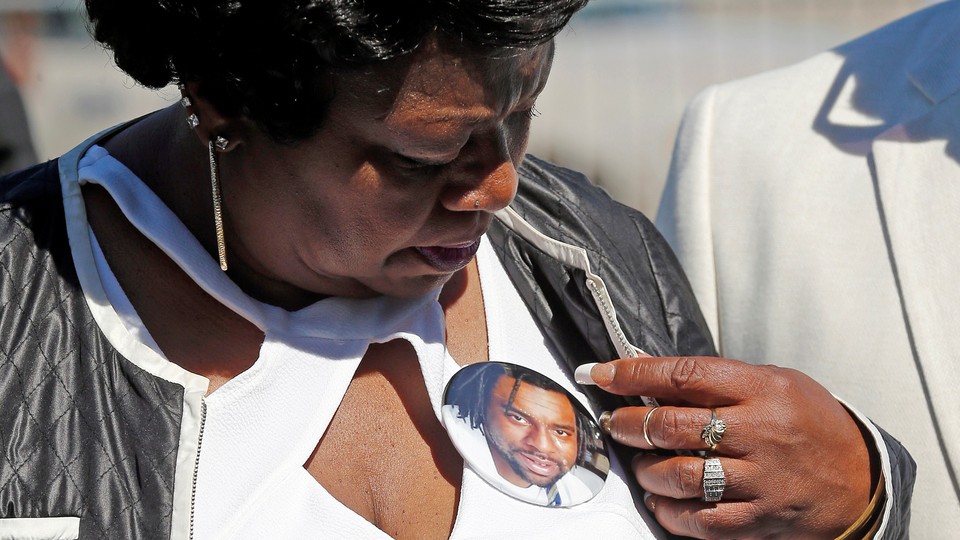 A Minnesota jury has acquitted a police officer accused of shooting and killing Philando Castile, whose death last summer was live-streamed by his girlfriend, Diamond Reynolds. The video was shocking for several reasons, one of which was Reynolds's calm tone as she spoke to the officer, Jeronimo Yanez, who himself was only beginning to realize he'd killed Castile. The verdict will likely infuriate activists who complain officers have too often killed unarmed black men without consequences.
The jury acquitted Yanez of all charges, which included second-degree manslaughter, for which he faced 20 years. Castile's death was one of two involving officers who shot black men within a day last year. Both led to large protests, and in Minnesota, protesters camped for two weeks outside the governor's mansion. Friday's verdict came on the fifth day of jury deliberations—27 hours in all. The case was of major significance in the state, because it is believed to be the first time in its history that an officer was charged in an on-duty fatal shooting. The verdict, however, repeats a pattern across the country of officers who shot unarmed black men and were later acquitted by juries.
The specifics of Yanez's case centered on what happened right before the live-stream. Yanez's lawyer said in court the officer had pulled Castile over because he believed he matched the description of a robbery suspect and that he smelled marijuana in the car. On that day of the shooting, however, Yanez told Castile his brake light was out. Castile was carrying a gun, which he had a legal permit to do, and he told Yanez he had a weapon in the car. But seconds later, Yeanez fired into the car several times and killed Castile. Reynolds recorded the aftermath on a Facebook live-stream as she sat beside Castile in the car, her daughter in the backseat, as she calmly spoke with the officer.
Yanez said he believed Castile was reaching for a gun. At trial, prosecutors questioned why Castile would announce he had a gun if he intended to use it, and instead pointed to what they said was Yanez's preconceived judgement of both Castile and the situation. Prosecutor Jeffrey Paulsen said Yanez was "making assumptions and jumping to conclusions without engaging in the dialogue he was trained to have in a citizen encounter like this. And that's his fault, not the fault of Philando Castile."
Since Castile's death, there have been investigations into why Castile was pulled over in the first place. One report by NPR found Castile, who worked at a school cafeteria, was stopped 46 times by police. It cost him more than $6,000 in fines, and only six of these stops were for things an officer could observe from the outside, like a speeding ticket or broken tail light.
The 12 jurors, which included two blacks, were left to sort through the varying accounts from Reynolds and Yanez. The defense focused on these differing accounts, as well as marijuana found in Castile's car. Lawyers said this may have slowed down Castile's response to Yanez's commands, which made him even more suspicious.
In a statement released after the verdict, Valerie Castile, Philando's mother, said: "There has always been a systemic problem in the state of Minnesota, and me thinking, common sense that we would get justice. But nevertheless the system continues to fail black people. I am so disappointed in the state of Minnesota. My son loved Minnesota. He had one tattoo on his body and it was of the Twin Cities. My son loved this city, and the city killed my son and the murderer gets away."