Judges Declares Second Mistrial in DuBose Shooting Case
Two separate juries have been unable to agree on whether Ray Tensing is guilty of murder.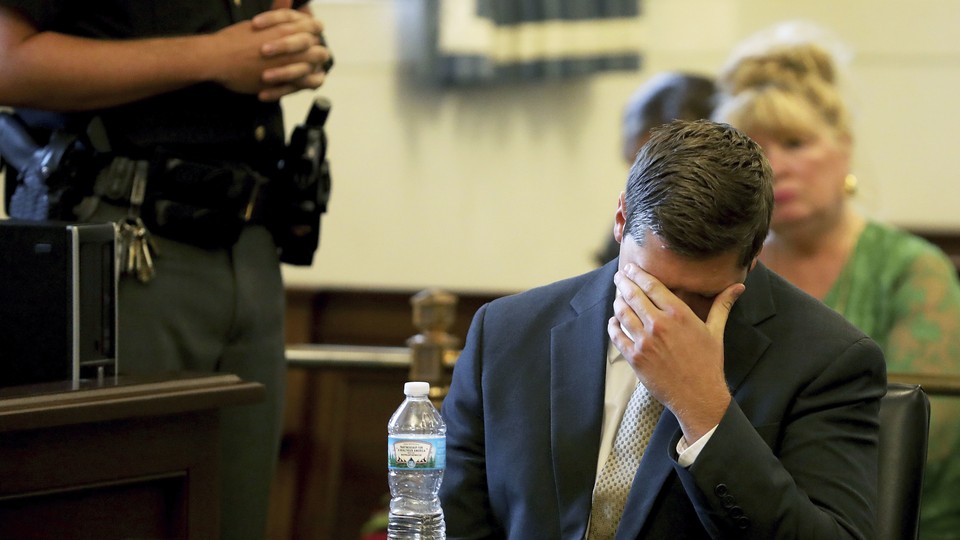 The trial of Ray Tensing, a white University of Cincinnati police officer who fatally shot an unarmed black man during a traffic stop in July 2015, resulted in a hung jury on Friday, marking the second time Tensing's case has ended in a mistrial. In November 2016, a jury was unable to decide whether Tensing was guilty of murder and voluntary manslaughter after more than 25 hours of deliberations. Over the last five days, a new set of jurors deliberated for more than 30 hours before failing to reach a unanimous verdict.
The case represents yet another instance in which a U.S. police officer is not charged for the killing of a black civilian. On Wednesday, a black Milwaukee police officer was acquitted of first-degree reckless homicide after fatally shooting Sylville Smith, a 23-year-old black man. Last week, a Minnesota jury also acquitted the white police officer who shot and killed 32-year-old Philando Castile, despite dashcam footage that many said proved the officer's culpability. On Friday afternoon, dozens gathered outside the Hamilton County Courthouse in Cincinnati to protest the jury's decision. November's mistrial garnered a much larger response, with around a thousand protestors flooding the city's streets, shouting, "Black lives matter! Sam's life matters!"
Even with the existence of body-camera footage, the DuBose case has been hotly contested in court. While Tensing originally pulled DuBose over because his car was missing a front tag and was registered to a driver with a suspended license, the situation escalated as DuBose attempted to drive away from the officer. Tensing said his arm was caught inside the vehicle as it was fleeing, leading him to believe he could be dragged through the street or possibly run over. "I didn't shoot to kill him," he argued in court. "I didn't shoot to wound him. I shot to stop his actions." Prosecutors countered that video footage showed the officer had no reason to fear for his life. "Ray Tensing had a choice to make that evening," said Hamilton County Assistant Prosecutor Seth Tieger. "Do I disengage and let Sam DuBose drive away or do I kill him?"
In the wake of Friday's mistrial, both the Mayor of Cincinnati and the Cincinnati division of the NAACP expressed their dismay over the verdict. "The message that is being sent is, if you are black, all the police officer has to do is say they were in fear of their life and they get away with murder because the victim [is] black," the NAACP said in a statement. At a Friday news conference, Mayor John Cranley offered up a more hopeful response. "As I have said many times before, I do not believe that Sam DuBose should have been killed in that situation," Cranley said, adding: "Just because we may not like the way things happened in the case today doesn't mean that Cincinnati is not going to move forward."
While the DuBose family has already received a $4.85 million settlement from the University of Cincinnati, the family remains intent on pursuing justice in court. In a Friday statement, DuBose's mother, Audrey, called for a retrial, saying: "We stand with the families of [Terence] Crutcher of Oklahoma, Philando Castile of Minnesota, Freddie Gray of Maryland, and Sylville Smith of Wisconsin and demand justice for all these men who have been murdered by police officers who have escaped guilty verdicts."
Tensing, who was fired last year by the University of Cincinnati, is no longer in custody after posting 10 percent of his $1 million bond. If convicted of murder, he could face 15 years to life in prison. Voluntary manslaughter carries a less severe sentence of three to 11 years. On Friday, the judge said the prosecution had until July 24 to decide whether to try Tensing a third time.